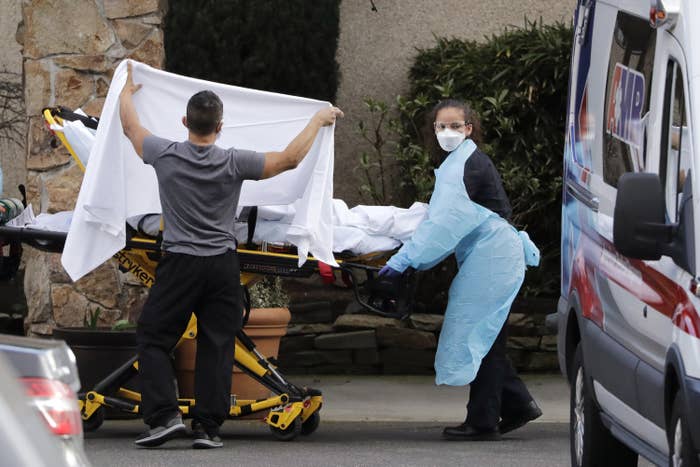 Six people — all in Washington — have now died of coronavirus in the US as new cases were reported across the country, including in New York, Florida, Rhode Island, and New Hampshire. The total number of cases in the US is now close to 100.
Four of the six people who died are elderly residents of the Life Care nursing facility in Kirkland, all of whom had underlying health conditions. As of Monday, the state had 18 total confirmed cases, Washington's Department of Health said.
A man and a woman in their seventies, and a woman in her eighties all died at the EvergreenHealth hospital on Sunday, King County officials said Monday. The state had two previous deaths of two men in their seventies and fifties.
The total number of confirmed cases in King County is now 14, including five deaths, health officials said Monday.
The concentration of cases in Kirkland, with many being non–travel related, raised concerns that the coronavirus may have spread undetected for weeks. Washington Gov. Jay Inslee declared a state of emergency Saturday.
In Snohomish County, a man in his 40s who had been in critical condition due to the coronavirus died at EvergreenHealth hospital in Kirkland. Health officials there also announced a new case: a female in her 40s who is currently being hospitalized. On Friday, the county confirmed that a student at Jackson High School tested positive for the disease, prompting officials to close the campus over the weekend and Monday for a thorough cleaning.

"Our team is still in the midst of the investigation, so we do not yet know the possible source of infection," said Dr. Chris Spitters, health officer for the Snohomish Health District. "While we understand that this recent news can be concerning, as is the increasing number of COVID-19 cases locally and globally, we want to encourage people to remain calm, prepared, and informed."
The high school case suggests that "local transmission of COVID-19 is occurring," the health district said in a press release.
Due to growing concern about the spread across counties, King County Executive Dow Constantine signed an Emergency Declaration on Monday to free up funds to and enable officials to take "extraordinary measures" to fight the outbreak, the government said. The county is buying a motel to "isolate patients in recovery as well as those in active treatment" and is also placing modular units on public properties.
"We have moved to a new stage in the fight to contain and mitigate this outbreak," Constantine said.
Across the country, a woman in her late thirties who traveled to Iran became New York's first confirmed case on Sunday. Rhode Island announced two presumptive positive coronavirus cases: a teenager and a man in his forties who were both on the same trip to Europe in mid-February. (A presumptive positive case has tested positive by a public health laboratory and is pending confirmatory testing at the Centers for Disease Control and Prevention). A Rhode Island woman in her thirties — who was on the same trip — is also being tested for the virus, state health officials said.
Florida announced two presumptive positive coronavirus cases — one in Hillsborough County and another in Manatee County — prompting Gov. Ron DeSantis to declare a public health emergency in the state on Sunday.
New Hampshire health officials on Monday said the state had its first confirmed case of coronavirus. The individual, an adult from Grafton County, had recently traveled to Italy. The patient is currently in home isolation and is not sick enough to be hospitalized, the state's health officials said at a press conference.
More than 89,000 cases have been reported globally with more than 3,000 deaths. Apart from China — the epicenter of the outbreak — Iran, South Korea, and Italy have seen a rapid increase in cases.
Washington health officials said they were not recommending closing schools or canceling activities.
New York Gov. Andrew Cuomo said Monday that the coronavirus patient in the state is a 39-year-old health care worker who has been isolated at her home in Manhattan along with her husband, who is being tested and will likely be positive. The woman has respiratory symptoms but is not in serious condition and is not hospitalized, Cuomo said.
She is not believed to have been contagious on the plane from Iran to New York or when she took a private car from the airport to her home, but Cuomo said authorities are contacting people on the flight with her as well as the driver of the car service.
Cuomo said that while New York is likely to see more cases, the challenge was in testing as many people as quickly as possible. The federal government allowed the state to test for coronavirus, facilitating New York's ability to test more people faster, Cuomo said, adding that the goal was 1,000 tests per day within a week.
"There is no reason for undue anxiety — the general risk remains low in New York," the governor said in a statement.
Both patients in Rhode Island had visited Italy on a trip organized by the Saint Raphael Academy, health officials said. The academy said it would be closed for the rest of the week, while two other schools closed for two days, pending the results of a staff member who was among the 38 people on the trip. All of them will be self-monitoring at home for 14 days with public health supervision, officials said, and will not be going to school or work.