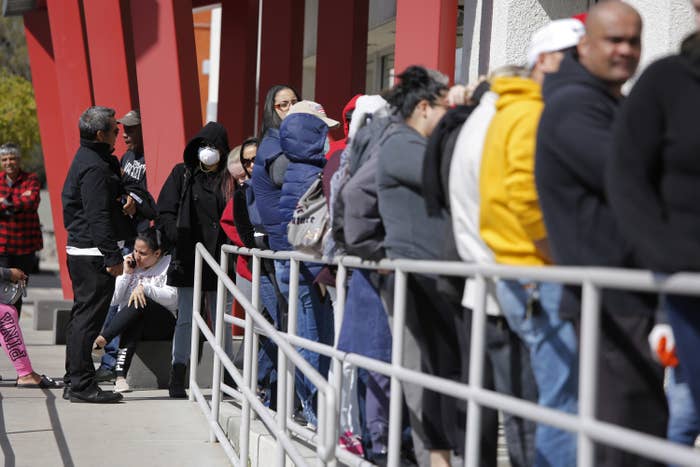 The number of Americans filing for unemployment jumped by 70,000 last week, the highest level since September 2017, because of the increase in coronavirus-related layoffs, according to the Department of Labor.
Thousands of people who have been recently laid off, lost their jobs, or had their work hours reduced were then subjected to further frustration after several states websites' crashed because of high traffic. Many on social media were left confused and fearful over their eligibility for unemployment benefits, including those who were furloughed or on zero-hour contracts.
In Pennsylvania, an estimated 70,000 people applied for unemployment benefits in a single day, six times the total for the entire previous week, the Associated Press reported. In Ohio, during the first two days of the week, more than 48,000 people filed for benefits, compared to 1,825 people during the same period last week. New unemployment claims tripled in Tennessee, and Michigan received more than five times the normal amount of unemployment claims.
Minnesota said it was receiving over 2,000 unemployment insurance applications per hour, compared to the usual 40 or 50. The state said it typically receives 500 claims a day but had received more than 31,000 applications over the past two days.
Many people were applying for unemployment benefits for the first time in their careers.
The surge of people applying for benefits overwhelmed many states' phone lines and online systems, causing website crashes, technical glitches, and hourslong delays.
States acknowledged that their systems were overwhelmed with the unprecedented rise in claims. Some, including New York, asked residents to file claims on certain days based on the first letter of their last names.

The federal government has allowed states to amend their laws to expand eligibility of unemployment benefits because of the widespread impact of the pandemic. As each state's labor department issued its own guidance on eligibility in coronavirus-related scenarios, many people took to social media to express their uncertainty and fears over being ineligible.

The restaurant Trevin Cooper worked for in Charleston, South Carolina, closed on Monday and owners did not say when it would be reopening. Cooper, who bartends and does some administrative work for the restaurant, told BuzzFeed News that the restaurant was paying him $250 a week "until it no longer can." But because of that, he is ineligible for unemployment.
"I typically make $250 in one shift, and in the city I live in that can barely cover food costs, let alone the ridiculous price of rent," Cooper said. "I'm fortunate to have a family that is willing to help me, but the fact that I'm left incapable of helping myself is the hardest part."
Many others also found themselves in similar situations.
State and local representatives urged employers and administration officials to provide more clarity about unemployment benefits during the pandemic.
The US Senate on Wednesday passed major coronavirus aid legislation, which provides $1 billion in additional funding to state unemployment insurance programs and waives restrictions on work search requirements as well as waiting periods for Americans who are either diagnosed with COVID-19 or who have lost their jobs because of the pandemic. President Donald Trump signed the bill into law Wednesday night.

A group of Democratic senators sent a letter to all governors and heads of state workforce agencies in all 50 states, urging them to swiftly implement the provisions of the legislation to ease restrictions on emergency employment benefits.
The senators wrote that they were "especially concerned about the hardships" facing workers who were ineligible for unemployment benefits, including gig workers and other nontraditional workers.
"Given the severity of the crisis, we ask you to do whatever is possible to extend support to workers who do not fit into the usual framework of unemployment compensation," the letter said.