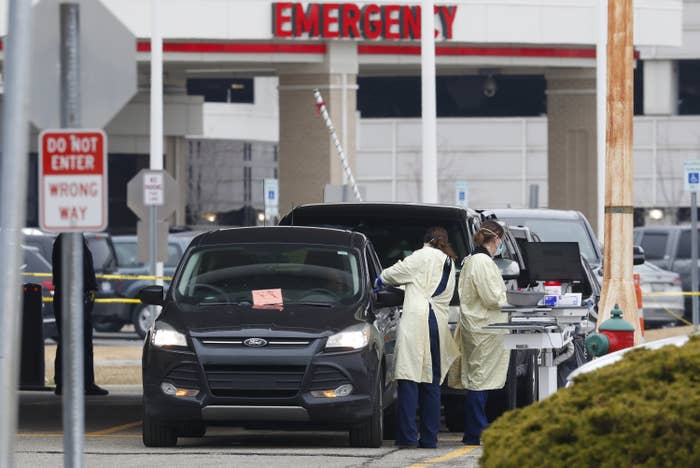 Oregon, Michigan, Indiana, Wisconsin, New Mexico, and Washington — home to approximately 36 million people — became the latest states to order residents to stay at home to stop the spread of the coronavirus. The governors of Massachusetts, Kentucky, and Maryland ordered all nonessential businesses to close in their states, stopping short of issuing stay-at-home orders.
Oregon Gov. Kate Brown issued an executive order Monday, effective immediately, ordering everyone in the state to stay at home to "the maximum extent possible." The order will remain in effect until Brown decides to end it.
"Failure to comply with the order will be considered an immediate danger to public health and subject to a Class C misdemeanor," the governor's office said.
The order closed additional retail businesses, including malls, gyms barbershops, nail salons, spas, theaters, amusement parks, and other recreational and entertainment venues. It also prohibited all nonessential "social and recreational gatherings regardless of size" if a distance of 6 feet could not be maintained between people.
"Today, I am issuing a new executive order further requiring social distancing measures because we know this is the most effective way to flatten the curve and slow the spread of this virus," Brown said in a statement. "I hope everyone in Oregon abides by its core message: stay home unless absolutely necessary."
Indiana Gov. Eric Holcomb said Monday that he had signed an executive order calling on "all Hoosiers to hunker down, stay at home, unless you're going out on an essential errand, or essential work or essential business and operations."
The order takes effect on Tuesday at 11:59 p.m. ET and ends on April 6, but could be extended if the outbreak warrants it. The order is "mandatory" and will be enforced by the Indiana State Police with local law enforcement.
"Stay home, get groceries only when you really need them and buy only what you really need," Holcomb said.
Michigan Gov. Gretchen Whitmer also issued a "Stay Home, Stay Safe" executive order which goes into effect at midnight on Monday and lasts until April 13.
The order directs all residents to stay inside their homes and allows them to leave only "under very limited circumstances" including engaging in outdoor activities or going to the grocery store or hospital. A violation of the order would be a misdemeanor.
The order also suspends all nonessential businesses in the state.
Whitmer added, "Let me be clear: Your grocery stores will still be open. Your pharmacies will remain open. Your banks and credit unions will still be functioning. You can still fill your car with gas."

Wisconsin Gov. Tony Evers announced that he would issue a "Safer at Home" order on Tuesday, requiring all residents to stay at home and limit their travel to only essential needs like going to the doctor and getting groceries or medications.
In a series of tweets Monday, Evers chastised people in his state for not taking the issue seriously and continuing to go "out and about," putting their communities at risk.
He urged people to limit their interactions to the same people and to shrink their circle of interactions to prevent the spread of the virus.

"Unfortunately that means no sleepovers, no play dates, and no dinner parties with friends and neighbors," Evers said. He said that residents could get out and walk their dogs but not to take any other unnecessary trips.
"We're all in this together, and each and every one of us has to do our part to help slow the spread of COVID-19 so we can #FlattenTheCurve to ensure our doctors, nurses, and healthcare workers have the opportunity to do their important work," Evers said.
New Mexico's stay at home order, which takes effect Tuesday morning, closes all businesses and nonprofits, except essential businesses like grocery stores, pharmacies, laundromats, and banks, and prohibits gatherings of five or more people (except in households where five or more people live together).
In announcing the new order Monday afternoon, New Mexico Gov. Michelle Lujan Grisham emphasized that the restricting person to person contact was necessary to slow the spread of the disease in the state, where 83 people have been infected in 11 of the state's 33 counties.

"If we don't limit it then who's going to stock your grocery stores? Who's going to be in the emergency room? Who's going to provide childcare to first responders," Grisham said during a press conference Monday. "If we don't protect the very people who we need for our everyday services then they're not able to provide those essential services to you. So I need you to heed this order and I need every New Mexican to do their part."
Washington Gov. Jay Inslee announced a similar stay at home order Monday evening, calling on all "non-essential" businesses to close within 48 hours, unless employees can work remotely.
"We want to get back to normal as soon as possible," Inslee said during a virtual public briefing. "We do not want this lingering intrusion in our lives and the fastest way to get back to normal is to hit this hard. That's what we're doing."
The state has been one of the hardest hit by the disease so far, with more than 2,000 cases and 110 deaths, as of Monday afternoon. An outbreak at the Life Care nursing home in Kirkland led to at least 35 deaths.
Several other states have already issued similar stay-at-home directives, including New York, California, Illinois, Ohio, Delaware, and Louisiana. Similar orders were also issued in Philadelphia as well as in two of Missouri's largest cities, St. Louis and Kansas City.

Three other states, Kentucky, Maryland, and Massachusetts, ordered all nonessential businesses to be shut in their states, but did not issue mandatory stay-at-home orders even as they urged residents to do so.
Massachusetts Gov. Charlie Baker issued an emergency order Monday requiring all nonessential businesses to close their physical workspaces and facilities as of Tuesday at noon to April 7. Baker also directed the state's Department of Public Health to issue a stay at home advisory that outlines self-isolation and social distancing protocols.
"Residents are advised to stay home and avoid unnecessary travel and other unnecessary activities during this two-week time period," the governor's office said.
Kentucky Gov. Andy Beshear announced that all nonessential retail businesses will close effective Monday at 8 p.m. He also mandated ending all elective medical procedures. Grocery stores, pharmacies, banks, hardware stores, gas stations, and other businesses that provide staple goods will remain open, Beshear said.
"This is the next step that we need to take to reduce the contacts among Kentuckians until we can defeat this virus," Beshear said. He urged residents to do their part in stopping the spread by not gathering in public and following social distancing by staying 6 feet apart from others.
Maryland Gov. Larry Hogan enacted an executive order closing all nonessential businesses, organizations, and establishments in the state, starting Monday at 5 p.m.
He insisted that he was not issuing or ordering a "shelter in place directive or forcing people to stay home."
"We are telling you that unless you have an essential reason to leave your house, then you should stay in your homes," Hogan said.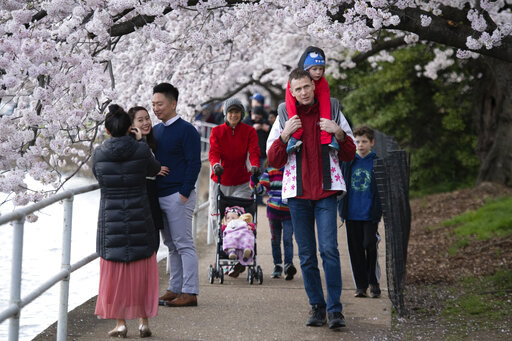 The governor came down strongly against many people in the state who gathered in large crowds to watch the cherry blossoms and gathered in parks and beaches across the region.
During a press conference Monday, Hogan warned residents that they were breaking the state law that forbids crowds of more than 10 people.
"You are literally endangering the lives of your family, your friends, and your fellow citizens," Hogan said.