The president of Colgate University — a liberal arts college in New York — said there was "implicit racial bias" involved when a black student using a glue gun for an art project was mistaken as an "active shooter," leading to a nearly four-hour lockdown of the campus.
On Monday night, the university sent out an alert about "an armed person" on campus after a student called public safety officials to report that they had seen a black man carrying what appeared to be a gun on the premises.
The college sent out a series of tweets about searching for the "alleged armed person" inside a building.
Reports of the armed shooter and the ensuing lockdown caused students and their family members to panic.


After a nearly four-hour lockdown and "thorough investigation," the university said law enforcement had identified the so-called armed shooter as a student who was using a glue gun for an art project.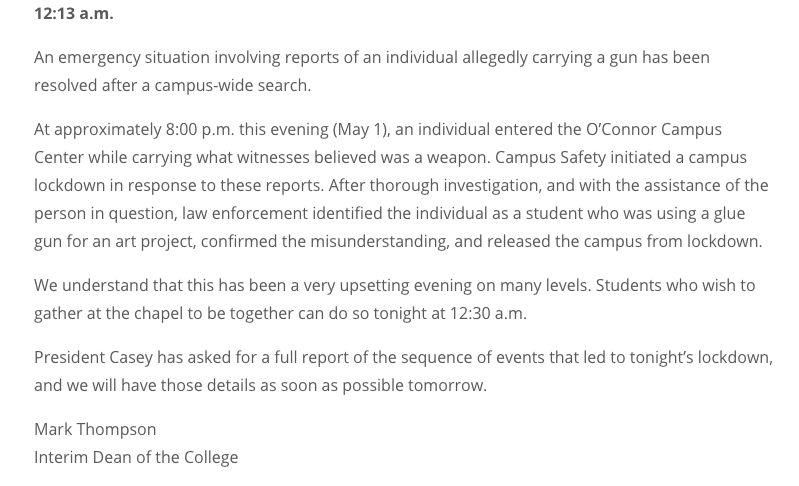 On Tuesday, President Brian Casey released a statement saying "implicit racial bias" had a role to play in the student's initial reporting a black male carrying a gun, and also in law enforcement's response to the incident.
"It is important that we understand the role that implicit racial bias had in the initial reporting of and responses to the events of last night," Casey said. "I want to make sure we speak with those who made and received the initial report to understand the role this played."
Casey said that the alert about an active shooter sent out by campus safety officials was a "profound error."
"More egregiously, perhaps, was the effect profiling had on the response of safety officers and other university offices to these events," Casey said. "In addition, communication and enforcement steps were taken that, I believe, confused and harmed this campus and our students."
Campus Safety Director Bill Ferguson, who was leading the university's security efforts Monday night, was asked to take an administrative leave pending a review of the events, according to Casey.
He said that the college was in touch with the student who was using the glue gun, as well as the student who reported him to law enforcement and the officials who made "essential administrative decisions" during the incident.
Neither student was identified by the university.
BuzzFeed News has reached out to the student who was using the glue gun.
Meanwhile, Colgate students expressed their concerns about the incident on social media. "This is extremely problematic and absurd," one student said.

Another student said this was "one large reaction to a report based purely off racial profiling."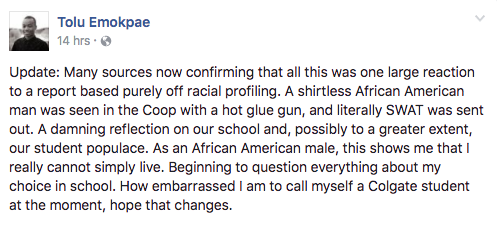 "We spent all night on lockdown fearing for our lives because a young black man was doing an art project. This is racism — this is Colgate," one student said.

CORRECTION
The black student is a sophomore at Colgate. An earlier version of this post misidentified him as a freshman.