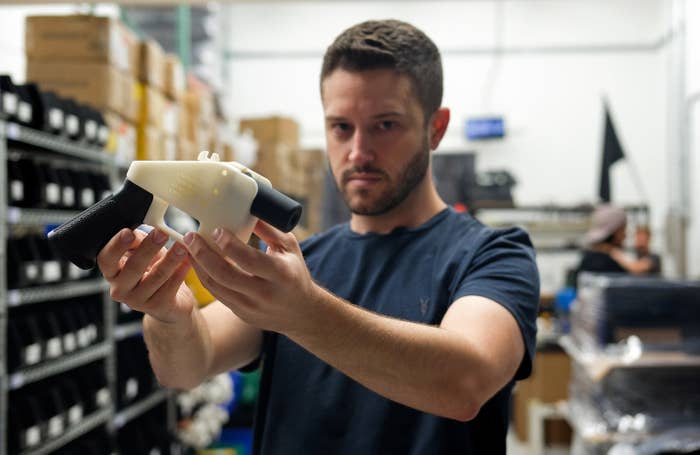 Cody Wilson, the man who is at the center of the 3D-printed guns controversy, was charged on Wednesday for allegedly having sex with an underage girl he met through a sugar daddy website.
Wilson, 30, was charged with sexual assault — a second-degree felony — after he was accused of having sex with a 16-year-old girl in an Austin, Texas, hotel room and paying her $500, according to an arrest affidavit provided to BuzzFeed News.
However, Troy Officer with the Austin Police Department said Wilson did not board a scheduled flight back to the US from his last known location, Taipei, Taiwan. The department is now working with national and international law enforcement agencies to locate Wilson.
Before he left for Taipei, Wilson had been informed by a friend of the teenage girl that she had spoken to police and that he was being investigated for having sexual contact with a minor, Officer said. He left the country before police were able to interview him.
Wilson, a "crypto-anarchist" who created the world's first 3D-printed gun, is at the center of a contentious legal debate after he posted online blueprints for 3D-printed firearms in 2013, allowing anyone to download instructions on how to manufacture untraceable firearms at home. Wilson believes 3D-printed guns are constitutionally protected and has envisioned his Austin-based digital company — Defense Distributed — to be an "encyclopedic" resource for DIY gun-making.

On Aug. 22, the Austin Police Department received a call from a counselor who said that her client — a 16-year-old girl — told her that she had sex with a 30-year-old white man in a hotel room in Austin on Aug. 15 and was paid $500.
The girl told authorities that she met Wilson on the website SugarDaddyMeet.com where she had created a profile. She said that she exchanged messages and cellphone numbers with Wilson, whose screen name was "Sanjuro," according to the affidavit.
She told authorities that "Sanjuro" identified himself as Cody Wilson and as "a big deal." She alleged that he sent her pictures of his penis during their conversations, and that she sent him a naked picture of herself.
The girl also told police that she and Wilson allegedly arranged to meet in person on Aug. 15 in the parking lot of a coffee shop, after which she said he drove her to a hotel in his black Ford Edge at around 8:35 p.m.
The girl told authorities that she and Wilson allegedly had sex, including oral sex, in a hotel room that was registered in his name. Afterward, Wilson allegedly gave her five $100 bills from a bag on the floor and drove her to a Whataburger parking lot, where she left his vehicle, the affidavit stated.
Authorities said surveillance footage and records from the hotel corroborated the girl's statements.
Wilson was charged for "causing the penetration of a child's sexual organ," which under Texas law constitutes a second-degree felony of sexual assault.
Officer did not say if Wilson was aware that the girl was underage. However, he said that detectives who interviewed the girl were of the opinion that if "someone mistakes her age, it would be because they think she's younger, not older, than the 16-year-old she is."
Wilson did not immediately respond to a request for comment.
Wilson had sued the government in 2015 after they took down his online blueprints for 3D-printed guns. However, in June this year, the Trump administration reversed its position and reached a settlement with Wilson's company, allowing it to post downloadable instructions for 3D-printed plastic handguns and semiautomatic rifles.
Hours before Defense Distributed planned to post the blueprints in July, a federal judge temporarily blocked the release.
CORRECTION
Police said Wilson owns a Ford Edge. An earlier version of this post misidentified the car model.