CNN's Dr. Sanjay Gupta Under Scrutiny Over Claims Of Performing Brain Surgery On 8-Year-Old Nepal Earthquake Survivor
The news network said it is investigating the identity of a patient that Gupta claimed to have performed brain surgery on while reporting on the Nepal earthquake in April.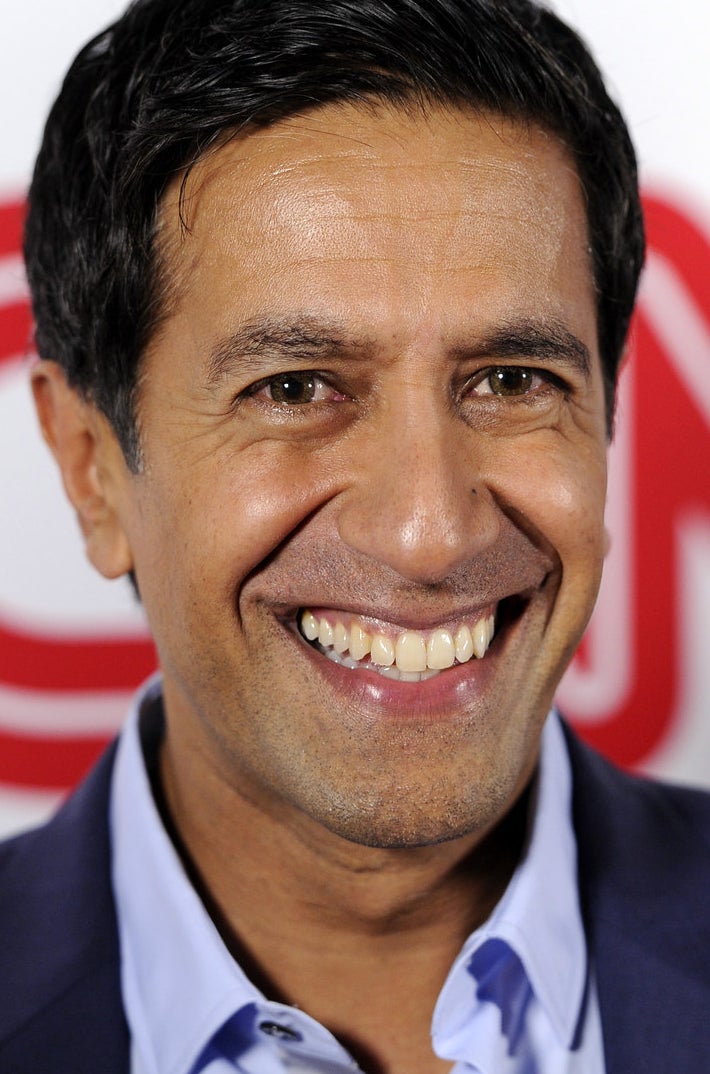 CNN's Chief Medical Correspondent Dr. Sanjay Gupta is under scrutiny after a Global Press Journal report alleged Monday that he falsely claimed to have performed brain surgery on an 8-year-old survivor of the devastating Nepal earthquake in April.
In a CNN report and video published on April 28, Gupta — who CNN describes as a "practicing neurosurgeon" — was shown inside the Bir Hospital in Nepal apparently performing a craniotomy on Salina Dahal, an 8-year-old girl from a remote village in Nepal who suffered injuries during the earthquake.
In the video, the CNN host says Gupta "jumped into action" as the hospital had more patients than they could accommodate. As the camera focuses on Dahal sitting on a hospital bed with a bandaged head, the host asks Gupta: "Tell us about the little girl that we're seeing on the screen whom you just performed brain surgery on."
Gupta then goes on to describe her as Dahal, who he says fell on her head and suffered a "significant brain injury" when her house collapsed during the earthquake. CNN's written report on the surgery said Dahal's "skull was fractured" and that "blood [had] collected on top of her brain, in the right frontal area, and she urgently [needed] surgery to remove the clots."
After the reported surgery was over, Gupta said: "She's doing well, she's recovering well."
However, after the Global Press Journal (GPJ) tracked down Dahal and her family, it was revealed that Dahal never underwent a brain surgery or operation of any kind. According to her medical records, she had minor head wounds and a broken wrist, GPJ reported.
Gupta's description of Salina Dahal's apparent head injuries were actually the injuries suffered by Sandhya Chalise, a 14-year-old earthquake survivor, according to GPJ. Chalise did undergo brain surgery at the hospital, with her family telling GPJ that they saw Gupta enter her hospital room in his scrubs but were unaware of what he did inside.
CNN confirmed to BuzzFeed News that the identity of the patient who Gupta operated on was "unclear" and that they were conducting their own investigation.
"Dr. Gupta assisted with a craniotomy on a patient who was a child," a CNN spokeswoman said. However, she could not confirm who the child was.
Gupta told CNN on Wednesday that he was aware that the patient he operated on "may not have been this 8-year-old girl, but rather separately, a 14-year-old girl in the same hospital."
"We're trying to independently verify exactly which child it was that got the operation at that time," Gupta said. "There were many children, many people in the hospital but we're working to verify that."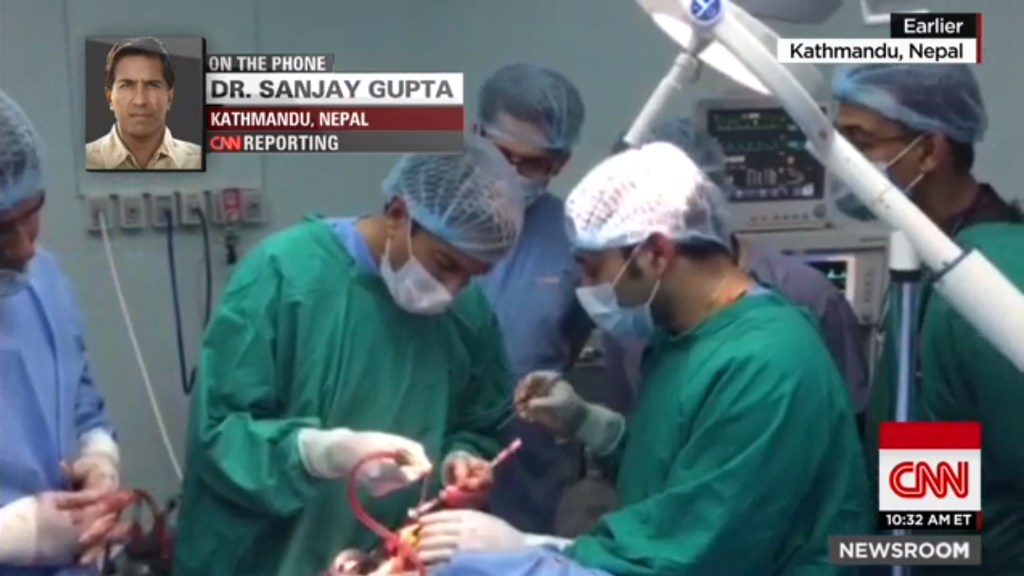 The GPJ report also casts doubt on Gupta's claim of actually having performed a brain surgery on a patient, regardless of her identity.
A doctor at Bir Hospital told GPJ that Gupta "merely observed in the surgery, and briefly used a suction tool" to examine the doctor's work on the patient.
However, GPJ also said that CNN provided them with unused raw footage of Gupta in the operating room using a drill, a string saw, and other tools during the surgery as evidence that he did more than observe.
CNN declined to send that footage to BuzzFeed News on the grounds that it was graphic, personal, and was not intended for distribution.
Doctors at the hospital also disputed Gupta's claims that he was asked to help with the surgeries. In the CNN video, Gupta said doctors asked him to help them with the surgery as they "just need another set of hands because the demand is so high."
From the GPJ:
Dr. Rajiv Jha, a neurosurgeon at Bir Hospital who appears in CNN's videos and who was in the operating room when Sandhya had her craniotomy, repeatedly told GPJ that Gupta asked to help in a brain surgery. In CNN's videos, Gupta states that doctors at Bir Hospital asked for his assistance.

"I met him in the morning. Since the morning, he wanted to help me during surgeries," Jha says. "But as I said, that I have sufficient manpower to perform the neurosurgeries."
In a statement on Wednesday, CNN reiterated that Gupta performed a craniotomy on a young victim and "helped save a young life."
CNN's statement read:
"Journalism is not brain surgery. But brain surgery is brain surgery. We are so proud that Sanjay was one of the few reporters in Nepal to cover the earthquake, and while there, was asked to help save a young victim's life.

As we reported, he assisted the surgeons at Bir Hospital by performing a craniotomy on a young victim. Some reporting has suggested it was not the young girl we, at the time of our reporting in the midst of the crisis, believed her to be. We will try to verify that.

Regardless, Sanjay spent a week in Nepal, helped save a young life in the operating room, and we couldn't be prouder of him. He has our full and unequivocal support."
Dr. Ganesh Bahadur Gurung, vice chancellor of Nepal's National Academy of Medical Science, which manages Bir Hospital, told GPJ that a doctor who drills into a patient's head without confirming the patient's identity "is not a surgeon, he is a butcher."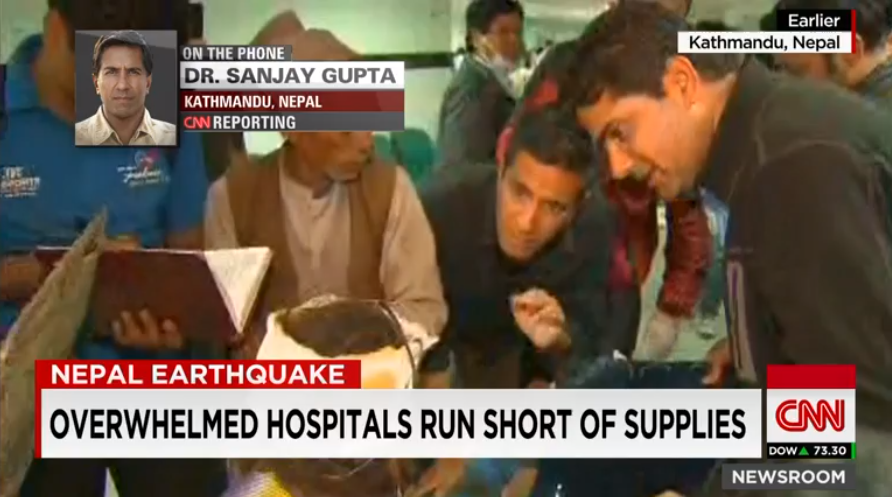 The original written report of Gupta's surgery, written by CNN producer Tim Hume, identified his patient as 14-year-old Sandhya Chalise who was suffering from blood clots. The original version of the report also mentioned 8-year-old Salina Dahal with her actual injuries.
GPJ reported that Hume's article was updated nine hours later to reflect Gupta's claims in the video that his patient was Dahal. Chalise's name was completely omitted from the updated version of the story and her injuries were used to describe Dahal's injuries instead.
CNN's spokesperson told BuzzFeed News that the story was changed by Gupta, who believed that he was performing surgery on an 8-year-old and not a 14-year-old.
The written report was updated with an editor's note on Wednesday saying: "Questions have arisen about the identity of the girl who Dr. Sanjay Gupta helped operate on during a week in Nepal in the aftermath of a devastating earthquake. CNN is looking into those questions and will update our coverage as warranted. Gupta helped doctors at Bir Hospital in Kathmandu perform a craniotomy in a makeshift operating room on a young patient as described in this story; it is the identity of the patient that is in question."
Gupta's video and both versions of CNN's report were picked up by a number of publications.
Speaking to CNN on Wednesday, Gupta attributed his apparent confusion about his patient to the "chaotic situation" in the hospital and the language barrier.
"I talked to the the doctors there, there is sometimes a bit of a language barrier," Gupta said. "I was told there were six patients, all children, that are needing operations on their brains...I'm being shown their scans."
He said that an operation was performed on a girl who needed it and that he was happy to report that both the girls survived.
"It's a chaotic situation when your report on these types of things," Gupta said. "You take lots of different pieces of information, you consolidate it and in the end you tell a story."