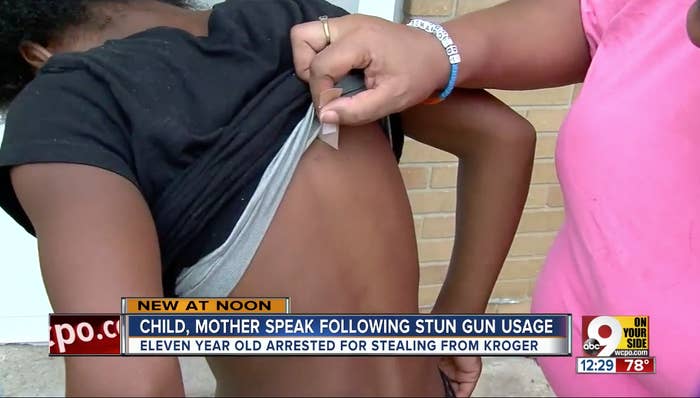 A Cincinnati police officer has been placed on restricted duty after he used a taser on an 11-year-old girl who was accused of shoplifting from a grocery store, officials said.
The officer — identified as Kevin Brown in a police report provided to BuzzFeed News — was working an off-duty detail at a Kroger store. He was investigating several girls for allegedly stealing from the store on Monday, Cincinnati police said in a statement.
When Brown, who wasn't officially identified in the statement, approached one of the juveniles, she ignored several of his commands to stop and continued to walk away, police added.
Brown then deployed his taser and struck the 11-year-old girl in the back, police said.
She was then placed into police custody and charged with theft and obstructing official business.
After the girl was evaluated at a children's medical center, she was released into a parent's custody and is expected to appear in court at a later date.
"We are extremely concerned when force is used by one of our officers on a child of this age," Cincinnati Police Chief Eliot K. Isaac said in a statement. He added that the department is conducting a "thorough review" of its policies relating to juveniles as well as the "propriety of the officer's actions."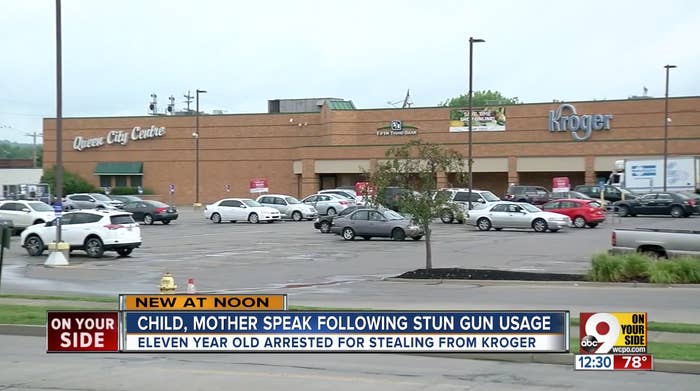 A spokesperson for Kroger told BuzzFeed News in a statement that while it was an "isolated situation, we share Police Chief Isaac's extreme concern and appreciate the Cincinnati Police Department's response."
"We want to understand what happened, why it happened, and we are assisting local law enforcement with their investigation," the statement added.
A Cincinnati police spokesperson did not respond to BuzzFeed News' requests for comment.
The girl — who is a fifth-grader — was carrying a book bag full of items from the store, according to the police report. She is listed as 4 feet, 11 inches tall and 90 pounds in the report.

Her mother, Donna Gowdy, said that her daughter's back still hurts from the taser and that she shivers at night when trying to sleep.
Gowdy told WCPO that she wants justice for her child and that she doesn't want this to happen to other people's children.
"It could have been worse," Gowdy said. "It could have been a gun."
She also said her daughter should not have been stunned with a taser. "If you can't run, then you need to get off the police force," Gowdy said. "If you can't handle an 11-year-old child, then you really need to get off the police force."
The Cincinnati Police Department's policy on use of force states that officers can use tasers on anyone between the ages of 7 and 70, except pregnant women.

According to the guidelines, a taser should only be deployed on a suspect who is "actively resisting arrest" or when the officer needs to defend against the suspect or from "active aggression."
"An individual simply fleeing from an officer absent additional justification,
does not warrant the use of the TASER," the policy states.
The guidelines advise officers to consider the severity of the crime and the risk posed to others by the suspect before using the taser.
Police officials said the officer did not activate his body camera until after he fired the taser, Cincinnati.com reported.
"There needs to be a complete investigation," Cincinnati Vice Mayor Christopher Smitherman told Cincinnati.com. "It's hard to understand why an 11-year-old would be tased. I expect answers in 24 hours."