Chris Christie Says Parents Should Have A Choice In Vaccinating Kids
Christie called for "balance" and "choice" in vaccinations, taking a position at odds with the medical community.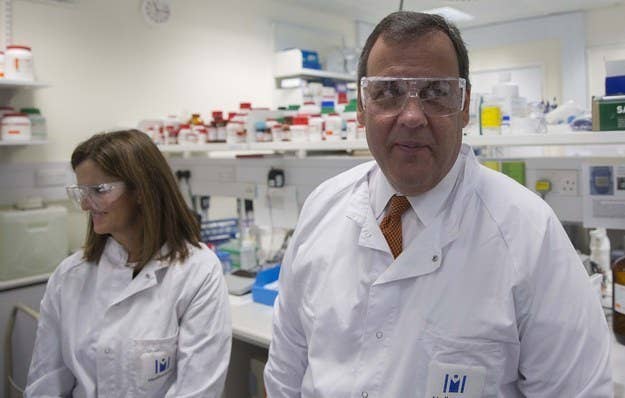 New Jersey Gov. Chris Christie said Monday that parents should have "some measure of choice" in vaccinating their children, breaking with a majority opinion of the medical community.
His comments came during an ongoing outbreak of measles across the United States.
When asked about the link between the outbreak in 14 states and anti-vaccine parents, Christie said that his children had been vaccinated and that it was "an important part of being sure we protect their health and the public health," according to transcripts provided by his office.
He added, however, "It's much more important, I think, what you think as a parent than what you think as a public official."
"I also understand that parents need to have some measure of choice in things as well, so that's the balance that the government has to decide," he said.
In the U.S., 19 states allow parents to opt out of school vaccination requirements for their children based on philosophical reasons, according to the Centers for Disease Control and Prevention. New Jersey is not one of them.
Christie delivered his comments, which came during a tour of a biomedical research facility during a trade visit to the U.K., the morning after President Obama urged parents to "get your kids vaccinated." While acknowledging there were families concerned about the effects of vaccinations, Obama said the science is "pretty indisputable."
"There is every reason to get vaccinated, but there aren't reasons to not," he said.
When told by a reporter that leaving the option of not getting vaccinated posed a great public risk, Christie responded by calling for a balance that "depends on what the vaccine is, what the disease type is, and all the rest."
"I didn't say I'm leaving people the option," he said. "What I'm saying is that you have to have that balance in considering parental concerns because no parent cares about anything more than they care about protecting their own child's health and so we have to have that conversation, but that has to move and shift in my view from disease type. Not every vaccine is created equal and not every disease type is as great a public health threat as others. So that's what I mean by that so that I'm not misunderstood."
From Jan. 1 to Jan. 28, 84 people from 14 states were reported to have measles, according to the CDC. Most of these cases were part of the ongoing outbreak that originated in California's Disneyland parks.
"The majority of the adults and children that are reported to us for which we have information did not get vaccinated or don't know whether they have been vaccinated," Dr. Anne Schuchat, the assistant surgeon general and director of CDC's National Center for Immunization and Respiratory Diseases, said in a recent press briefing.
"This is not a problem with the measles vaccine not working. This is a problem of the measles vaccine not being used," she said.
The CDC says that if people stopped getting vaccinated, "diseases that are almost unknown would stage a comeback. Before long we would see epidemics of diseases that are nearly under control today. More children would get sick and more would die."
While running for governor in 2009, Christie said he supported vaccine critics whose families had been affected by autism, The Daily Beast reported.
A week before the state's gubernatorial election, Christie wrote in a letter:
I have met with families affected by autism from across the state and have been struck by their incredible grace and courage. Many of these families have expressed their concern over New Jersey's highest-in-the nation vaccine mandates. I stand with them now, and will stand with them as their governor in their fight for greater parental involvement in vaccination decisions that affect their children.