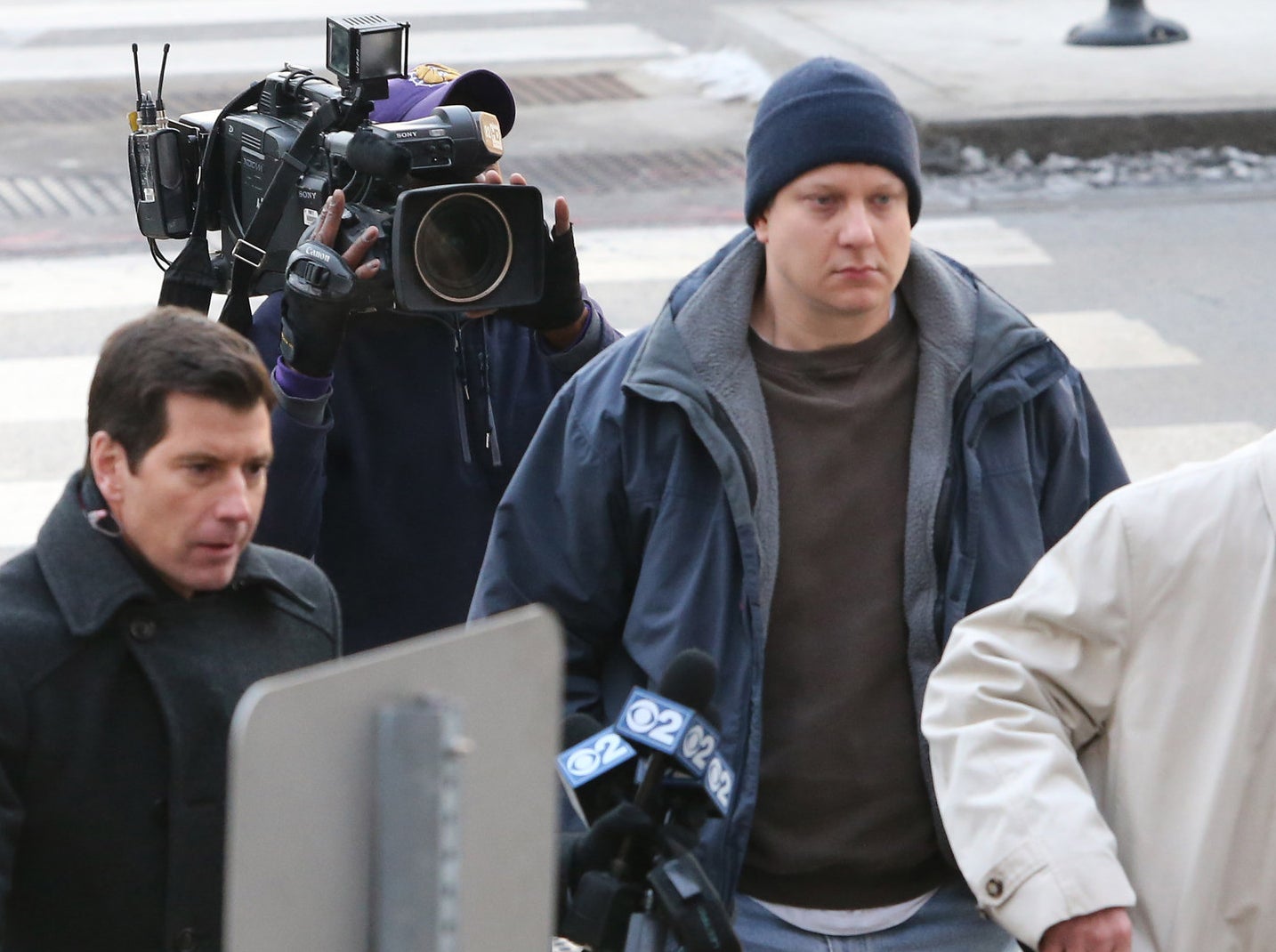 A white Chicago police officer on Tuesday was charged with first-degree murder in the fatal shooting of a black teen in 2014.
The Cook County State's Attorney's Office indicted Officer Jason Van Dyke for shooting 17-year-old Laquan McDonald 16 times in October 2014, the office confirmed to BuzzFeed News.
Van Dyke turned himself into authorities Tuesday morning. A judge ordered him to be held without bond at a noon hearing. Another bond is scheduled for Monday, after the judge has reviewed dash-cam video of the incident.
As of Tuesday, he is no longer being paid by the city. This is the first time in nearly 35 years that a Chicago police officer was charged with first-degree murder for an on-duty fatality, the Chicago Tribune reported.
The charges come as city officials released the graphic, and potentially explosive, dashcam video.

At a press conference Tuesday, Cook County State's Attorney Anita Alvarez, called the video "graphic, violent and chilling."
"To watch a 17-year-old die in such a violent manner is deeply disturbing," Alvarez said. She said the video would "tear at the hearts of all Chicagoans."

Alvarez then went on to describe the incident as captured without sound on the dash cam video.
She said that Van Dyke fired all 16 rounds of his firearm at McDonald in the span of 14 to 15 seconds, 13 seconds of which McDonald was lying on the ground.
She said that McDonald, who was holding a 3-inch folding knife in his hand, appeared to be moving "slightly away" from the officers. There were a total of eight officers on the scene, including Van Dyke and his partner.
While McDonald was moving away, the video appeared to show Van Dyke taking a step towards him, Alvarez said. She said that Van Dyke was on the scene for 30 seconds before he started shooting at McDonald.
"His arm jerks, body spins and he falls to the ground," Alvarez said.
Van Dyke is seen taking another step towards McDonald after which he is out of the frame. Within two seconds, McDonald is seen lying on the street on his right side, she said. He is on the ground for 13 seconds with his body and arm jerking and in that time three visible clouds of debris are seen indicating the bullets fired at him, according to Alvarez.
"He is still lying on the street before the last visible shot is fired," Alvarez said.
Van Dyke had a 16-round capacity in his gun and among all eight officers, he was the only one who shot all 16 bullets at McDonald, she said.
According to Alvarez, civilians said they saw McDonald walking away, looking for a way to get away from the police.
A witness said McDonald never moved or lunged or did anything threatening towards the officers before he was shot to the ground, Alvarez told reporters. The witness said there was a pause in the shooting when McDonald fell to the ground but then the shots continued. The witness also said he did not see McDonald doing anything threatening that would have prompted Van Dyke to continue shooting him as he lay on the street.
Alvarez said that this showed the shooting of McDonald when he didn't pose an immediate threat and when lay on the ground after being struck "were not justified and not a proper use of deadly force by this officer."
"He went overboard and abused his authority," Alvarez said.
The McDonald family issued a statement responding to the charges, asking for "calm in Chicago."
"We [the family of Laquan McDonald] deeply appreciate the outpouring of love and support for Laquan. This is a difficult time for us. As we have said in the past, while we would prefer that the video not be released we understand that a court has ordered otherwise.

We ask for calm in Chicago. No one understands the anger more than us but if you choose to speak out, we urge you to be peaceful. Don't resort to violence in Laquan's name. Let his legacy be better than that."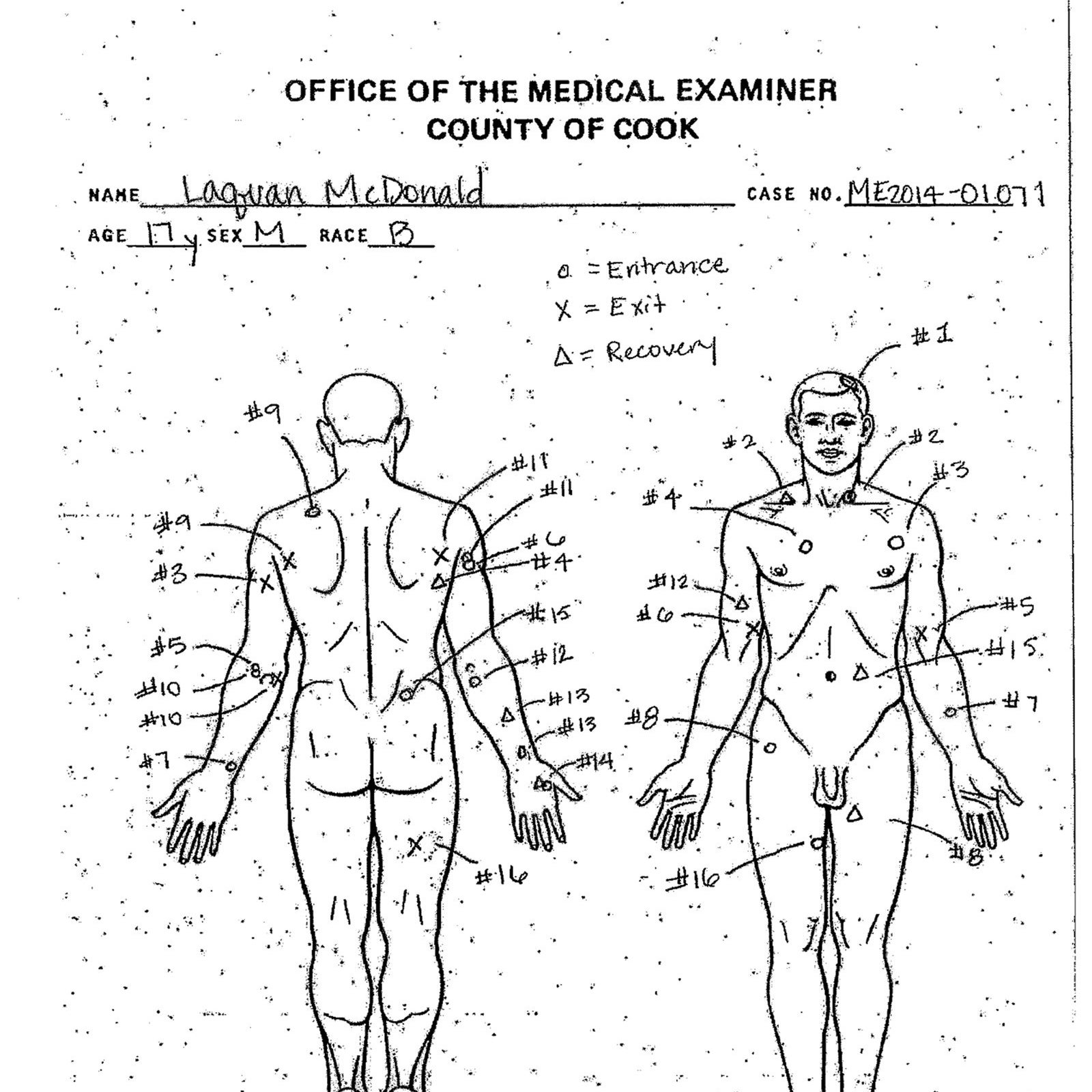 The city had refused to release the video, arguing that doing so could jeopardize the ongoing investigation. However, a judge last week ordered the Chicago Police Department to release the video no later than Wednesday, sending city officials scrambling to work with civic leaders and appeal for public demonstrations and reaction to be peaceful.
In a six-minute call with a coalition of community leaders that the Chicago Tribune was privy to, the city's mayor, Rahm Emanuel, said that while he had not seen the video, "what happened here is wrong."
"There is no justification and it's profoundly hideous, in my view," Emanuel said, according to the Tribune. "And it's a shock to your conscience of what happened, and it should not have happened."
The video will be shown to the court on Monday, Nov. 30, the judge said at Tuesday's bond hearing.
A report from the Cook County Medical Examiner's Office obtained by the New York Times showed that some of the bullets that hit McDonald — who police say was holding a knife — entered from his back.
Since Van Dyke joined the Chicago Police Department in 2001, his personnel file showed 18 complaints, including allegations of using racial slurs, excessive force, and illegal arrests, Fox 32 reported. The complaints were dismissed after internal investigations. However, in 2007, a motorist won a $350,000 judgment in federal court over Van Dyke's use of excessive force, according to the Fox 32 report.
Van Dyke is on administrative leave pending the investigation led by the Cook County state's attorney. A source told BuzzFeed News that in such cases the administrative investigation by the Chicago PD is on hold until the criminal investigation is concluded.

The president of Chicago's police union, Dean Angelo, said he stood by Van Dyke and suggested that at times it was necessary for officers to use their weapons. Speaking to reporters Tuesday, Angelo said he would need to see the video for the facts.
Daniel Herbert, Van Dyke's attorneys, told reporters, "This is not a murder case."
The judge's order to release the video came after Chicago-based freelance journalist Brandon Smith filed a lawsuit against the police department in August for its refusal to release it.
Citing discrepancies between the official version of the incident and eyewitness accounts, as well the footage seen by attorneys for the McDonald family, Smith argued that Chicago police had violated the Freedom of Information Act by refusing to release the video after taking "repeated bad faith extensions of time to respond" to his multiple requests over two months.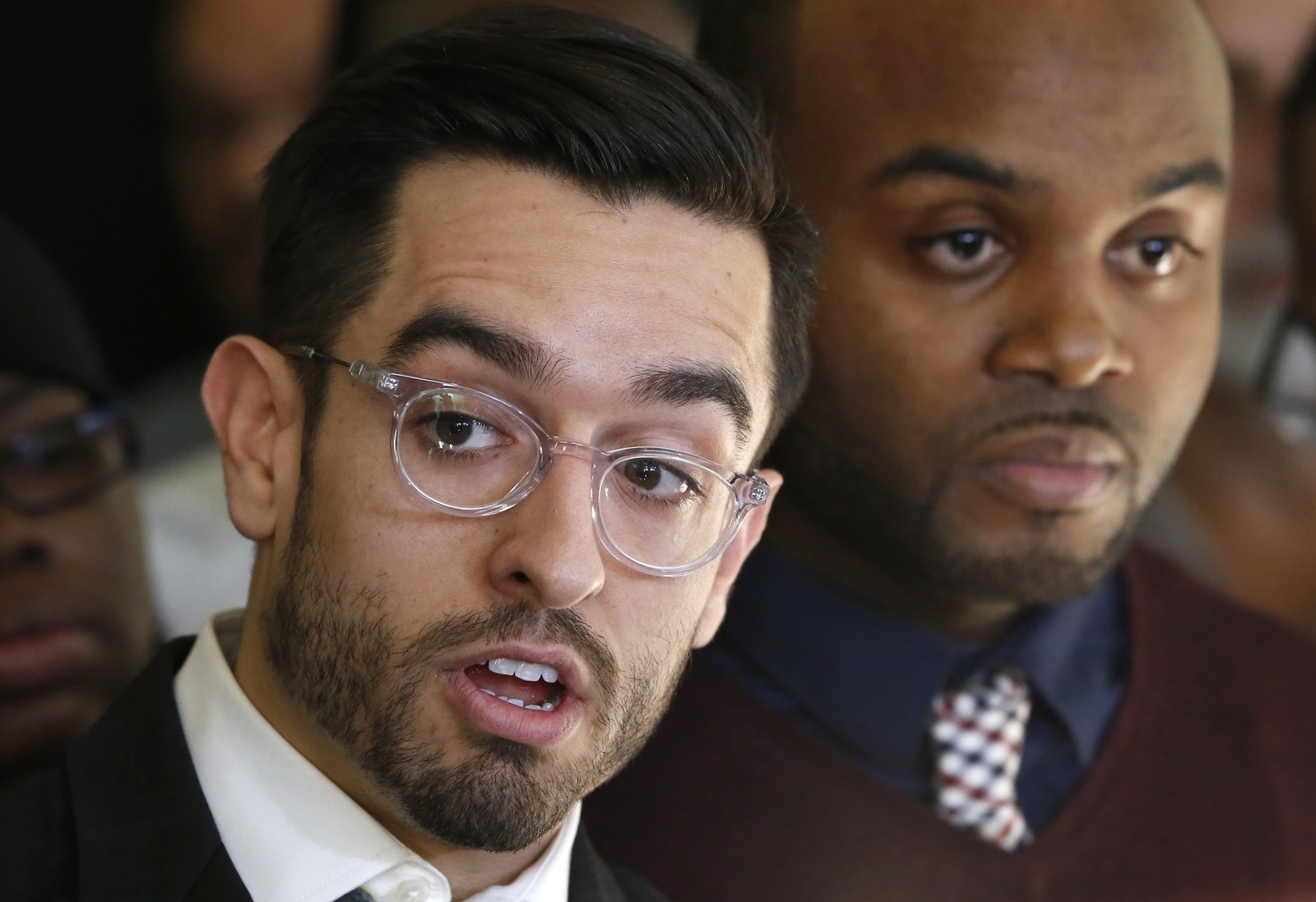 In April, the Chicago City Council approved a $5 million settlement with the family, the terms of which prohibit attorneys from releasing the dashcam video.
Michael Robbins, a lawyer for the McDonald family, told BuzzFeed News that his clients were not looking forward to the "very graphic and disturbing" footage being made public. However, Robbins, who has seen the video, said it was important that the public "learn the truth of what happened."
It is also important to correct the misinformation issued by the Chicago police union after the incident, Robbins added, including that Van Dyke was being attacked and lunged at by McDonald.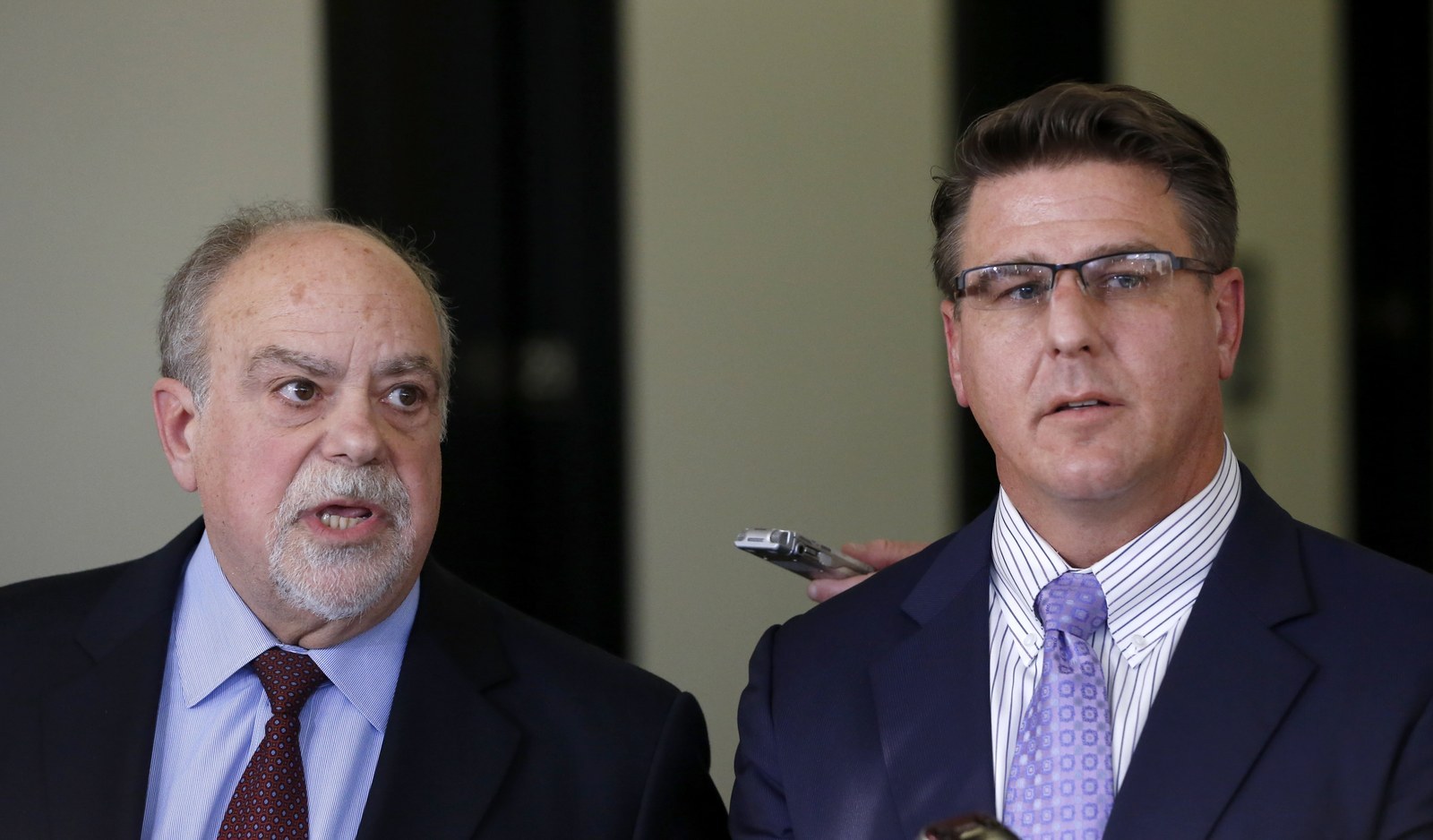 On Oct. 20, 2014, police responded to a 911 call about a knife-wielding man trying to break into vehicles in the Chicago Lawn neighborhood. An autopsy report determined that McDonald was high on PCP at the time.
According to police, McDonald refused to drop his folding knife and walked or jogged away from them. At one point, the teen pounded at the window of a squad car and punctured its tire with his knife, authorities said.
Lacking Taser guns, officers on the scene requested backup to help detain and arrest McDonald.
The dashcam video then allegedly shows that Van Dyke started firing the 16 rounds at McDonald when he was walking away from the officer at a 45-degree angle, Robbins said.
"He did not approach or threaten the officer when he was shot," Robbins said. "At no point before he was shot did he face the officer."
According to Robbins, there were also about six other officers, some in their cars and some on foot, who witnessed the shooting.
"It happened pretty quickly," he said.
Emanuel said in a statement after the judge's order that the city would release the video to the public by Wednesday in the hopes of bringing the investigation to a close, and so "Chicago can begin to heal."

The video is also widely expected serve as a setback for Emanuel's administration, which has faced criticism for not doing enough to address Chicago's stubborn crime rate and incidents of police use of force.
"Police officers are entrusted to uphold the law, and to provide safety to our residents," Emanuel said. "In this case, unfortunately, it appears an officer violated that trust at every level."