Cody Wilson Resigned From His 3D-Printed Gun Company After Being Accused Of Having Sex With An Underage Girl
Wilson, who's been at the center of the 3D-printed gun controversy, was arrested on Friday in Taipei, Taiwan.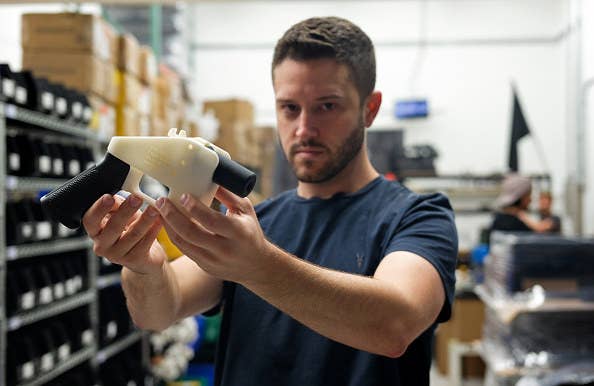 Cody Wilson has resigned as the CEO of Defense Distributed, his 3D-printed gun company, in the wake of sexual assault charges against him in Texas.
Wilson, 30, was charged with sexual assault — a second-degree felony — after he was accused of having sex with a 16-year-old girl he met on a "sugar daddy" website.
Wilson resigned on Friday following his arrest in Taipei, Taiwan, where he traveled two weeks before being charged by Texas law enforcement.
Wilson tended his resignation "to focus on personal legal affairs," said Paloma Heindorff, the new CEO of Defense Distributed, in a press conference Tuesday.
"It was his own decision and we support him in it," Heindorff said. "Going forward, he has no role in the company."

Wilson and Defense Distributed are at the center of a contentious legal debate after he posted blueprints online for 3D-printed firearms, allowing anyone to download instructions on how to manufacture untraceable firearms at home. A district court judge in July halted the company from distributing the plans for free, but Defense Distributed soon found a workaround and began legally selling the plans.
Wilson — who founded Defense Distributed in 2012 and created the world's first 3D-printed firearm in 2013 — had envisioned the Austin-based company to be an "encyclopedic" resource for DIY gun-making.
Heindorff said Wilson's legal troubles did not have a "huge effect" on the company's sales of 3D-printed gun plans, adding that they had around 3,000 orders.
"We have no intention of stopping," she said.

Texas authorities began investigating Wilson in August after receiving a call from a counselor. She said a 16-year-old girl told her she had had sex with a 30-year-old white man in a hotel room in Austin on Aug. 15 and was paid $500.
The girl told authorities that she met Wilson on the website SugarDaddyMeet.com where she had created a profile. She said that she exchanged messages and cellphone numbers with Wilson, whose screen name was "Sanjuro," according to the affidavit.
She told authorities that "Sanjuro" identified himself as Cody Wilson and as "a big deal." She alleged that he sent her pictures of his penis during their conversations, and that she sent him a naked picture of herself.
Before he left for Taipei, Wilson had been informed by a friend of the teenage girl that she had spoken to police and that he was being investigated for having sexual contact with a minor, Austin police said. He left the country before police were able to interview him.