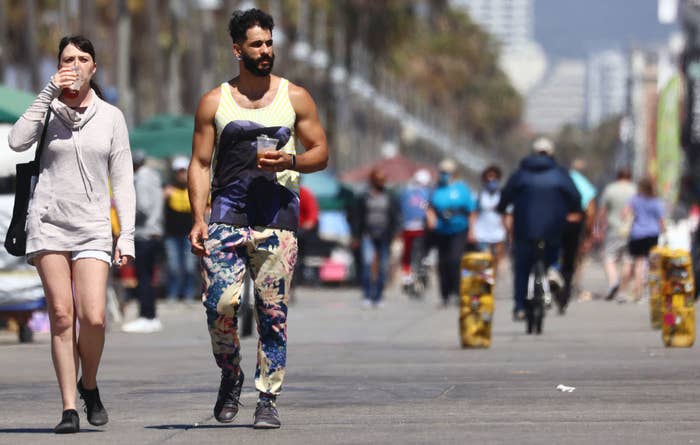 Fully vaccinated people in the US can ditch their masks and stop socially distancing in almost all indoor and outdoor settings, the CDC said in new guidelines Thursday, marking a milestone in the coronavirus pandemic that has gripped the country for more than a year.
"If you are fully vaccinated, you can start doing the things that you had stopped doing because of the pandemic," CDC Director Rochelle Walensky said in a White House press briefing.
Walensky described the new guidance as an "exciting and powerful moment."
She cited the data on the real-world effectiveness of the vaccines and their ability to protect against variants, the low risk of transmission to others, and universal access to vaccines for those 12 and older.

"We have all longed for this moment when we can get back to some sense of normalcy," she said. "That moment has come for those who are fully vaccinated."
The new guidance says that anyone who is fully vaccinated — and past the two-week mark from their last vaccine shot — can participate in large or small indoor and outdoor activities without wearing a mask or physically distancing.
However, the CDC issued a few exceptions to the guidance, mainly that fully vaccinated people should still wear masks while traveling on planes, buses, trains, and other public transport, and also at airports and stations in the US.
The guidance also does not apply to healthcare settings such as hospitals and doctors' officers as well as correctional facilities or homeless shelters, the CDC said.
Speaking in the White House Rose Garden, President Joe Biden told reporters the news was a "great milestone."
"Today is a great day for America in our long battle with the coronavirus," he said.
Walensky advised those who are immunocompromised to talk to their doctors before giving up their masks.
People who are fully vaccinated should also still wear masks where required by federal, state, local, tribal, or territorial laws, rules, and regulations, including local business and workplace guidance, the guidelines said.
Walensky said the CDC will be updating its guidance with regard to schools, businesses, and communities, but added that those decisions have to be made at the local level.
When asked by CNN's Jake Tapper if grocery stores, pharmacies, and other shops should let fully vaccinated people come in and shop without masks, Anthony Fauci, chief of the National Institute of Allergy and Infectious Diseases, said "absolutely," adding "that's really the whole point."

Whether businesses should be asking customers if they've been vaccinated and if local and state governments should do away with mask mandates now are a bit trickier questions to answer, Fauci said.
"Since you can't completely validate that someone's vaccinated except depending upon them telling you that, if you drop the mask mandate, then you might have an increase in infection among those who are not vaccinated," he said. "That's not an easy decision to make."

The revised guidelines come after mounting pressure on federal officials to ease COVID-19 restrictions. They also come a little over two weeks after the CDC released confusing guidelines for fully vaccinated Americans.
Many scientists celebrated the news about the CDC's change, arguing it made clear the extraordinary benefits of getting vaccinated. At the same time, some also expressed concerns about the consequences of such a bold shift in the national guidance at a time when the majority of Americans are not vaccinated and infectious variants are spreading across the country.
"I'm glad they did this. I'm supportive of it," Georges Benjamin, executive director of the American Public Health Association, told BuzzFeed News, saying that the guidance passed the "common sense test."
But Saskia Popescu, an epidemiologist at George Mason University, said that, while she applauded the CDC for making a science-based decision, she wished that the agency had provided more guidance about how to implement this change in real-world settings.
"I'm always grateful to see evolving guidance that encourages people to make safer decisions, in this case vaccinations. In this case, in theory, it's really, really great," said Popescu. "But I think the realities of it are going to make it a bit challenging." For businesses, for example, she pointed out: "How are they going to handle it when they don't know [a customer's] vaccination status?"
"I'm nervous for places that maybe don't have low transmission and don't have high vaccination rates," Popescu said. "And I wish we would've been able to get more than 35% of the US fully vaccinated before we went down this route."
The country's unvaccinated population currently includes both millions of eligible adults and all children under 12. Vaccine access just opened up to young teens ages 12 to 15 on Wednesday.

Alex Huffman, an aerosol scientist at the University of Denver, said that health officials should continue to push hard to improve vaccination rates and that, ideally, uptake would have been more robust before this guidance change. "I worry a little bit that rescinding the mask mandates could give cover for people that just didn't like wearing masks to begin with and are also not vaxxed," he said. Indoor crowds of largely unmasked, unvaccinated people could pose a risk for further outbreaks, he said, "just because of the possibility of one person in there being a super spreader."
Fauci and Walensky agreed Thursday that people should make decisions based on their own comfort and that those who want to continue to wear their masks even after being fully vaccinated should not be criticized.
Fauci also said on CNN that children who are not vaccinated should still wear masks when they're playing with others "particularly in an indoor situation." He added that scientists are currently conducting studies on the safety and effectiveness of the vaccines in younger children, saying that he hoped all children will be eligible for shots by the end of the year.
Walensky cautioned that there could be changes to the recommendations given the unpredictability of the virus.
"If things get worse, there is always a chance we may need to make changes to these recommendations," she said.
UPDATE
This story has been updated to include reactions to the CDC guidance from scientists.