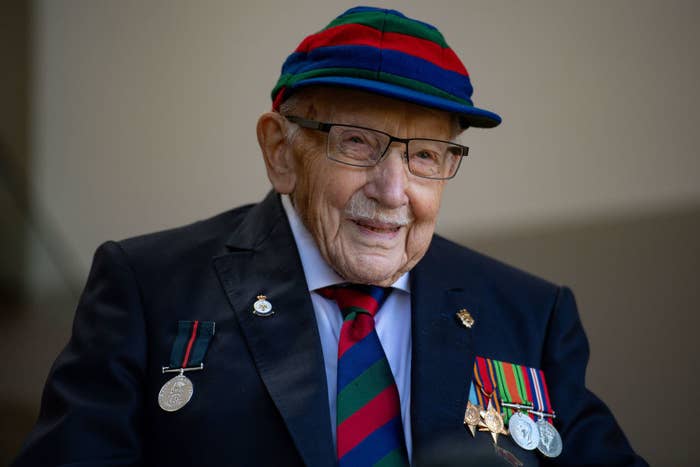 Capt. Tom Moore, the 100-year-old British veteran whose campaign to raise money for healthcare workers during the pandemic made him a beloved global figure, has died, his family confirmed in a tweet Tuesday.
Moore was hospitalized on Sunday after testing positive for COVID-19 last week, his daughter Hannah tweeted.
He was being treated for pneumonia at home before his COVID-19 diagnosis.
Moore was then hospitalized after he needed additional help with his breathing, Hannah said. He was being treated in a ward at Bedford Hospital near London.
Moore, affectionately known as "Captain Tom," became a national hero in the UK and across the world after he raised almost £30 million (more than $37 million) to support National Health Service workers by walking around his garden at the start of the coronavirus pandemic.
Moore had originally intended to raise £1,000 for NHS workers by taking 100 laps around his yard before his 100th birthday. In a live televised event, he completed the final laps while surrounded by a military honor guard.
His heartwarming campaign at a time of deadly global pandemic made him an endearing celebrity the world over.
He was subsequently knighted by Queen Elizabeth II.
On Moore's 100th birthday on April 30, 2020, hundreds of thousands of people sent him cards and made dozens of murals across the UK. The Royal Air Force flew over his house while he was celebrating with his family, and he was even promoted to the rank of an honorary colonel.

"It is even more extraordinary that I am doing so with this many well-wishers," he said at the time. "I am in awe at the response my walking has had."
Prime minister Boris Johnson called Moore a "hero in the truest sense of the word."
The British royal family said that the Queen had sent a private message of condolence to Moore's family and that she had enjoyed meeting him at Windsor last year.