Police departments in the U.S. are being forced to issue warnings about Pokémon Go after reports of suspicious activity, trespassing, and, in one case, armed robbery have surfaced in the wake of the app's massive popularity.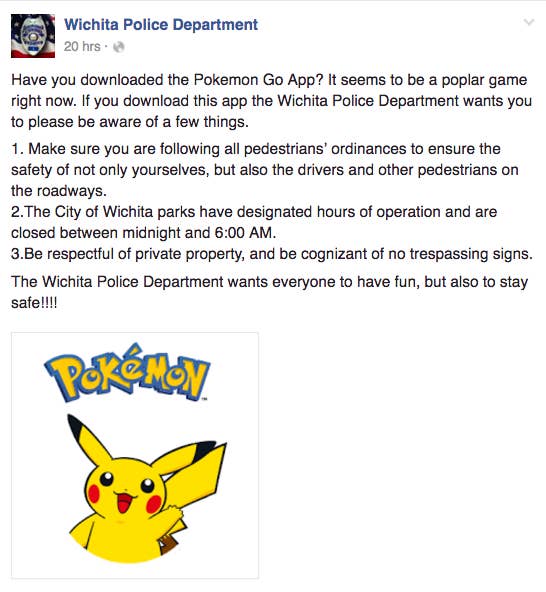 "It looked like a bunch of trendy zombies staring aimlessly at their phones," the Largo Police Department in Florida said in a Facebook post Monday.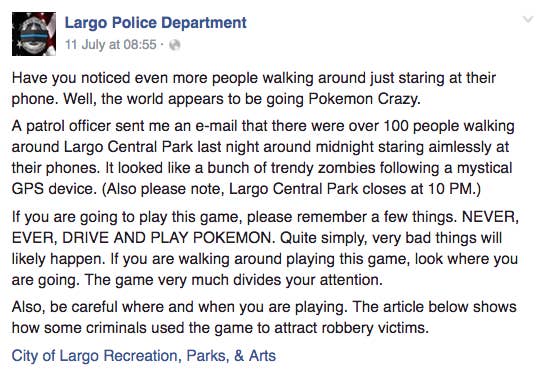 The Bellingham Police Department in Massachusetts has received at least three complaints of "suspicious activity" since Friday, which turned out to be people playing Pokémon Go, Detective Stephen Daigle told BuzzFeed News.
"Yes this is a real facebook post and warning!" the Northbridge Police Department in Massachusetts said, after they received "numerous calls for people (kids and adults) walking in the middle of the road."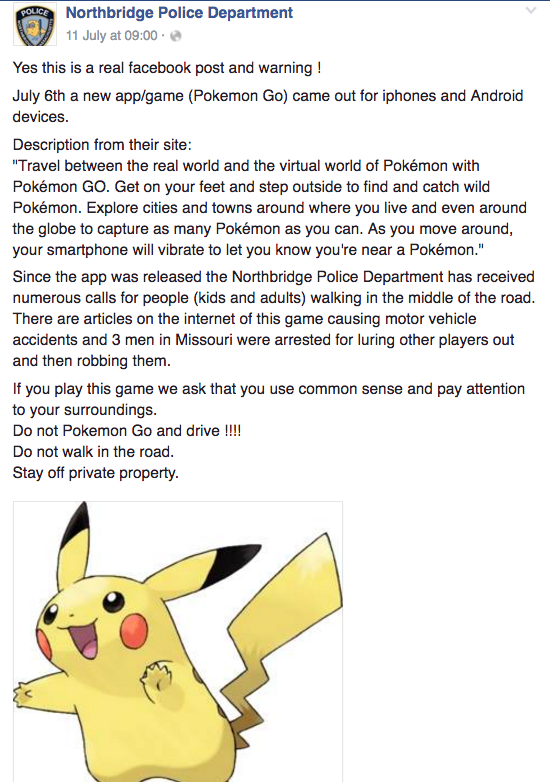 "We have had some people playing the game behind the PD, in the dark, popping out of bushes, etc. This is high on our list of things that are not cool right now," the Duvall Police Department in Washington said in a Facebook post.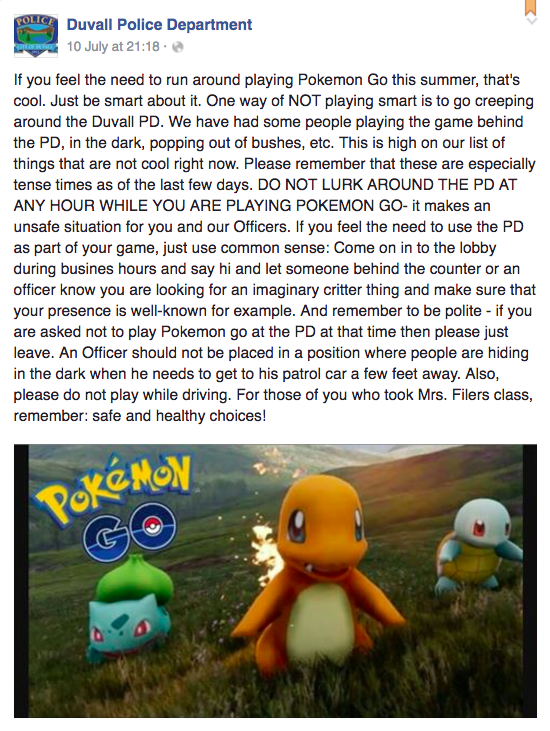 "When I started in this profession never in my wildest dreams did I imagine that there would come a day when I would have to ask the public not to chase imaginary creatures behind the station at night," the department said in a comment.
The New York Police Department warned players to be aware of their surroundings and not to trespass onto private property or go to "areas you usually would not" while playing the game.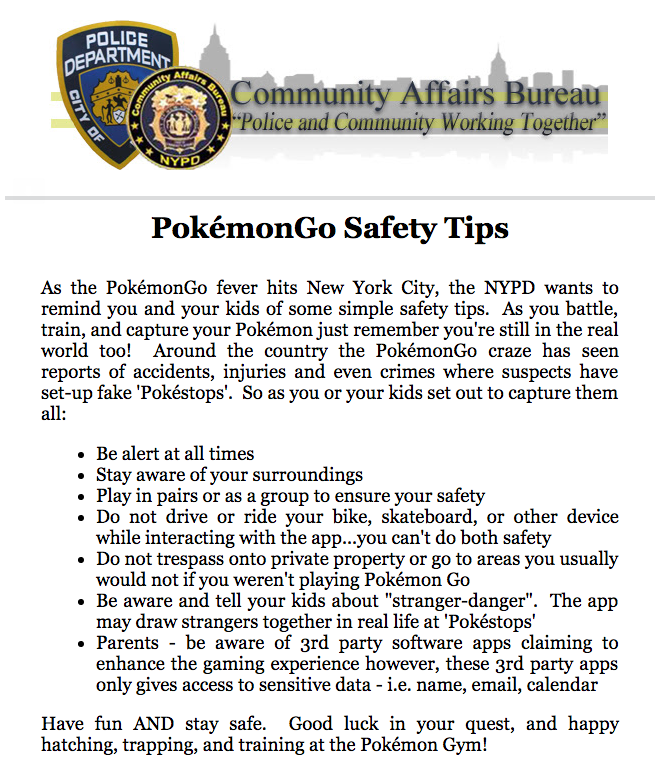 "We never thought we would have to speak directly here to those who are using an app that makes them follow and gather imaginary creatures, but here it is," said the Hawthorne PD in New Jersey.
"So if you see a group of people running around, laughing, and taking pictures with their phones this is probably why," Grand Traverse 911 in Michigan said in a Facebook post after receiving calls about "suspicious people walking around."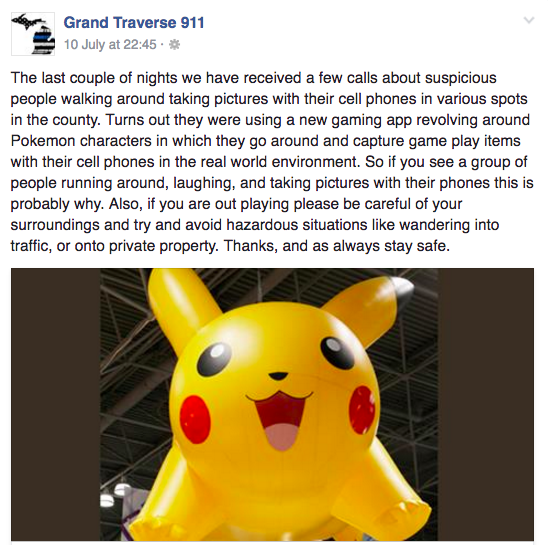 "Heard of Pokemon Go? It's the fastest growing game out there," the Boxford Police Department in Massachusetts said in a post warning players not to trespass on private property or play while driving.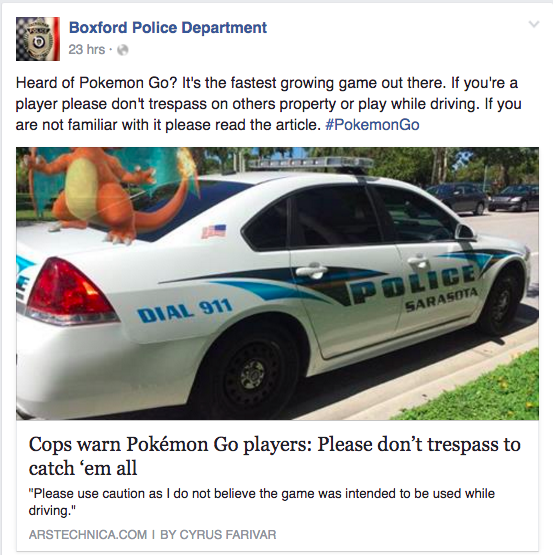 The Tewksbury Police in Massachusetts also urged players not to collect Pokémon while driving.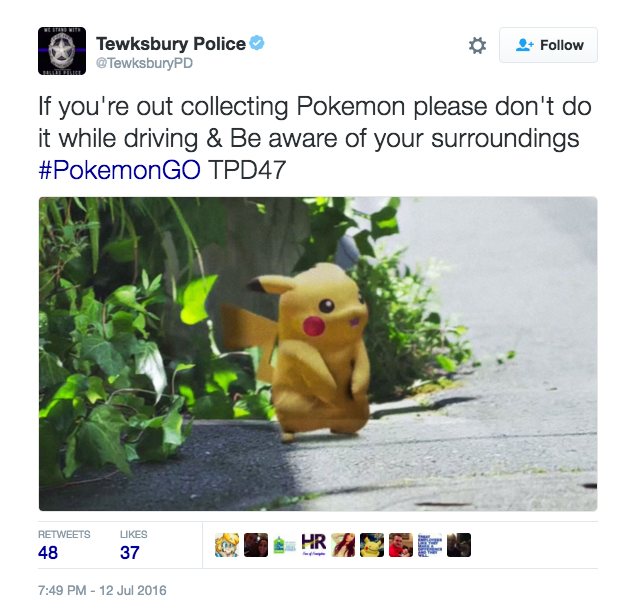 The Medway Police Department in Massachusetts used Facebook to warn people about "elements of danger" after receiving numerous calls about "suspicious persons wandering around" and taking "odd photos and videos" on their phones.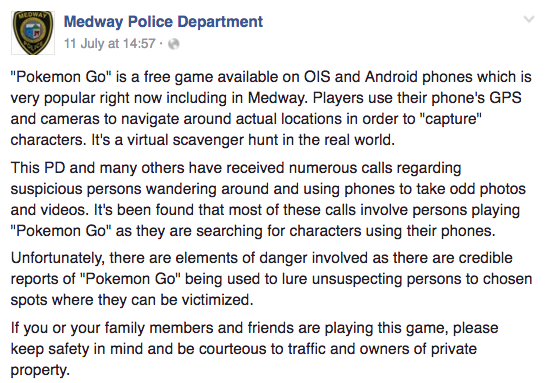 "Although this is a game that encourages people to get outside and walk around, we would be remiss if we did not mention the associated risks and concerns," the Park Ridge Police Department in New Jersey said in a Facebook post.