In The Bronx, Residents Fear Both Criminals And The NYPD
After two police officers were shot while pursuing robbery suspects Monday night, Bronx residents say they don't feel safe anymore.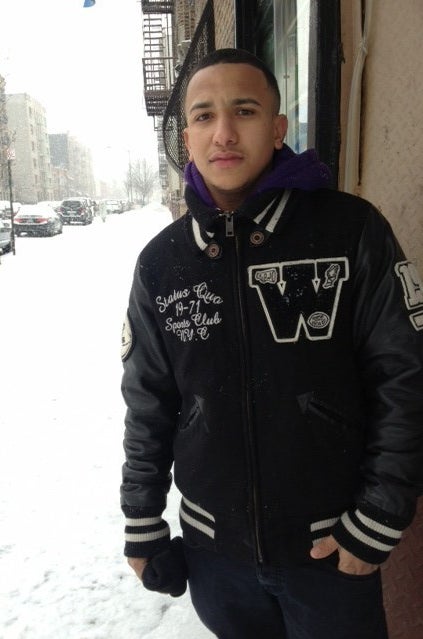 NEW YORK CITY — Omar Corporan, 22, doesn't feel safe when he gets up every morning at his home in the Bronx, a few blocks from where two police officers were shot by a robbery suspect Monday night.
"This is a bad neighborhood," Corporan said as he swept away the snow outside a deli where he hangs out with his friends after school. "It's not even 30% safe. You can either get shot by criminals or harassed by the police."
The crime rate is worsening in the 46th Precinct. Shooting incidents went up from 29 in 2013 to 42 in 2014, a nearly 45% increase, according to NYPD statistics as of Dec. 28.
The number of shooting victims increased nearly 58% over the same period, with the rates for homicides, rapes, and burglaries also on the rise.
The neighborhood's increasing crime rate — coupled with the recent wave of anti-police sentiment in the wake of the officer-involved shooting deaths of unarmed black men Michael Brown in Missouri and Eric Garner in Staten Island — is why Corporan said he fears for his safety on a daily basis.
A psychology student at Bronx Community College, Corporan said that after what happened in Ferguson, Missouri, he doesn't know who to be scared of anymore. While residents are wary of street gangs that dominate the area's neighborhoods, there is also a fear of being harassed by cops "for no reason."
"I'm, like, walking home from school and a cop will, like, push me, show me his gun, and say, 'Get out of here,'" Corporan said. "My friends say, 'Fuck the police.'"
Corporan said he was arrested and beaten by cops five years ago for "resisting" during an argument with his father on the street.
"They beat me up so hard, I was in the hospital," he added.
Despite that experience, Corporan said it was "absolutely not OK" to shoot police officers.
"Cops just need to do a better job," he said.
His friend, 25-year-old Carlos Tejeda, agreed. Tejeda is from Boston but visits his friends in the Bronx neighborhood often. He said that a year ago, people respected police officers. But since Ferguson, "bad people want to shoot the police because they want to demonstrate their anger."
Tejeda believes that the police are partly to blame for the hostility.
"Cops need to be less aggressive with citizens," he said. "They need to be trained better, because many of them come from the streets like us."
Councilman Ritchie Torres, who represents the Central Bronx, said that demands for police reform were "misplaced anger that's centered around police officers."
Protesters should instead direct their anger and concerns away from the police and toward elected officials, he said.
"[The police officers] are not free agents," Torres said. "They're acting at the behest of leaders. They're implementing policies created by establishment."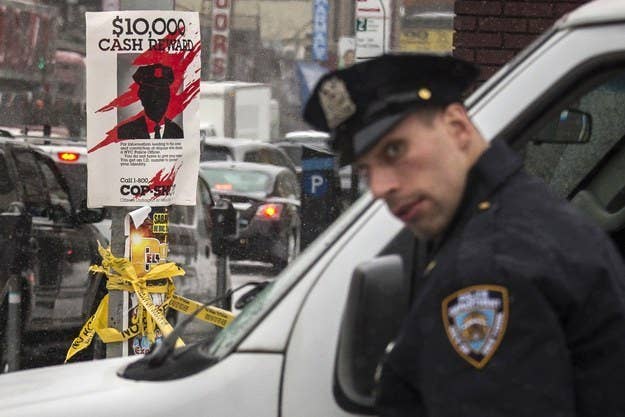 A few blocks away from the scene of the shooting, police cars lined the icy streets Tuesday. After two NYPD officers were gunned down while inside their patrol car in Brooklyn in December, tensions between the police department and Mayor Bill de Blasio are at an all time high, with some union leaders blaming de Blasio for contributing to the current anti-cop climate.
One NYPD officer who refused to be identified declined to comment on the anti-police sentiment, saying only that "there is a consensus between police officers that they don't want to be shot."
Two months ago, 45-year-old Derrick Head moved to the predominately Latino and black neighborhood and said police officers have his respect and support.
"They have to make life and death decisions every day, and sometimes those decisions are wrong. But it's their job and it's a tough one," he said.
Echoing Head's view, Torres said that in the case of last night's shooting, "this is the risk of life and death of policing."
Maribel Riveria, who was visiting her daughter in the neighborhood, said that she was saddened by the shooting of the two officers.
"I am scared," she said. "My nephew is an NYPD officer and I feel unsafe for him after what's been going on. I'm grateful he works in Yonkers and not here."