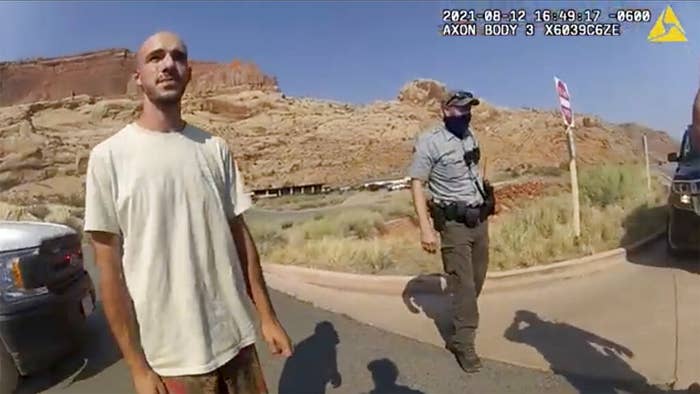 Brian Laundrie, the 23-year-old man who was named a person of interest in the disappearance of his former fiancé, Gabby Petito, died by suicide, according to his autopsy.
"The cause of death has been determined to be a gunshot wound of the head. The manner of death has been determine to be suicide," Florida's District 12 Medical Examiner's Office said in a press release.
The cause of death was first revealed by the family's attorney Steve Bertolino who said Laundrie's parents, Chris and Roberta Laundrie, had been informed that their son died by suicide.
"Chris and Roberta are still mourning the loss of their son and are hopeful that these findings bring closure to both families," Bertolino said in a statement to BuzzFeed News on Tuesday.
Laundrie's remains were found last month at the Myakkahatchee Creek Environmental Park in Florida, near items that included a backpack and notebook that belonged to him. The remains were found in a section of the park that officials said had been previously covered in water. Authorities used dental records to confirm his identity.
An initial autopsy was inconclusive about the cause and manner of death, prompting Laundrie's remains to be sent to an anthropologist for further review, Bertolino had previously told news outlets.
The attorney has also said that Laundrie's family has chosen not to do a traditional funeral service and plan to cremate his remains.
Authorities had embarked upon a monthslong search for Laundrie when he disappeared soon after returning to his Florida home on Sept. 1 without 22-year-old Petito. The two had been traveling and living together in a van while documenting their cross-country road trip on Instagram and YouTube. Petito's case became a national obsession, fueled by true crime fans on social media.

More than a week after Petito's parents reported her missing, her remains were found at a Wyoming campground on Sept. 19. A coroner determined that her cause of death was strangulation and that it was a homicide.
The coroner also said that her remains had remained outside in the wilderness for at least three to four weeks before they were found.
Authorities did not name Laundrie as a suspect in Petito's death but charged him with the unauthorized use of a debit card in the days after she disappeared.
The US National Suicide Prevention Lifeline is 1-800-273-8255. The Trevor Project, which provides help and suicide-prevention resources for LGBTQ youth, is 1-866-488-7386. Find other international suicide helplines at Befrienders Worldwide (befrienders.org).