The Austin police chief apologized to a 26-year-old woman Thursday after a video emerged showing a police officer slamming her to the ground during a traffic stop in 2015.
The video, obtained and posted by the Austin American-Statesman on Thursday, showed Austin police officer Bryan Richter pull elementary teacher Breaion King out of her car and slam her to the ground during a traffic stop on July 15, 2015.

At a news conference Thursday, Austin Police Chief Art Acevedo apologized to King and ordered a criminal investigation into Richter's actions after he was made aware of the video and arrest almost a year after the incident.

"My heart was sickened and saddened when I first learned of this incident on July 19," Acevedo said. "I want to apologize to Breaion King and her family. I'm sorry that on the day that you were stopped for going 15 miles an hour, you were approached and treated in a manner that is not consistent with the expectations of this police chief, of most of the officers of this police department, and most importantly, of all of us as human beings in terms of the way we should be talking to one another and treating one another."


The video shows Richter dragging King out of her car and throwing her to the ground after a conversation where he asked her to put put her feet back in the car and close the door.

Richter pulled King over for going 15 miles over the speed limit. After asking her to put her feet back in the car and close the door, the situation escalated when Richter asks her to get out of the car. During the struggle, King is heard screaming, "Why you touching me? Oh my god! Let me get out. I'm getting out."

Richter then drags her out and slams her violently to the ground, yelling, "Put your hands behind your back. You are under arrest."

"Oh my god!" King is heard screaming. "Why are you doing this to me?"

During the struggle, Richter is heard yelling, "stop resisting." At one point, King is slammed to the ground again. "I'm not getting up," she is heard telling Richter. "I'm trying to put my hands behind my back."

In his version of events, Richter tells an officer that he was worried that King was being "uncooperative" and that he "grabbed onto her" when she pulled her arm away and was attempting to go over to the passenger side. He said that when he got her out of the car, she "took a swing at me and missed," and that when he saw her swinging "I just threw her down."

"I do not recall swinging at him at all," King told the Austin American-Statesman in an interview.


"The video speaks for itself," Acevedo said Thursday. "It's our job to do a much better job using our words and verbal communication skills to gain compliance before we ever go hands on."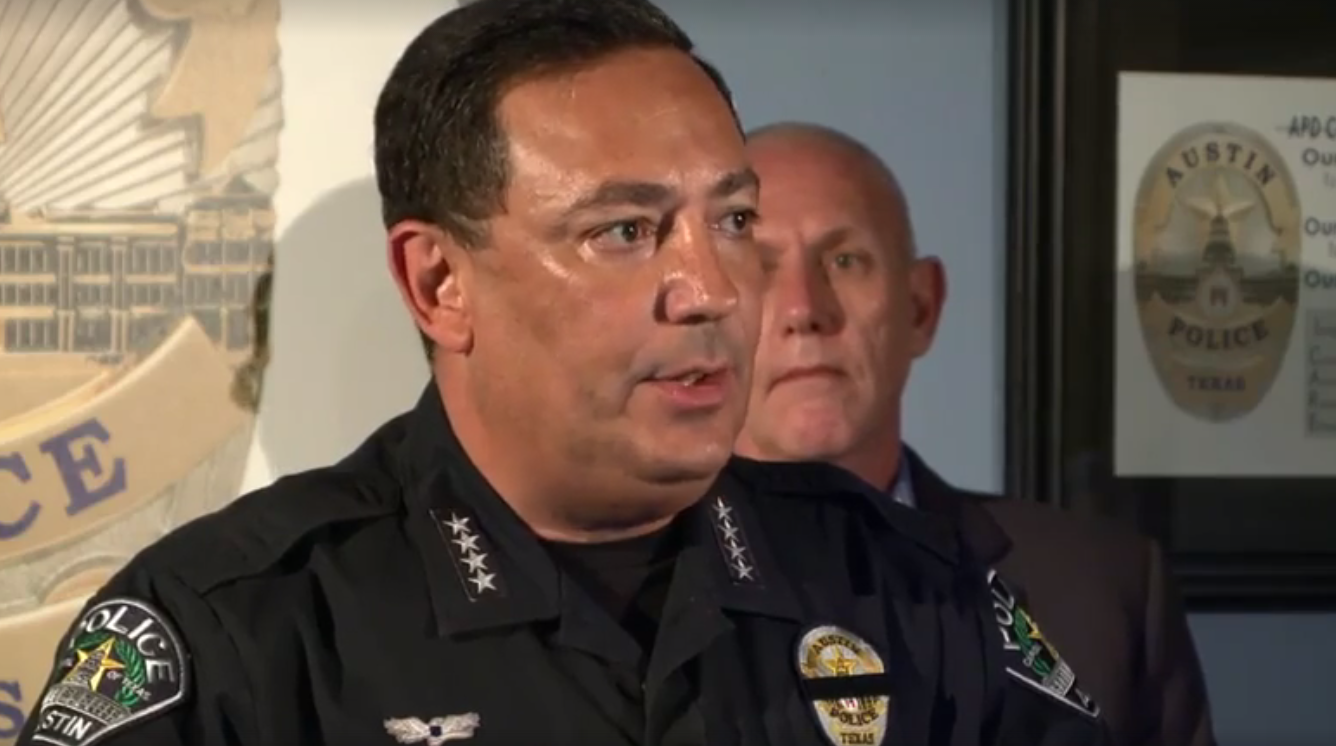 At the time of the incident, Richter and King's encounter was determined to be a Level 3 use of force, which is a use of force where there is no serious injury or complaint. Acevedo added that the incident was reviewed despite the fact that King did not make a complaint.

"The chain-of-command determined that although the incident was not consistent with the expectations of the department, they opted to handle the exchange as a training issue, and with counseling," Acevedo said. He added that the chain-of-command relied "on informal discipline and training" for the officer.

Acevedo said that he was never made aware of the incident until July 19 of this year when Travis County District Attorney Rosemary Lehmberg called him after an inquiry about the video and the arrest from the Austin American-Statesman.
Acevedo said he ordered an administrative investigation into the stop and arrest of King and that he had asked Internal Affairs to conduct an exhaustive review of Richter's conduct during the incident.

He said the DA had also requested the Special Investigations Unit to conduct a criminal investigation into Richter's actions to see if they rose to a criminal offense. The DA would then decide whether to present the case to a grand jury.

Acevedo said he also ordered an administrative inquiry into the chain-of-command's decision-making process and to see "why it wasn't kicked up to my level."
In a second video released by the Austin American-Statesman, another officer who is driving King to the jail is heard telling her that many people "are afraid of black people" because of "violent tendencies" and that he doesn't blame them because some black people can be "intimidating."
In the video from the patrol car, King and the officer, identified as Patrick Spradlin, appear to have a conversation about racism. King is heard asking Spradlin if he thinks racism still exists. He says he does. King then tells him that "Caucasians have more supremacy over black people" and that they are "a little afraid of black people."

Spradlin responds, "Let me ask you this. Why are so many people afraid of black people? I can give you a really good idea of why it might be that way. Violent tendencies."
He goes on, "I want you to think about that. I'm not saying anything. I'm not saying it's true. I'm not saying I can prove it or nothing. But 99% of the time, when you hear about stuff like that, it is the black community that's being violent. That's why a lot of the white people are afraid and I don't blame them."

He then talks about the people he has to deal with in his job. "But yeah, some of them, because of their appearance and what not, some of them are very intimidating."

Acevedo said he asked his team to also look into the second video. He questioned the "thought process and statements" made by Spradlin. "[Spradlin] thinks it's okay to have this conversation, but the way he's thinking on his way to the jail..." Acevdeo said he was "heartened to know" that the Austin Police Association were "taken aback by that mindset and those statements."

"This is 2016," Acevedo said, adding that he had ordered an investigation into Spradlin's conduct to audit everything he's done since the incident to ensure that "that mindset is not having an impact on the way he's treating people in the city."

King was arrested and charged with resisting arrest at the time, but the case was dismissed in January, KXAN reported. Both Richter and Spradlin are on non-law enforcement duty during the ongoing investigations, Acevdeo said.


"I've become fearful to live my life," King told the American-Statesman. "I would rather stay home. I've become afraid of the people who are supposed to protect me and take care of me."