Police released bodycam footage on Wednesday showing the events surrounding the disturbing arrest of a 20-year-old woman that went viral, after an officer was seen pummeling her head at a beach in New Jersey.
The Wildwood Police Department is conducting an internal investigation following a viral video that captured Emily Weinman's arrest at Wildwood beach last weekend.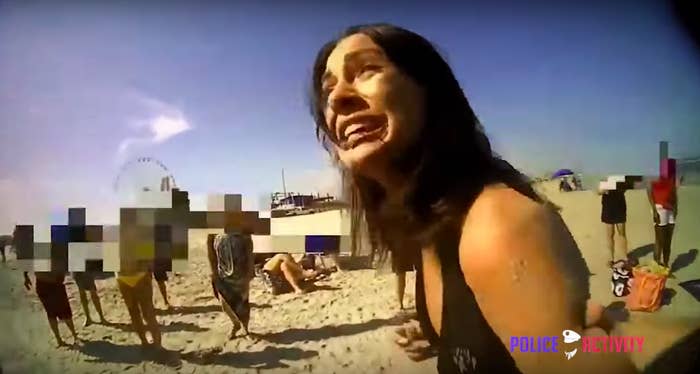 Weinman, who is from Philadelphia, was charged with aggravated assault on a police officer, aggravated assault by spitting bodily fluids at an officer, disorderly conduct, resisting arrest, obstruction, and minor in possession of alcohol.
The officers involved in her arrest were reassigned to administrative duty pending the outcome of the investigation.
Footage of her arrest went viral after Weinman posted the video on social media, saying that one of the cops "tackled me to the ground and smashed my head into the sand" after she refused to give her last name for a citation.
Weinman said she was at the beach with her friend, her 18-month-old daughter, and her daughter's father, when the officers approached her after suspecting her of underage drinking.
Wildwood Police Chief Robert Regalbuto said that while he found the video to be "alarming," he did not "want to rush to any judgement" until the results of the investigation were out.
The first bodycam video released by police shows the moments leading up to Weinman's arrest, when she was given an alcohol breath test, which she appeared to have passed.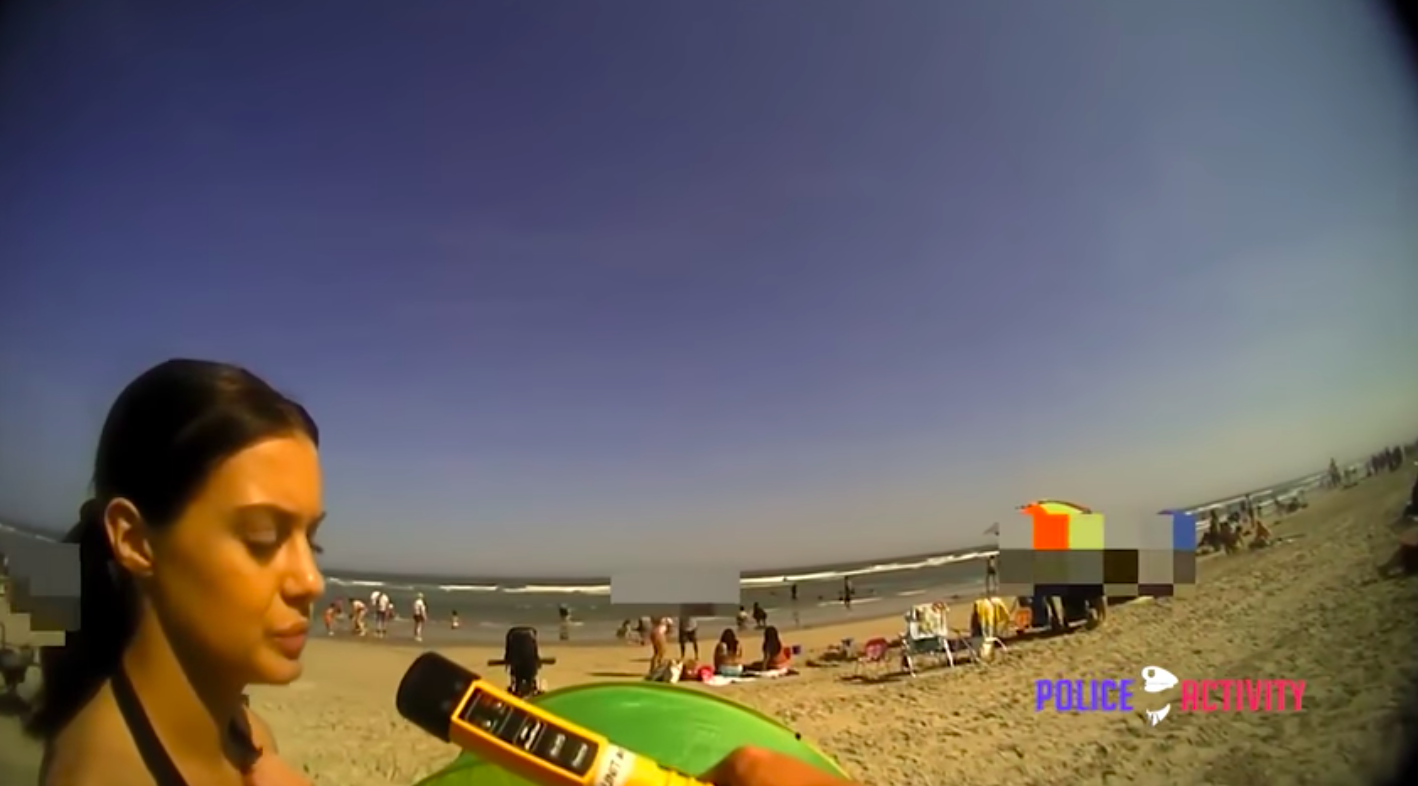 Weinman can be heard telling the officers to "mind your own business" and that she hadn't drunk any alcohol, while the officers argued that the alcohol was on "open display" and that she could be charged with "possession."
In a statement issued along with the bodycam videos, Regalbuto said that during the initial encounter, the officer "can be heard stating that he was just going to have Ms. Weinman pour the alcohol out, without issuing any violations and then he terminates the recording."
"You're allowed to carry alcohol," Weinman is heard telling the officers in the video. "You can see it, but we're not drinking it."
After she refuses to give her last name to the officer who is writing up the citation, he tells her, "you're not cooperating."
"I didn't disrespect you," Weinman says. "I didn't do anything to get written up."
She then accuses the officers of getting "mad because you thought we were drinking."
The officers tell her that she is "causing a scene."
"Ok that's it, I'm done with you," an officer is heard telling Weinman after she repeatedly refuses to give them her last name for the citation.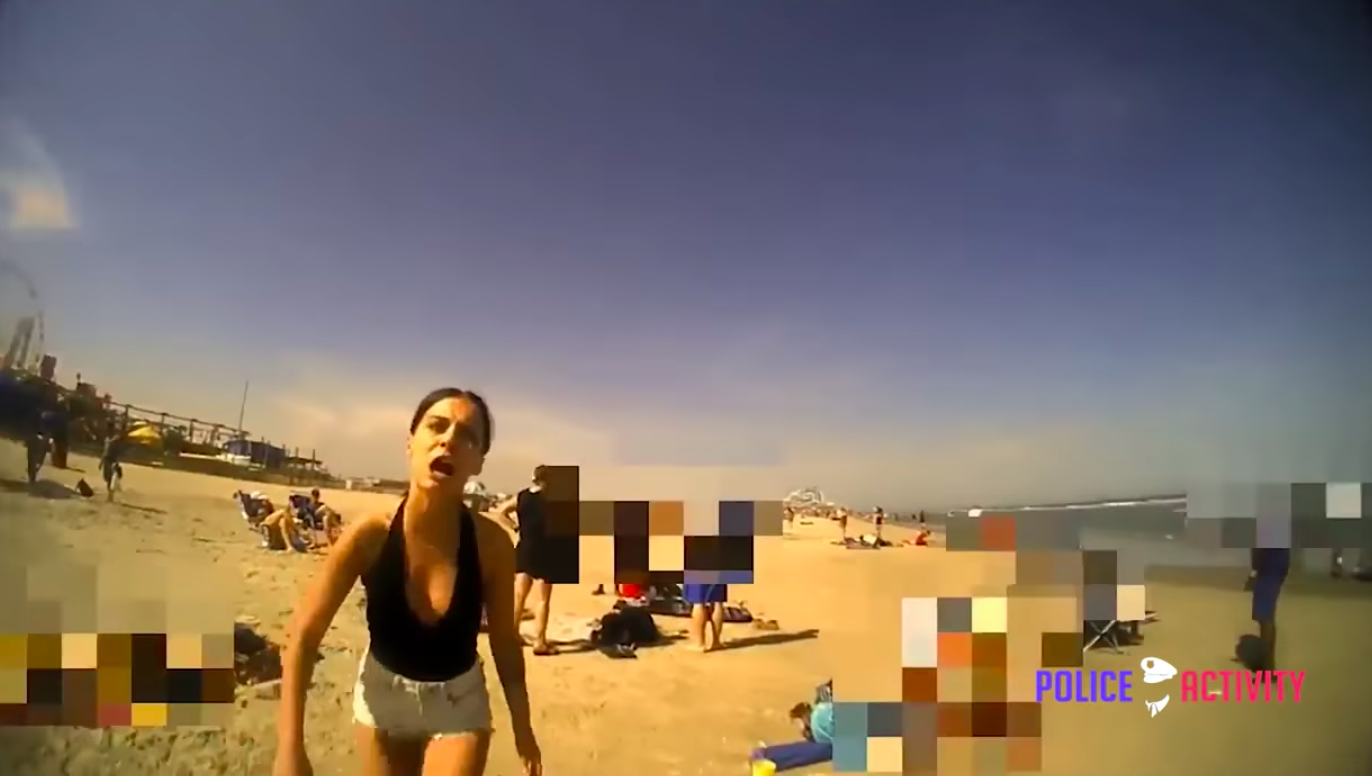 "Do you have cuffs on you?" one of the officers asks another. Weinman is then seen walking away from the police while screaming, "Don't fucking touch me."
"You're about to get dropped," one of the cops tells Weinman, who then appears to shove him before the body camera goes off.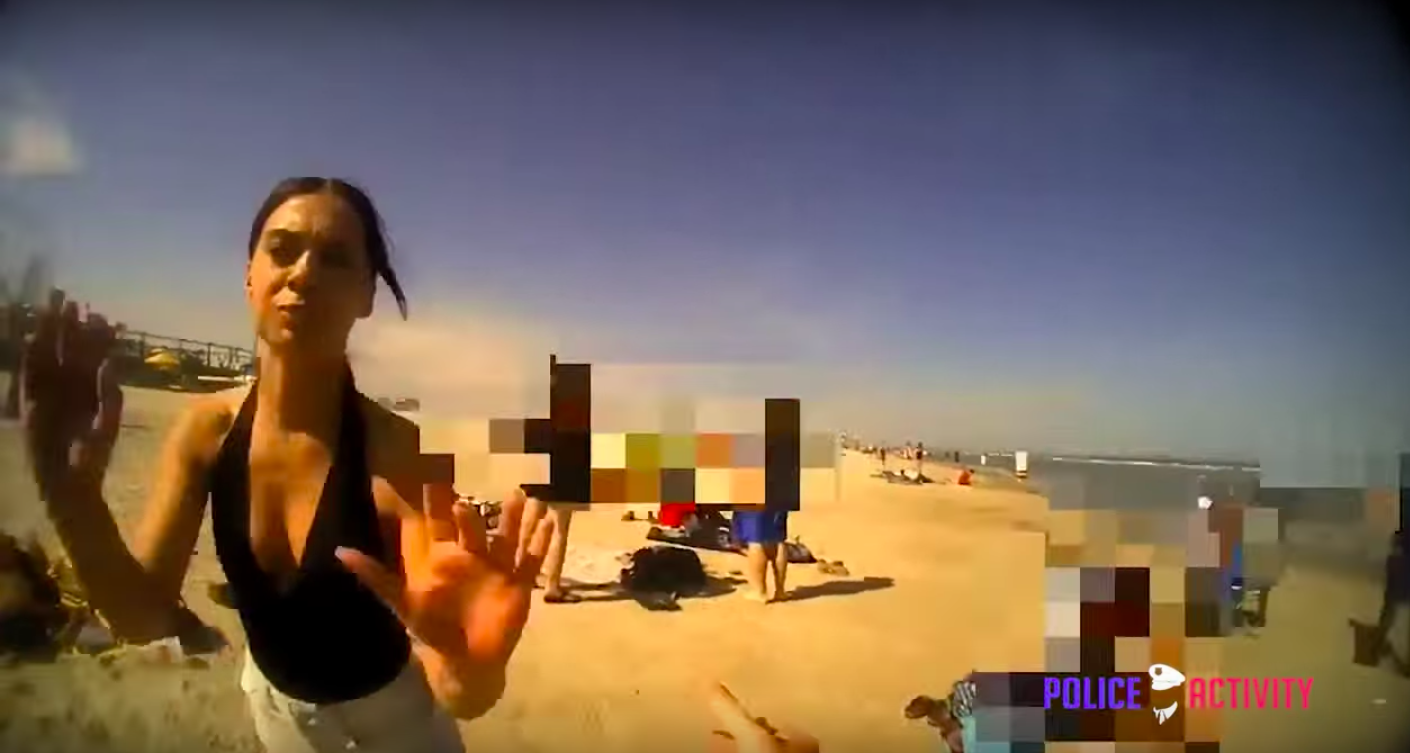 Police said that Weinman "forcibly struck" the officer in the torso where the body camera was placed, causing it to turn off.
The second bodycam video shows the struggle between the officers and Weinman, who is seen spitting at one of the officers while they attempt to handcuff her.
A third video shows the physical altercation between the police and Weinman, during which she can be heard saying, "They're choking me. I cannot breathe."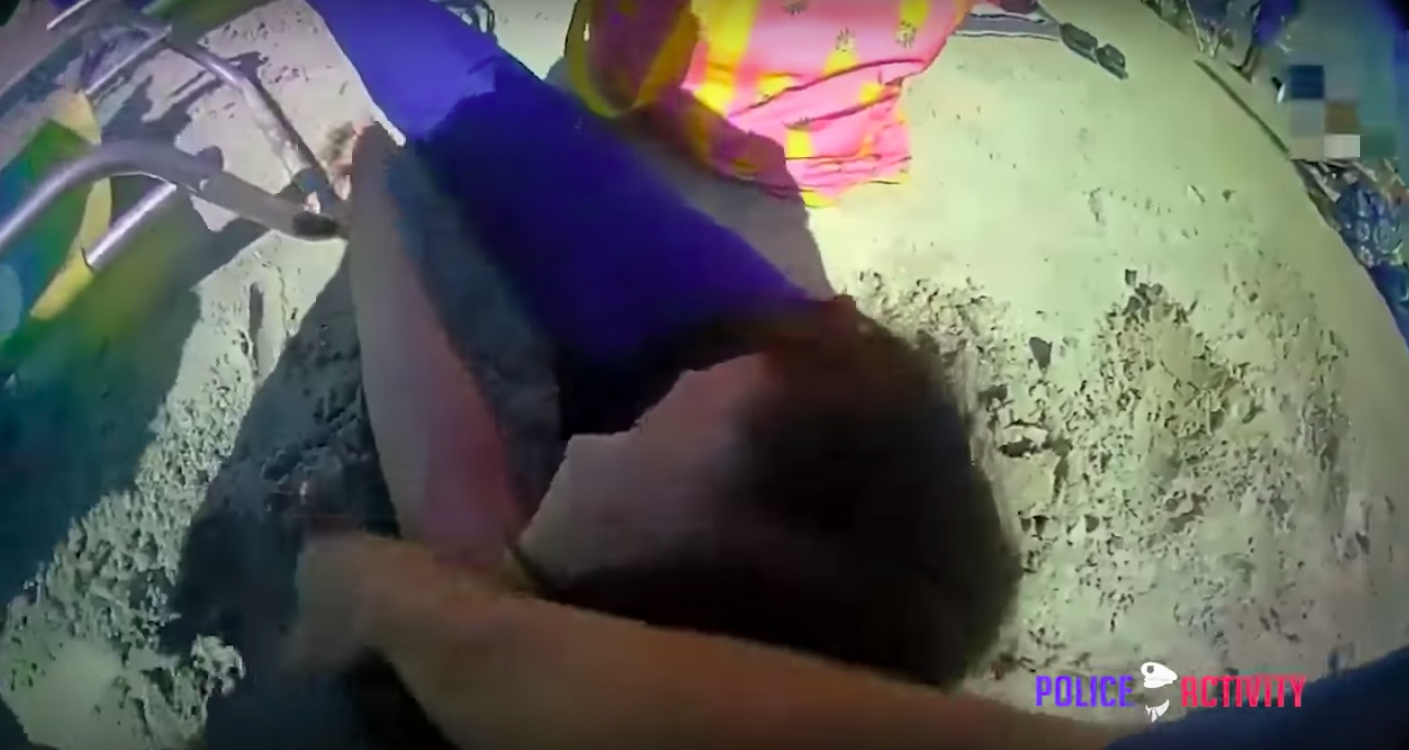 "I'm not choking you," the officer responds. "The fuck you are, you fucking dickhead," Weinman says.
One of the officers can then be seen punching Weinman's head, as she starts crying. "I'm a woman... You're not allowed to hit me and choke me like that," Weinman tells them.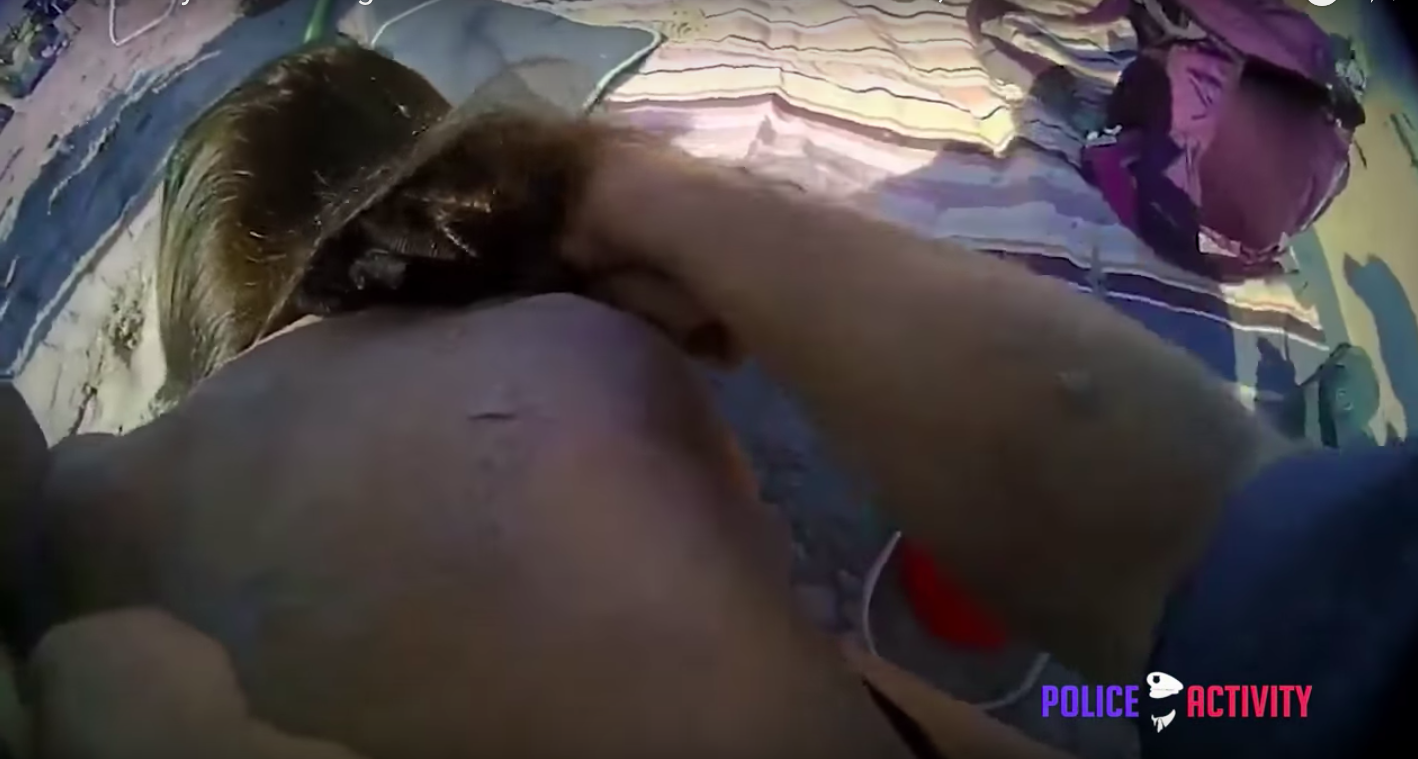 "Get off me," Weinman is heard screaming at the officers. "My daughter is right there seeing this."
In her now-deleted Facebook post, Weinman said that the cop "head locked" her by putting his arm around her neck, and then punched her "in my head."
"Then he head locked me again but this time choking me, I was gasping for [air]. Yes, i know I should've gave him my name.. I was partly wrong in a way but I was scared," she wrote in the post.
In a statement released to media outlets, Weinman's attorney, Stephen Dicht, said there was "nothing to support" the police's claim that Weinman spat on them.
He said the videos showed the officer pulling Weinman's hair, "depriving her of oxygen and forcibly striking her."
"You white piece of fucking trash," Weinman is heard telling the officer. "I didn't do anything wrong. I wasn't drinking."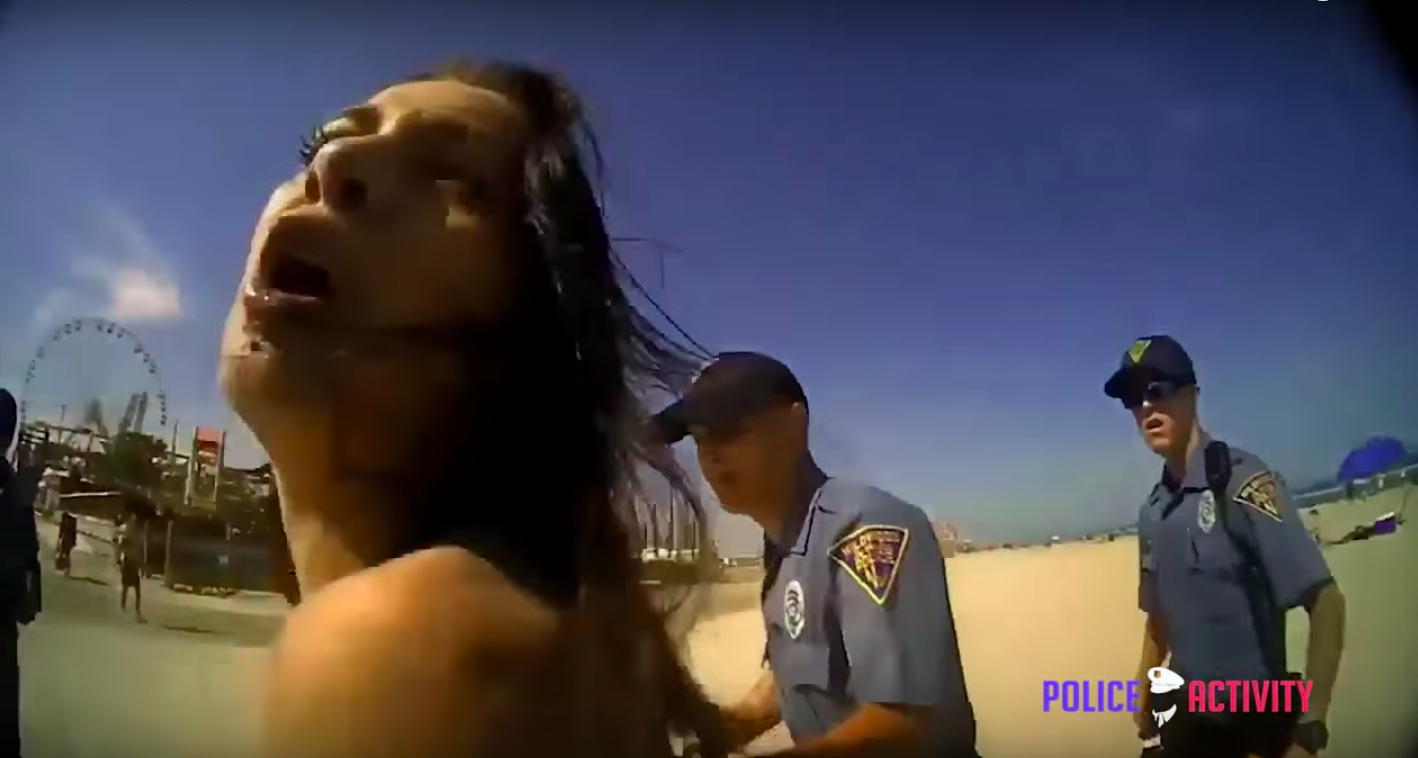 While being escorted to the police vehicle, Weinman tells the officers, "Now we got these fucking young cops who don't know how to treat people."
Later, one of the officers can be heard arguing with the father of Weinman's daughter, who accuses the cop of punching her in the face.
"Yeah, well, she tried kicking us," the officer tells him.
One of the officers involved in the confrontation is then heard describing the incident to other cops. He tells them he had to stop Weinman for "underage drinking" and that she wouldn't give him her last name.
"I said, 'If you're not going to give me your information, you're going to be locked up,'" the officer says. "She tried walking away from me. I tried grabbing her and she tried kicking at us. So I slammed her on the ground. She kicked him. And then I hit her a couple of times and then I put her in cuffs."
Weinman's attorney said that the videos show how the officers "overreacted to a situation which had no elements of violence or the need for anyone to be taken into custody."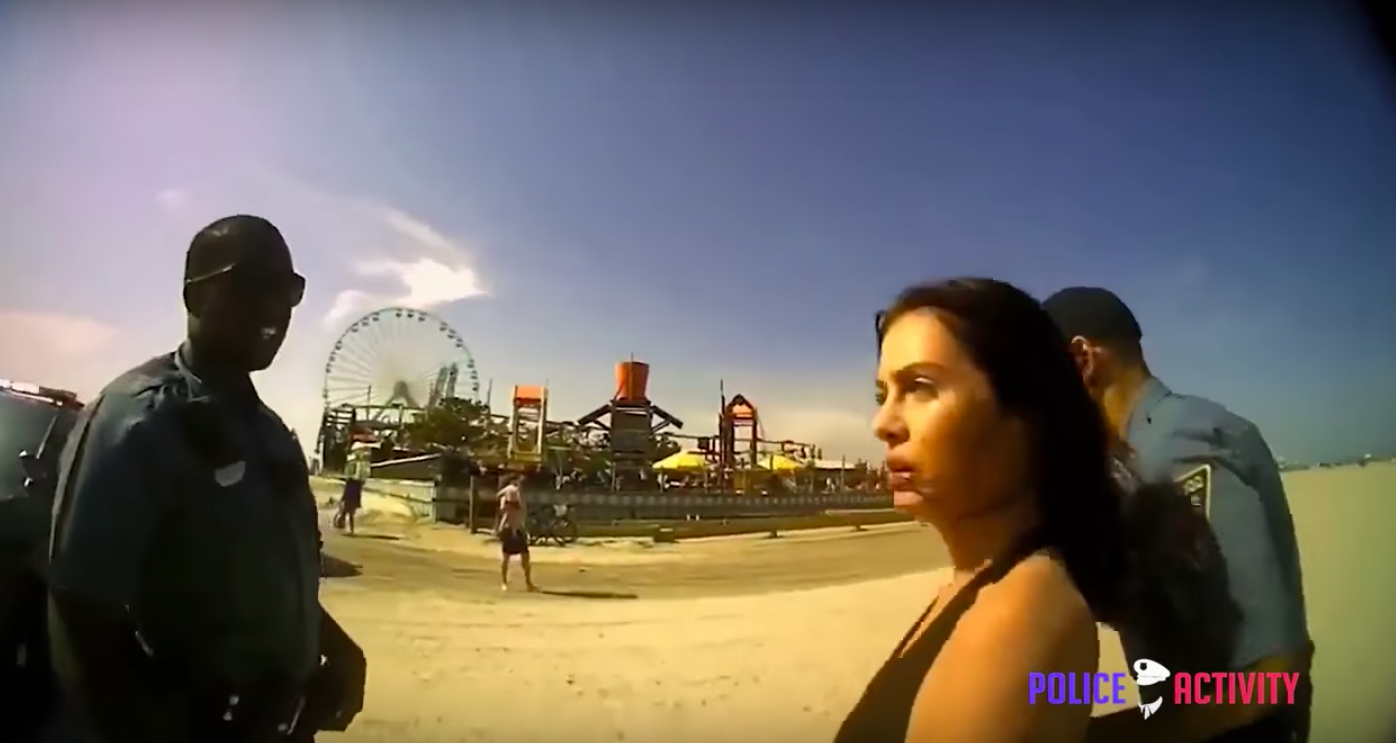 "The officers then exercised poor judgement, likely due to poor training and poor supervision and exacerbated a situation where hundreds, if not thousands of people were on the beach, enjoying a sunny day," Dicht said in his statement.
Urging the police to drop all charges against his client, Dicht said, "We have no choice but to vigorously defend each and every charge."
Dicht did not respond to BuzzFeed News' request for comment.