Donald Trump on Tuesday tweeted that Bikers for Trump — a group of bikers who supported him during his campaign — were "on their way" to the Jan. 20 inauguration in Washington, DC.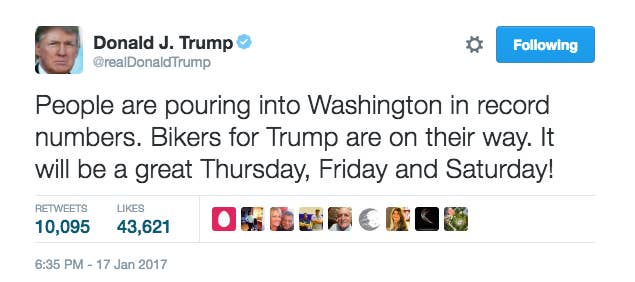 Chris Cox, the founder of the group, told Fox & Friends that more than 5,000 bikers are expected to attend the inauguration and would form a "wall of meat" against anti-Trump protesters.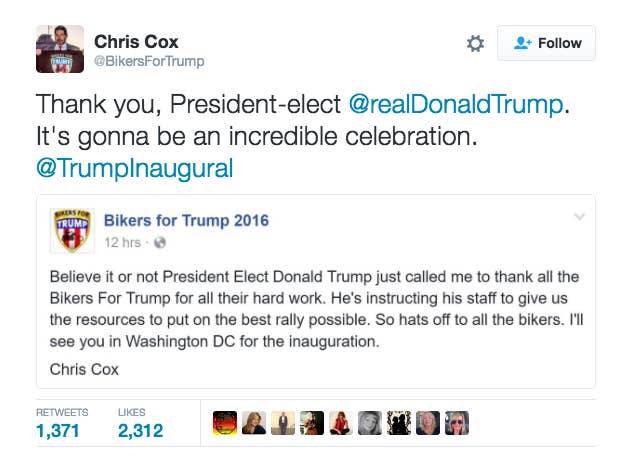 "We have guys coming in right now driving across Texas, Arizona... Guys left San Diego two days ago, large groups coming in from Florida... Pennsylvania has busloads coming in, Ohio, New York — you name it, we got bikers coming in to town," Cox told Fox & Friends on Saturday.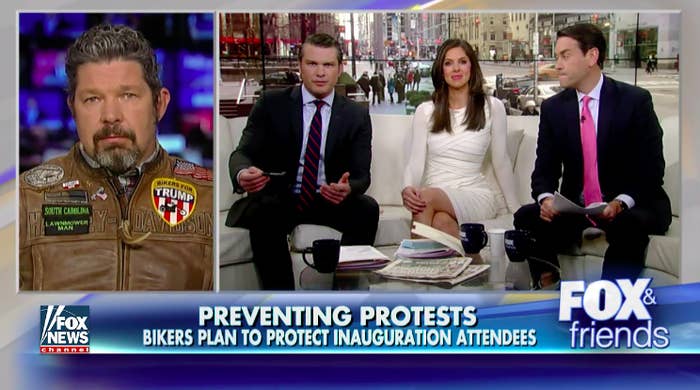 However, several pro-Trump accounts on social media are using pictures and videos that falsely claim to show large groups of bikers on their way to the inauguration in Washington.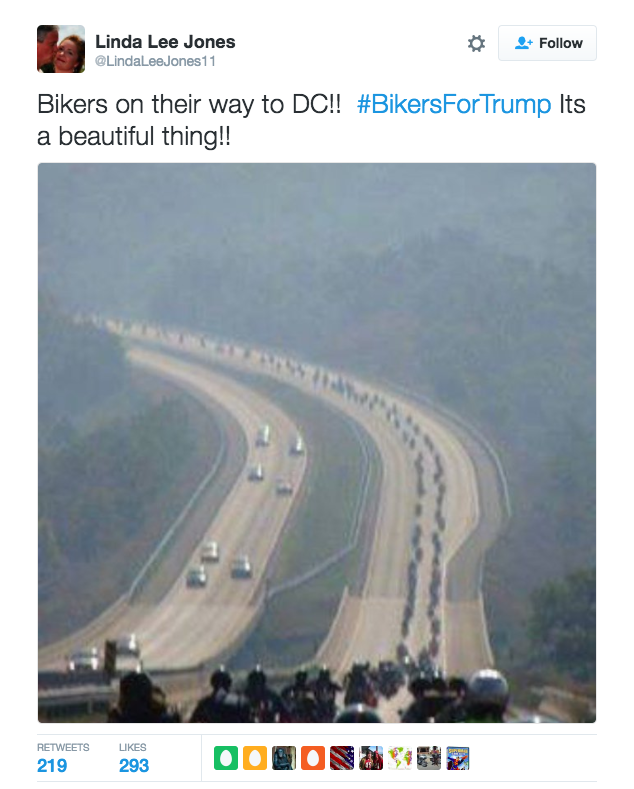 This photo shared by several Trump supporters, including a popular Daily Mail columnist, that claimed to show Bikers for Trump headed to Washington for the inauguration has been circulating since 2013.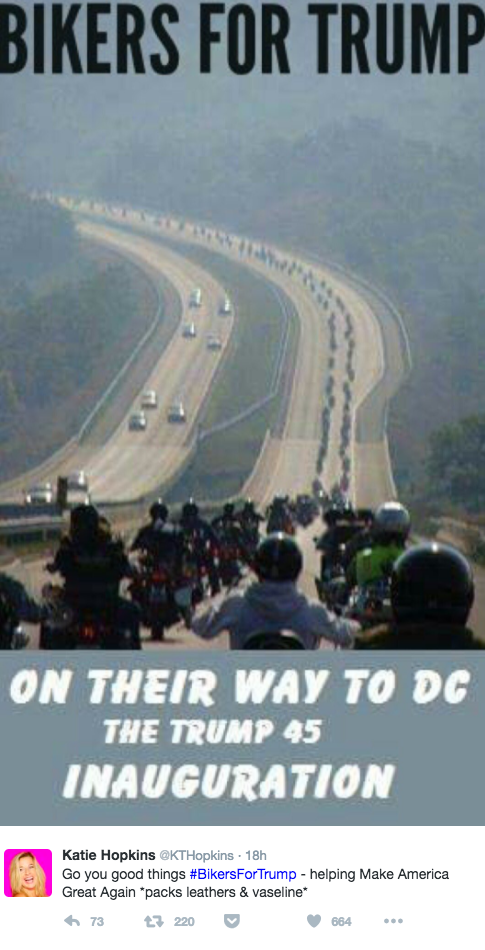 The photo appeared in a 2013 Spanish blog post about bikers and also in a 2013 thread on a Czech bike forum.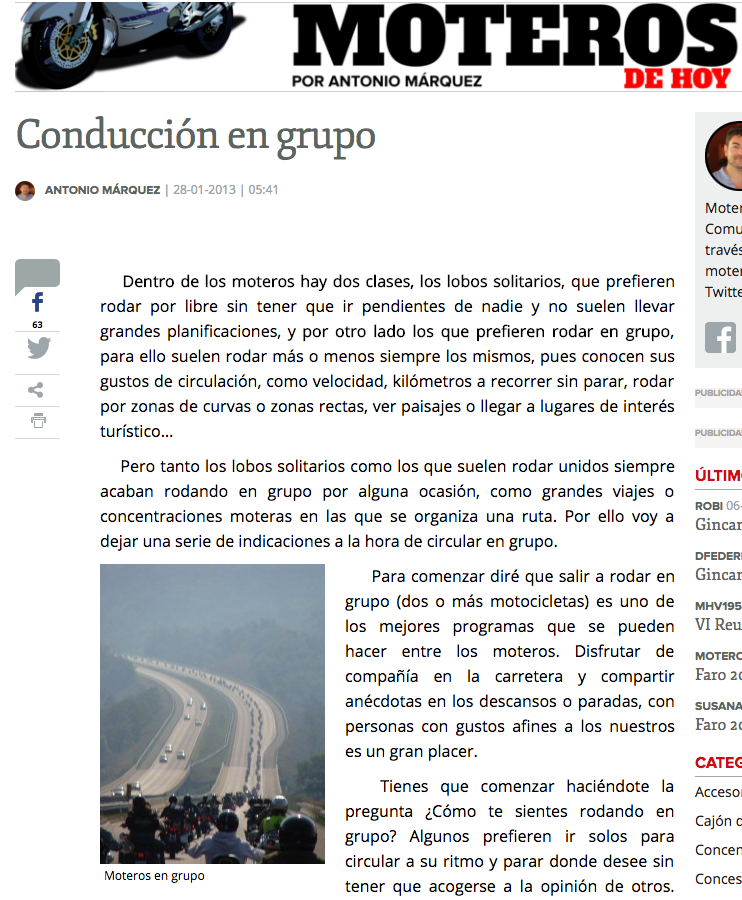 And a YouTube video titled Bikers for Trump DC Bound 2017 — which has more than 50,000 views so far — appears to be a video of a bike run for the Marine Toys for Tots program in Louisville, Kentucky.
This screenshot from the video appears to show a man in military uniform collecting toys and games from the bikers.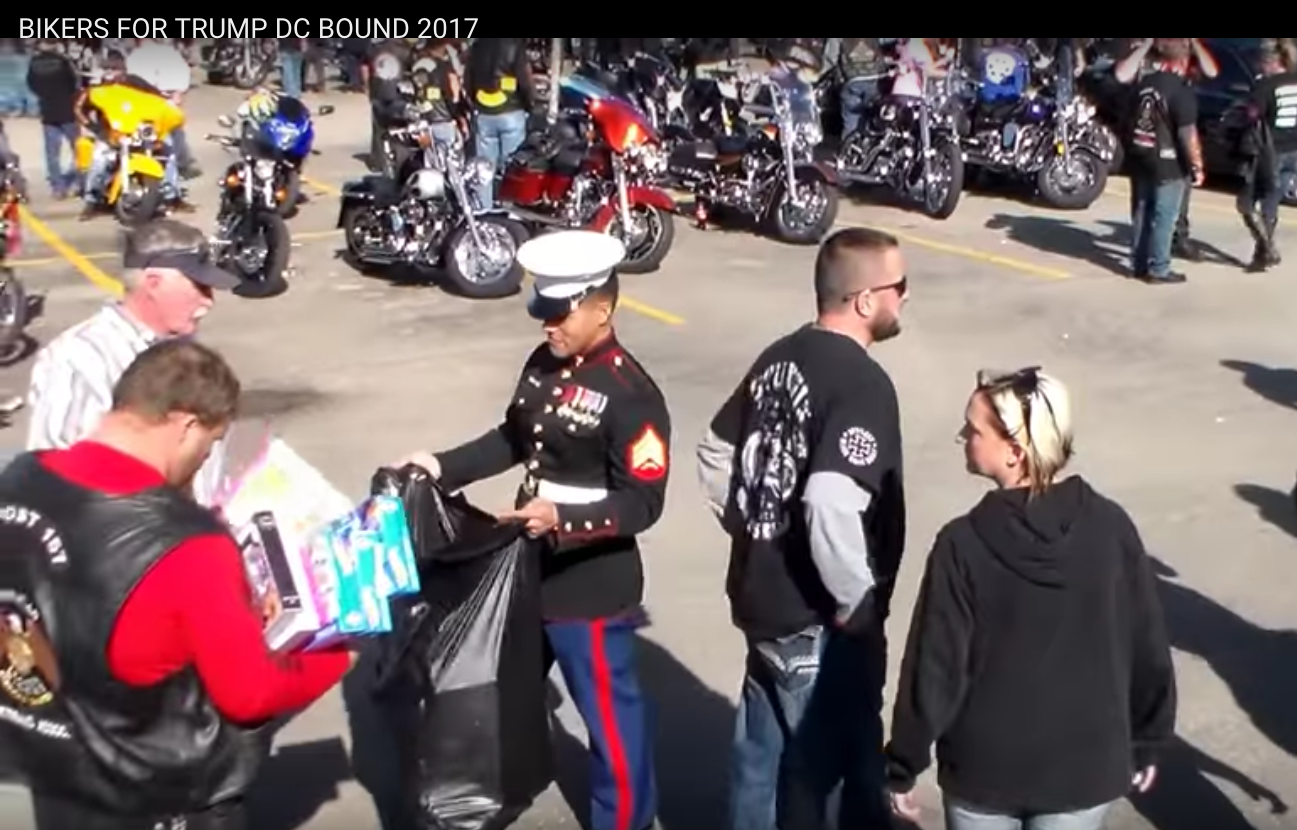 And a billboard visible in the video urges people to vote on Nov. 8 and also appeals to people to vote for Dan Johnson, the Republican state representative for the 49th district of Kentucky. Johnson won the District State House race on Dec. 13, 2016.
Pro-Trump accounts talking about Bikers for Trump at the inauguration are using this photo of bikers that has been circulating on pro-Trump sites since April 2016.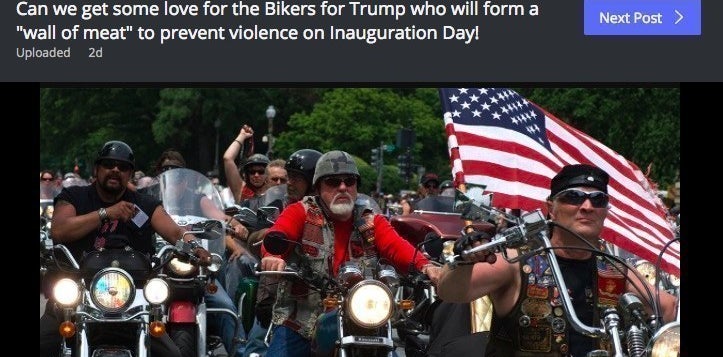 The photo has been used in pro-Trump articles to show Bikers for Trump at different Trump rallies in 2016 as well as to show the bikers going to Cleveland for the Republican National Convention.
Another photo claiming to show "Bikers for Trump in Florida heading out to Washington, DC, for the inauguration" has appeared on pro-Trump social media accounts frequently, dating back to last May when it claimed to show "100,000 bikers at a Trump rally." In 2013, the photo appeared to depict the 2 Million Bikers to DC event on the 12th anniversary of 9/11.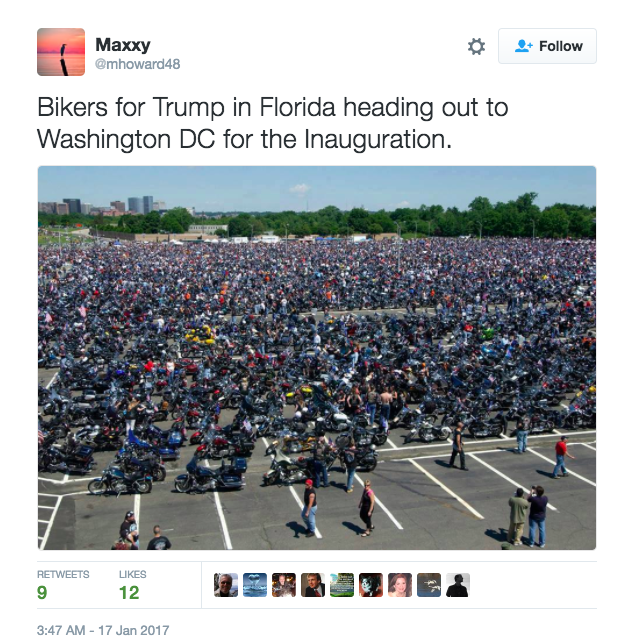 Another pro-Trump biker group, Bikers 4 Liberty, tweeted a video claiming to show "a large group of sport bikes heading to the inauguration." The same video was actually uploaded by a user in April 2016 and appeared to show a parade of motorcycles in Tehran.