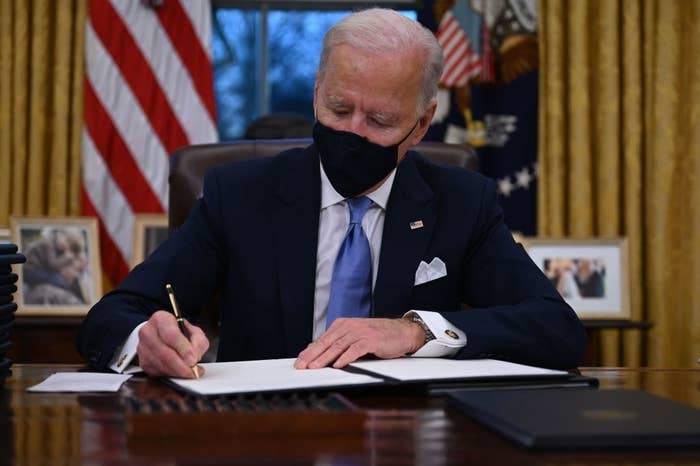 Within a day of being sworn in as the 46th president of the United States, Joe Biden signed executive orders mandating mask-wearing on federal property, at airports, and on planes, buses, and trains as part of his plan to combat the coronavirus pandemic that has killed more than 400,000 people in the US.
Biden's focus on the importance of wearing a mask to prevent the spread of COVID-19 marks a significant break from the Trump administration, which grossly mismanaged the pandemic and recklessly downplayed masks' effectiveness, against the advice of the CDC, scientists, and public health officials.
Biden does not appear to have the legal authority to implement a nationwide mandate that would require all Americans to wear masks at all times, per CNN. It is up to state and local authorities to dictate mask requirements for residents.

However, as part of his "100 Days Masking Challenge," Biden has signed two executive orders mandating people wear a mask: one for lands and buildings controlled by the federal government, and another for public modes of transportation and ports of entry into the US.
Federal employees and contractors include members of the National Guard and armed forces, according to the order. Federal buildings include the US Capitol, federal courthouses, post offices, and federal agencies across the country. The mandate also applies to national parks and federal monuments.

"This executive action will direct the agencies to take action to require compliance with CDC guidance on mask-wearing and physical distancing in federal buildings, on federal lands, and by federal employees and contractors," Jeff Zients, Biden's COVID-19 response coordinator, told CNN.
"And the president will call on governors, public health officials, mayors, business leaders, and others to implement masking, physical distancing, and other public measures to control COVID-19," Zients said.
On Thursday, Biden signed another executive order mandating wearing masks at airports and on planes, trains, buses, and ferries.
The order came as a relief to US airline officials and flight attendants who for months have had to contend with verbal abuse from unruly passengers, many of whom believed COVID-19 was a hoax and refused to wear masks on planes.
Sara Nelson, the president of the Association of Flight Attendants-CWA, had urged the Trump administration to mandate masks in airports and on planes last April.
Responding to Biden's order in a statement on Thursday, Nelson said, "What a difference leadership makes!"
She said the president's mask mandate will "provide much needed back up for Flight Attendants and aviation workers on the frontlines."

Both executive orders direct federal agencies to take "immediate action" on implementing the mask mandates. The specifics on how and when to implement them, and the potential penalties for violating them, were not laid out in the orders. Agency officials were given one week to update Zients with their progress, the Washington Post reported.
Apart from the scientific evidence that proves the effectiveness of masks to prevent the spread of the coronavirus, the face covering also symbolizes how seriously the Biden administration is taking the pandemic.
"By reducing the number of leaders and people in authority refusing to wear masks, you reduce the feeling that this is acceptable behavior," Matt Seeger, a dean at Wayne State University who works with the CDC, told the Washington Post.

The federal property mask mandate has already led some right-wing figures and former officials from the Trump administration to question its implementation.
They were quick to point out that Biden was not wearing a mask at the Lincoln Memorial on Wednesday night, in apparent violation of his own executive order.
When asked about that by a Fox News reporter on Thursday, White House press secretary Jen Psaki did not directly address the issue, saying Biden "was celebrating an evening of a historic day in our country" and that he signed the mask mandate "to send a message to the American public about the importance of wearing masks, how it can save tens of thousands of lives."

"We take a number of precautions, but I don't think...I think we have big...bigger issues to worry about at this moment in time," Psaki said.
A former Trump aide also questioned why the mask mandate did not apply to Psaki while she was giving the briefing at the White House. (She removes her mask before speaking at the lectern.)
Zients said that the mask mandates were "not a political statement" but about "the health of our families, and economic recovery of our country."

Throughout the pandemic, Donald Trump and some Republican lawmakers have repeatedly disregarded and derided basic COVID-19 precautions. They have refused to wear masks in public and have held "super-spreader" events at the White House and campaign rallies, where most attendees were maskless.
Trump even ridiculed Biden for always being seen in a mask, suggesting it was a sign of weakness.
Trump and his administration politicized mask-wearing, fueling his supporters and conservatives to turn masks into a nonsensical and dangerous culture war issue that often led to violence. Across the country, people have frequently engaged in verbal spats and physical confrontations over wearing masks in public places, some of which have turned deadly.
The lack of clear federal guidelines and Trump's mixed messages about the seriousness of the pandemic led to confusion and chaos over mask mandates and other public health directives at the state and local levels. It also led many of his supporters to believe that COVID-19 was a hoax.
Biden, who has vowed to be transparent and truthful about the pandemic, has said that it will take months before a majority of Americans are vaccinated and that the death toll will likely surpass 500,000 in February.
"The experts say by wearing a mask from now until April, we'd save more than 50,000 lives going forward," Biden said. "Fifty thousand lives. So I'm asking every American to mask up for the next 100 days."
Correction: State capitols are not included in the federal mask mandate. An earlier version of this story said they were.