"You Embarrass America": A Video Caught An Oregon Man Yelling Anti-Gay And Sexist Slurs At A Lesbian Couple
Portland police are investigating a man who repeatedly threatened and insulted the two women as they were trying to help a lost dog find its home.
Police in Portland, Oregon, are investigating an incident caught on video in which a young man went on a threatening and anti-gay rant against a lesbian couple on Sunday.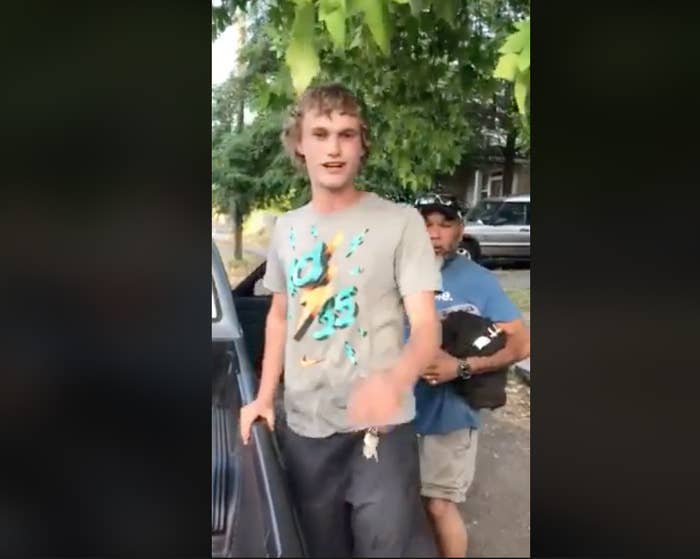 One of the women, Trudy Dragoon, posted the video on her Facebook page, saying the man began his rant after a car he was in sped toward the couple as they crossed the street.
Her wife, Wendy Dragoon, said they had found a dog who appeared to be lost and were taking him for a walk to help find his owner on Sunday evening.
In a Facebook post, Wendy said they had noticed a truck approaching, but it "was far away and not menacing," so the couple proceeded to cross the street.
That's when the truck suddenly sped toward them, forcing the couple to jump on the curb. They also yelled "What the fuck, dude?" at the driver, Wendy said.
A man inside the truck then yelled, "Get out of the road, you fucking dykes," Wendy said.
The truck then turned around and stopped next to the couple and the blonde man in the video got out and, according to Wendy, lunged toward Trudy, yelling, "I'll beat the fuck out of these dykes," prompting her to start recording him.
"Bitch, act like a fucking man," the man tells Trudy in the video, and refers to her as a "gay pride–ass bitch."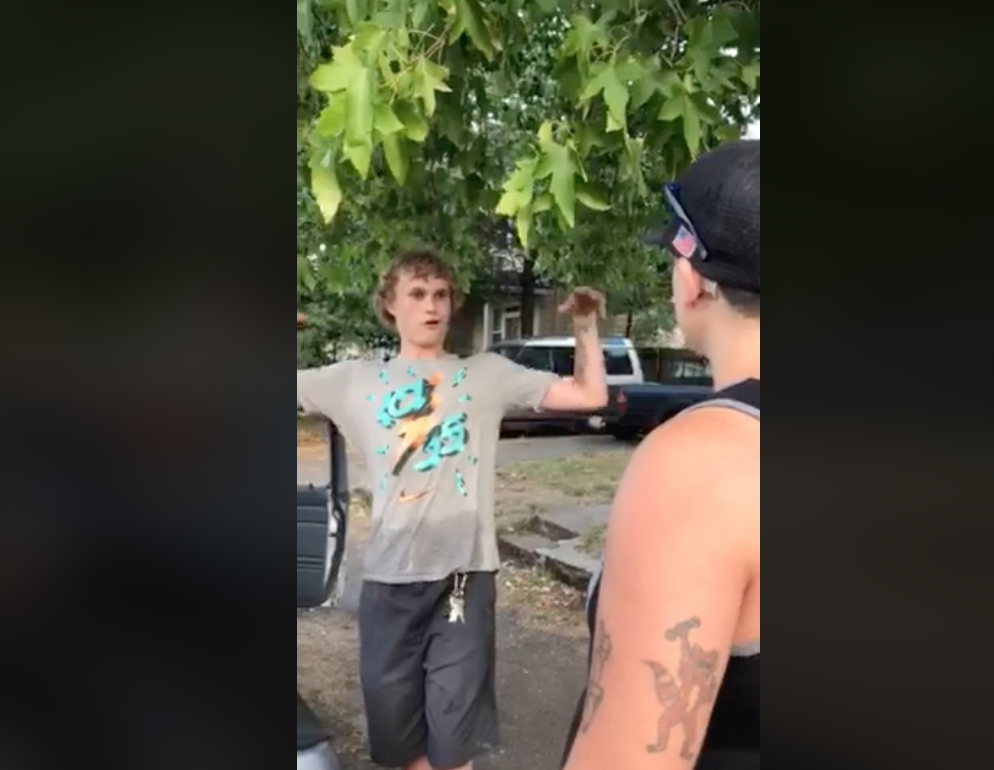 "I did not fear for my safety, but I did think he was really going to try to hit me," Trudy Dragoon told BuzzFeed News. "As soon as I calmly stood there that's when he backed away from me a little."
In the video, the man repeatedly calls Trudy a "cunt" and a "fat cow," threatens to "fucking knock you on your fucking ass," and tells her that he could "knock her out" because "you're a fucking woman."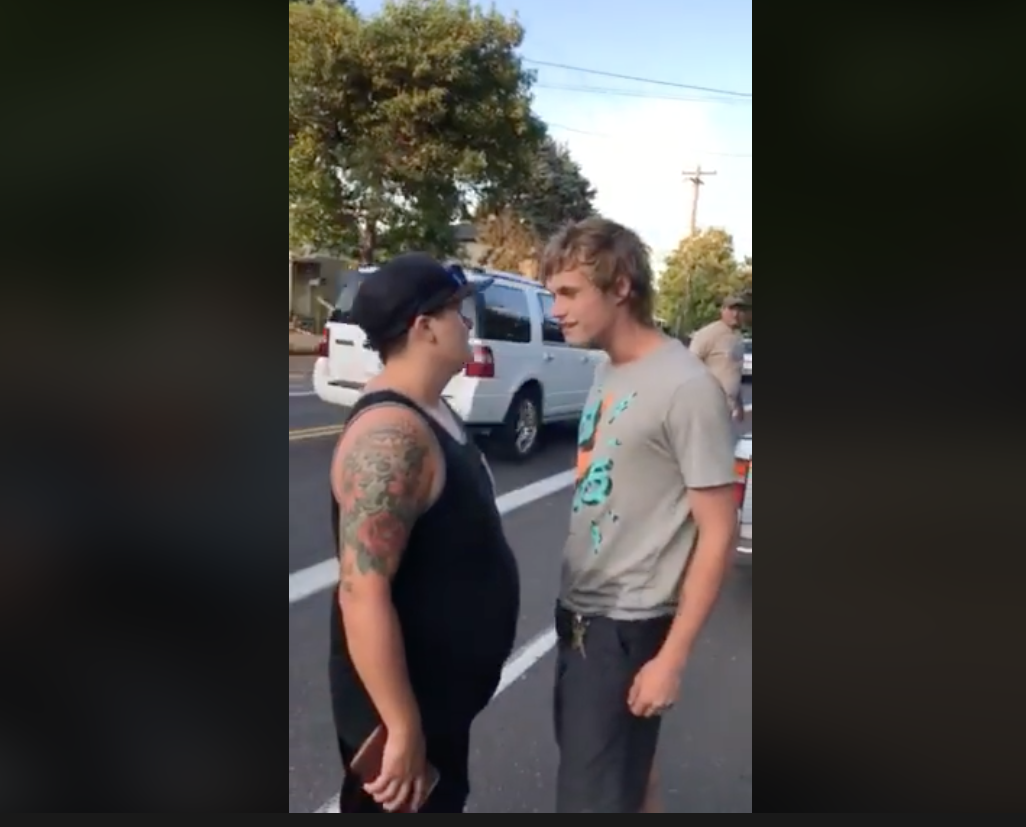 "Come on, come on, you're a fucking woman," the man tells Trudy as he walks toward her. "You think you scare me? You're a fucking woman," he says.
The man is heard saying that he's not scared of a "fucking lesbian" and tells Trudy, "You fucking embarrass America."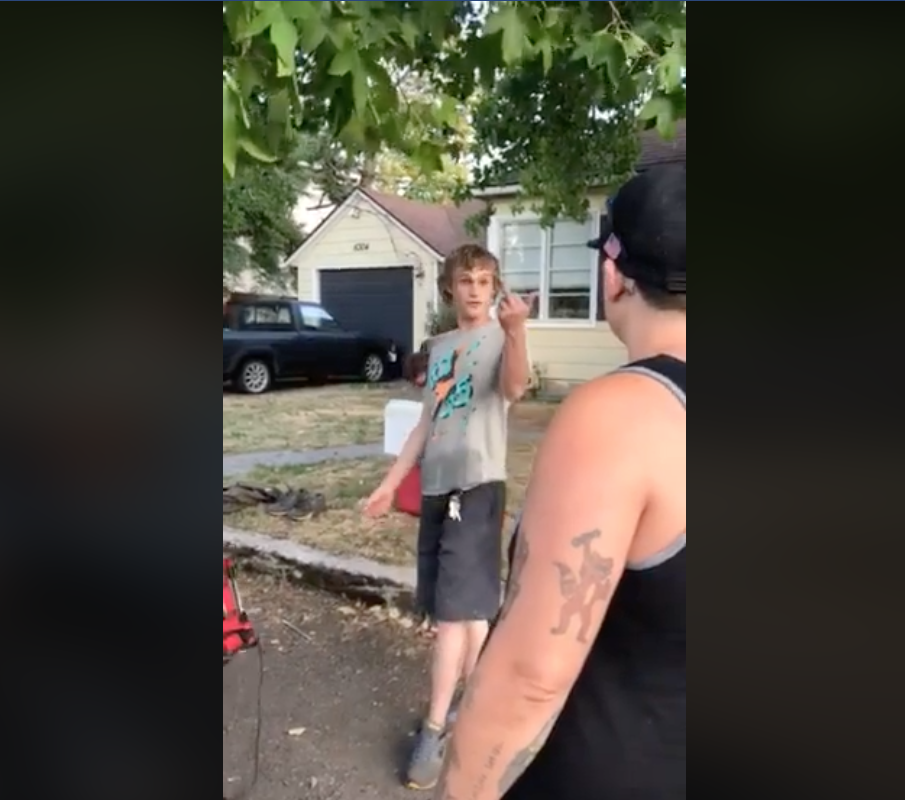 When Trudy tells the man that he should be embarrassed of himself, he replies, "I should be so embarrassed of a fucking lesbian on my property? Look at you, you fucking embarrass America."
He also tells Trudy that he will "spit in your fucking face" and threatens to "literally put you to fucking sleep."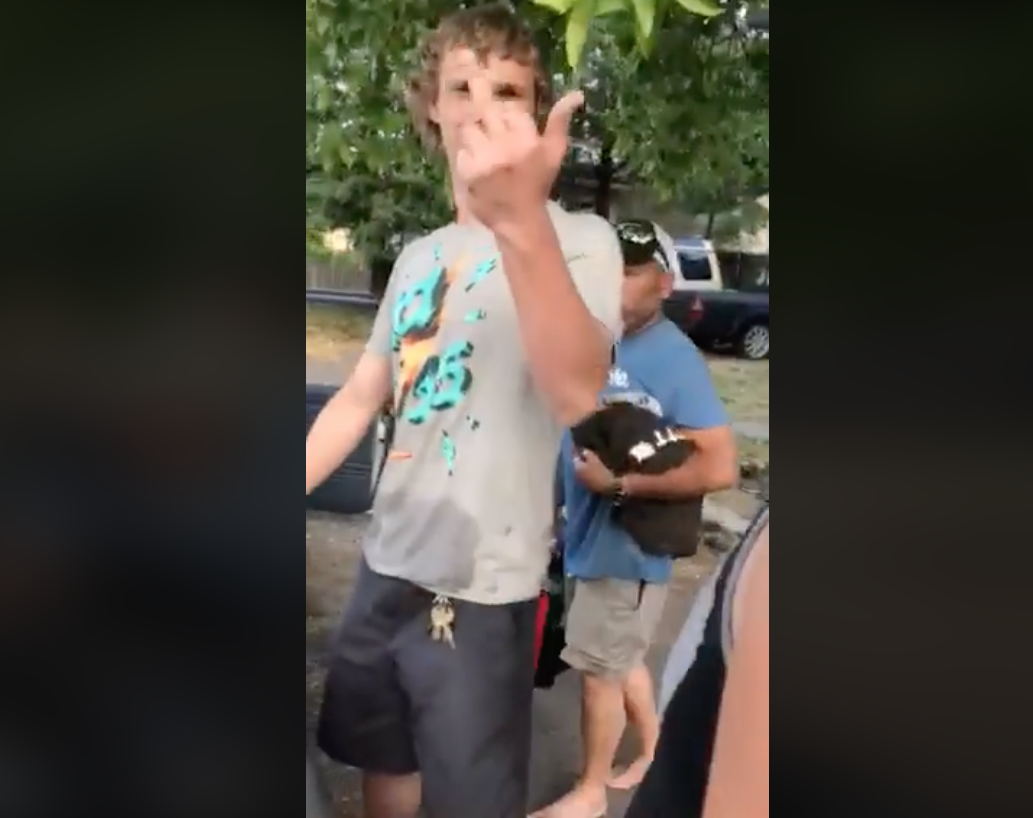 The other people in the car can be heard telling the man, who they call Nate, to go inside the house during the confrontation. Another man repeatedly tells Trudy to get off his property.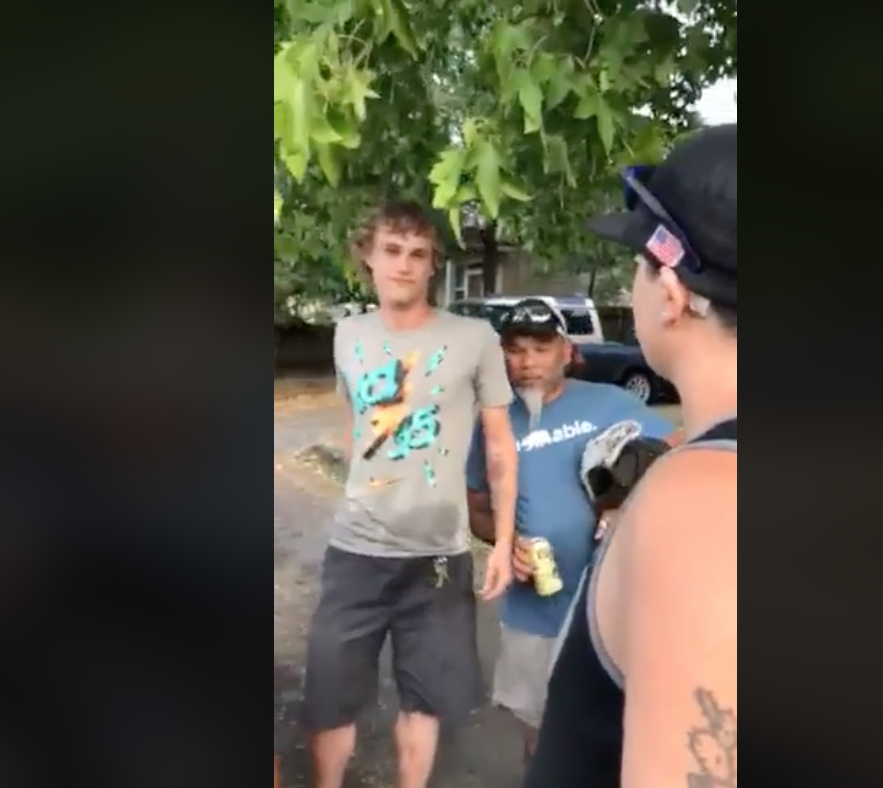 Another man tries to intervene, telling the Dragoons, "Sorry, everything's done," and adding that the blonde man was "just dumb right now."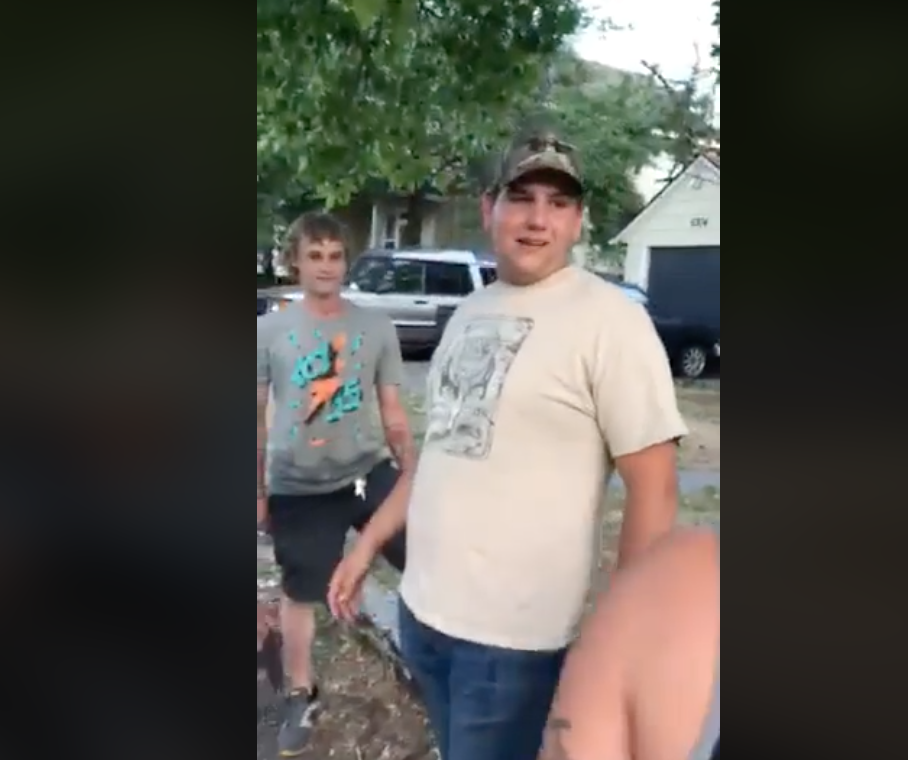 Trudy said that a police officer who responded to the incident "clearly did not want to help us." The officer, she added, told the couple to ignore the man and walk away because police could not do anything.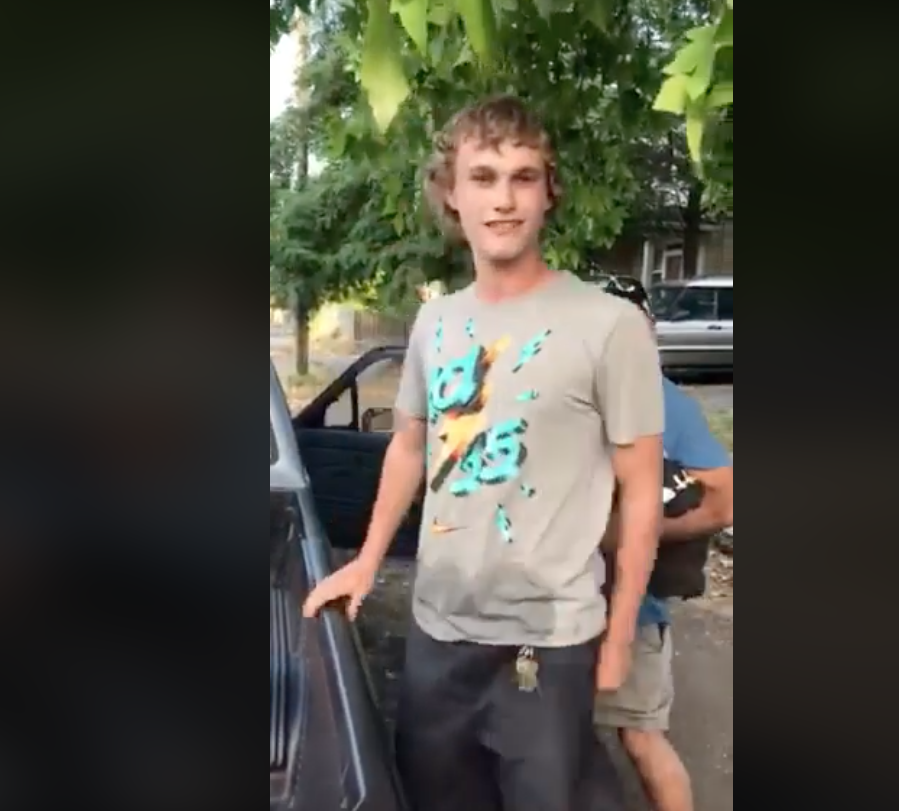 "My wife and had to tell the officer to pull his car over and deal with this. He still failed to get any of our information," she told BuzzFeed News.
"These little fuckers live around the corner," Trudy said in her Facebook post. "It will take no time to figure out which house is ours so I guess we wait until we are physically assaulted before we can get help."
Police returned to the neighborhood later that night when the same men were lighting off fireworks, she said. Another neighbor had called, and the same officer arrived and again refused to take the Dragoons' report of the incident in the video.
"He was dismissive both times," she said.
Portland Police said that one of its officers was flagged down about the disturbance and that he stopped the confrontation.
Portland Police Sgt. Chris Burley told KATU2 that the officer was now going to write up a report, but that didn't necessarily the incident would be classified as a hate crime.
"As a police officer, as a member of the gay community, I — it's extremely offensive language," Burley said. "Just because of hateful speech, an officer cannot necessarily take somebody into custody."
Burley directed BuzzFeed News to the police department's statement on the incident.
Police on Tuesday said that the "speech present in this video instills fear in members of our community," but added that the video "does not necessarily convey everything that was occurring at the time of the incident."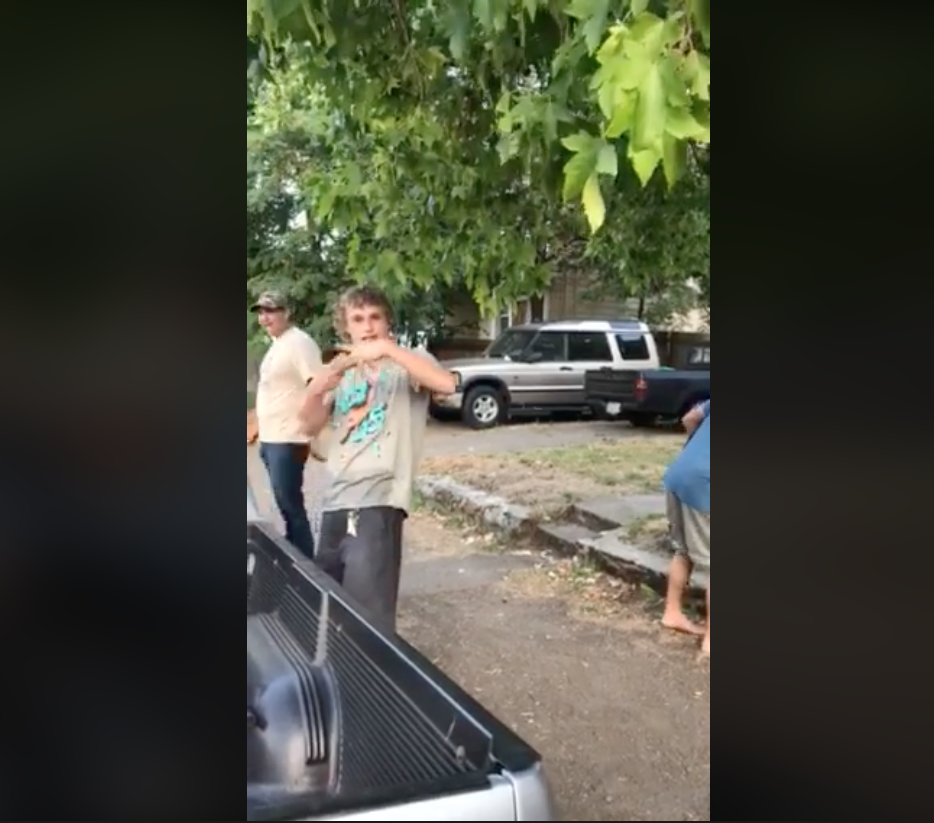 The Facebook video will be included as part of the police report, authorities said. Officials also interviewed the people involved.
Once the investigation is complete, police will hand over the video and other reports to the Multnomah County District Attorney's Office for consideration.
A spokesperson for the prosecutor's office told BuzzFeed News on Thursday that they were made aware of the case by police and all the media attention and that the district attorney will make a decision on whether to charge anyone once investigators have completed their investigation.
Portland Police noted that incidents like these were "complex legally," but acknowledged "the effect bias-motivated crimes" can have on the community.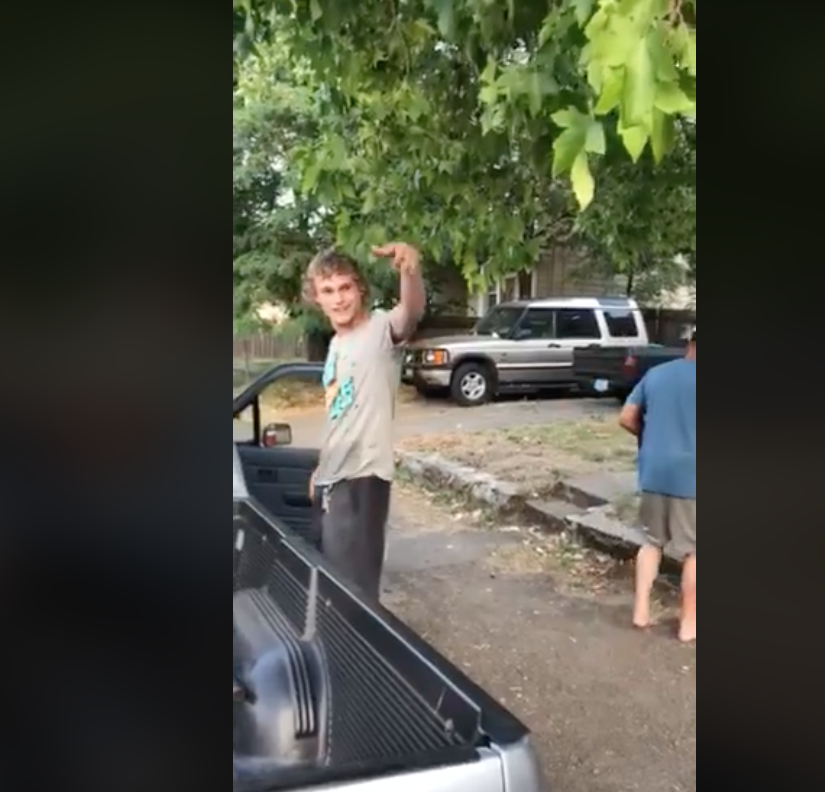 However, it was unclear if the incident in question is being investigated as a potential bias crime.
"Under Oregon law, bias crimes are defined as any criminal act that targets a victim based on the suspect's perception of the victim's race, color, religion, sexual orientation, disability, or national origin," police said in a press release. "Detectives work to determine whether or not bias elements are present during the reported crime that align with Oregon law."
Trudy said that she had to repost the video on Tuesday because Facebook deleted the first one. "These are awful things hurled at me," she said, urging people to share the video and expose the man.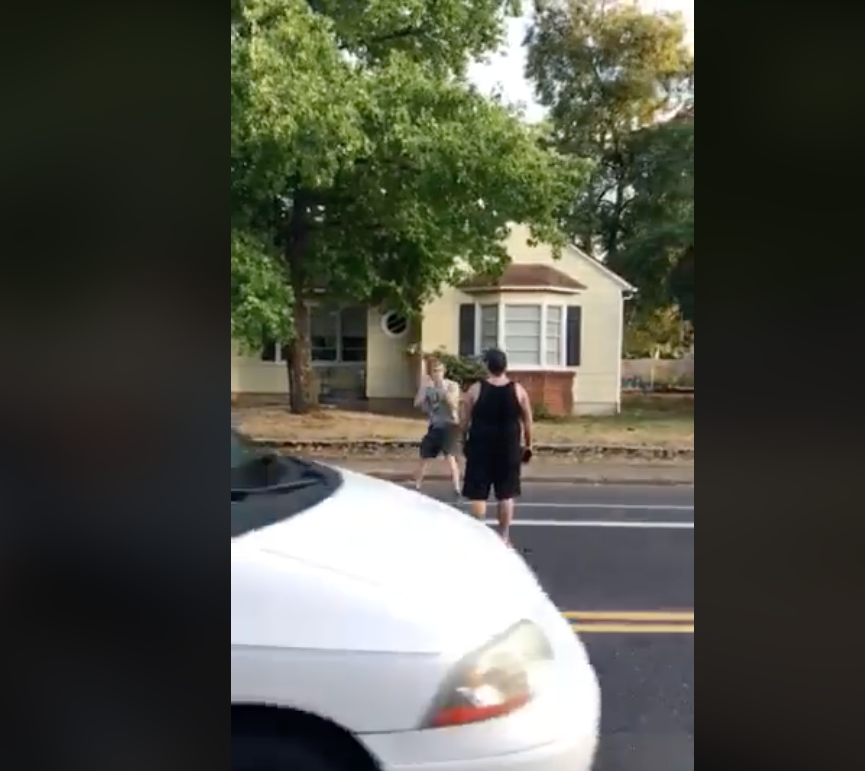 A Facebook spokesperson told BuzzFeed News that they had "restored the video and apologized to Ms. Dragoon for our mistake."
"This video does not violate our Community Standards," the spokesperson added.
Facebook's hate speech policy allows people to share even hateful video content when the purpose is to create awareness or educate others, according to the spokesperson.
Facebook had misunderstood the fact that the video included dehumanizing speech as part of an attack that Trudy herself was subjected to, the spokesperson added.
The couple's neighbors later showed their support by drawing pride symbols on sidewalks, putting up pride flags on the street, and carrying messages of solidarity.
Wendy, meanwhile, condemned threats of violence made against the man in the video, saying he was "clearly troubled and angry."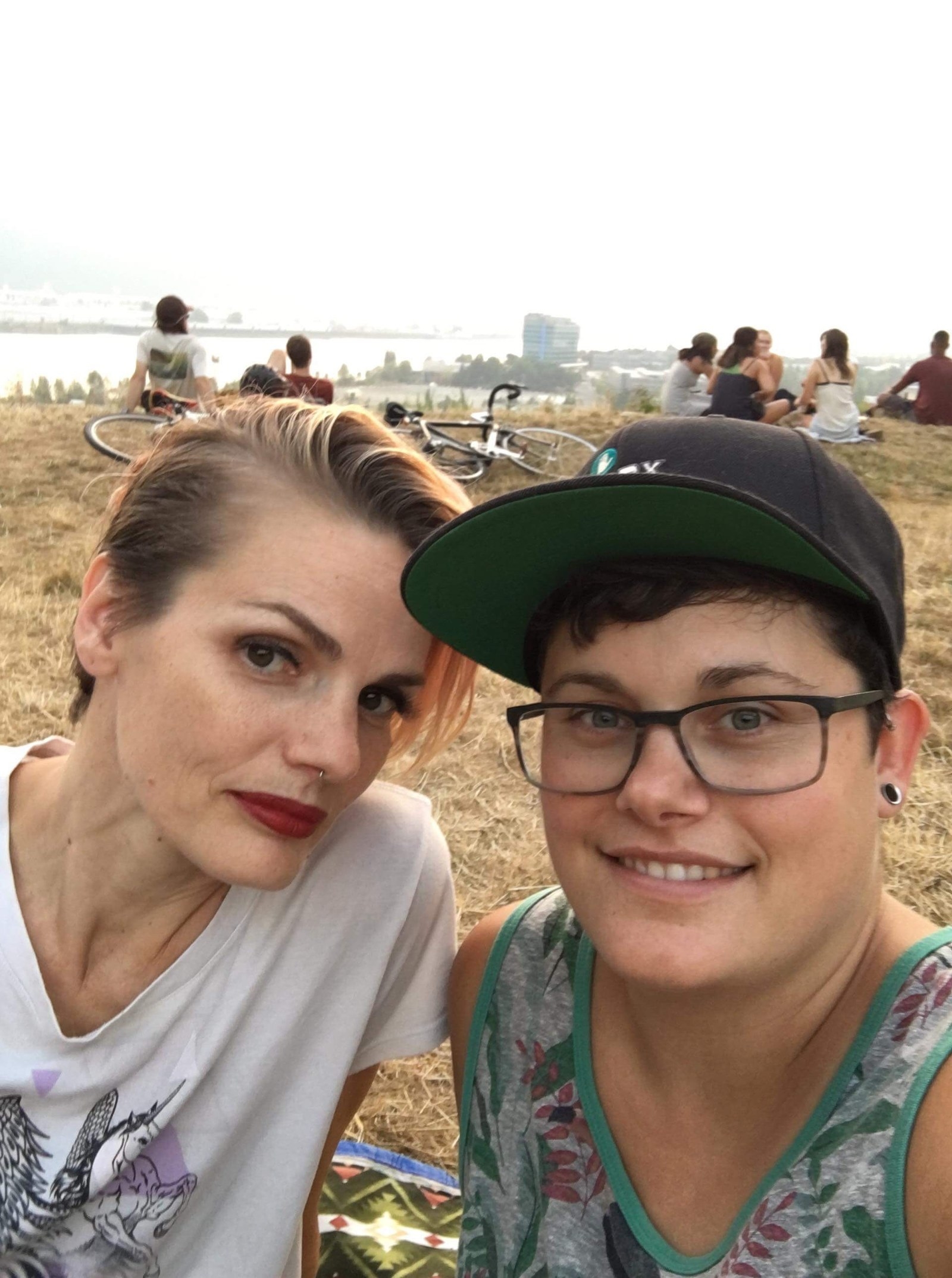 "I'm angry too but I want my community responding with love where possible," she wrote. "We don't have to respond to him with love, but we should absolutely be responding to the world with grand acts of love and beauty."