Angry Customers Are Boycotting CoverGirl Until It Drops NFL Sponsorship
Loyal CoverGirl users say they are not happy that the brand continues to sponsor the NFL despite the public outcry against its handling of domestic violence cases.
CoverGirl is facing mounting public pressure to drop its NFL sponsorship after this photoshopped image of its model with a blackened eye went viral last week.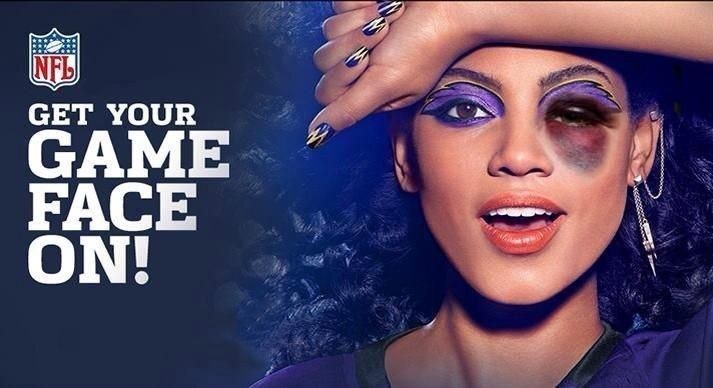 CoverGirl, which is the "official beauty sponsor of the NFL," had teamed with the league to create team-themed makeup looks.
The black eye was added to the woman modeling the Baltimore Ravens look. Ravens running back Ray Rice was recently suspended indefinitely from the league after a video surfaced of him punching his wife in a casino elevator. Critics have complained that the NFL, which initially only suspended Rice for two games, does not take allegations of domestic abuse seriously.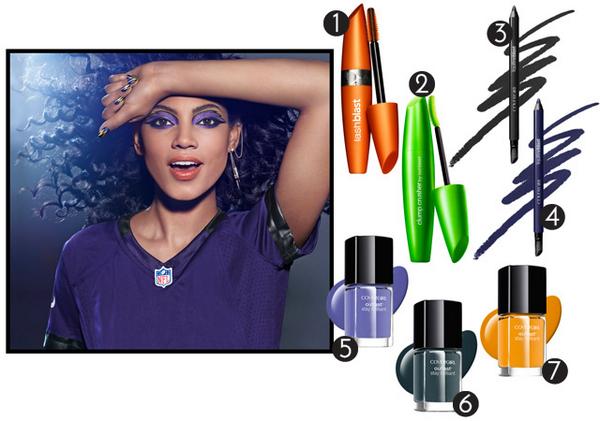 CoverGirl issued this statement in response to the growing criticism of the NFL's handling of domestic violence cases.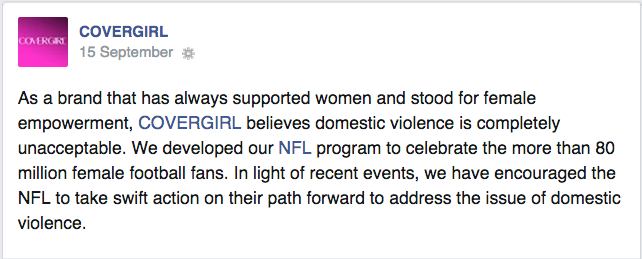 But the response has not placated most people. Adele Stan, a digital editor for The American Prospect who first doctored the image of the CoverGirl model with a black eye, called its statement "wholly inadequate."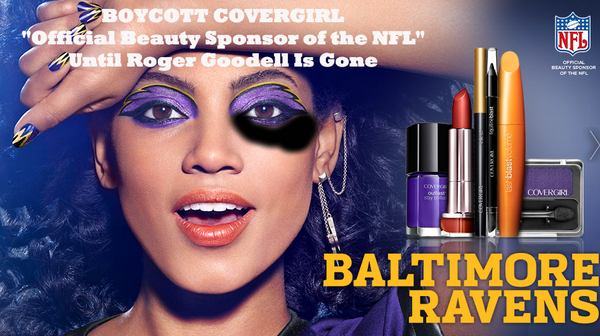 There is also a change.org petition calling on all NFL sponsors, including CoverGirl, to stand with women against domestic violence and fire Commissioner Roger Goodell.
People have now turned to CoverGirl's Facebook page to express their anger and call for a boycott of its products.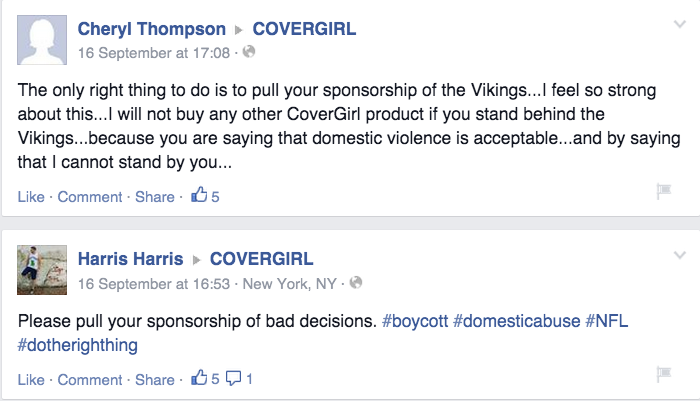 Many expressed disappointment with CoverGirl's "meaningless" statement addressing the issue.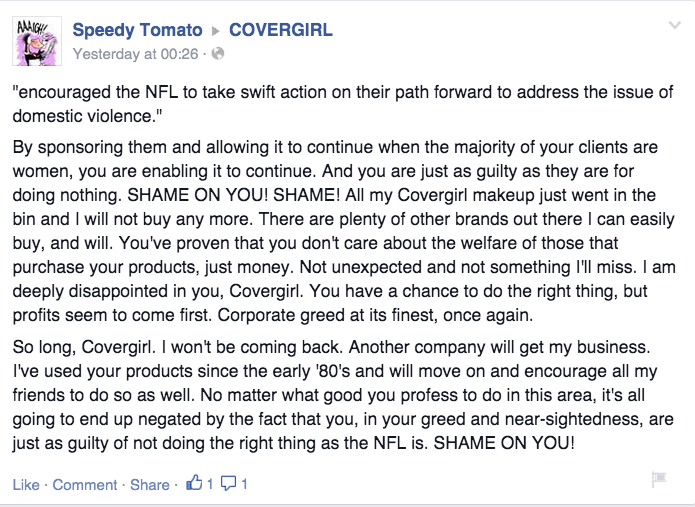 Even as their Facebook page explodes with angry comments, CoverGirl is sticking to their statement at this point, a representative for the brand told BuzzFeed News.

Ronna Waldman, a public relations executive for CoverGirl, said they have no further comment.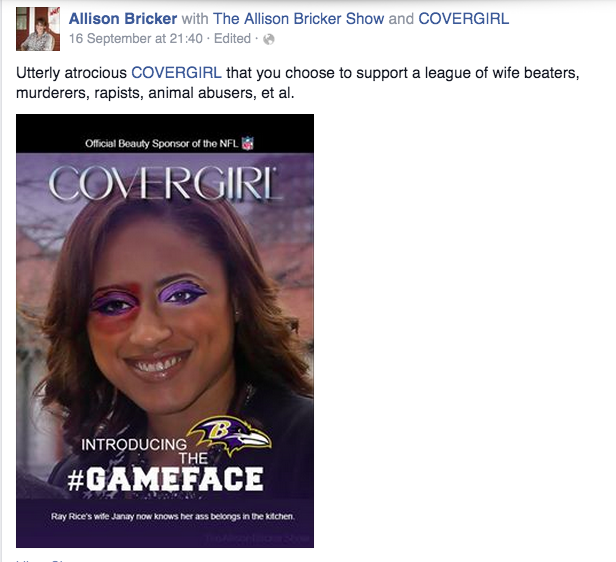 Several comments are from loyal CoverGirl customers who say they are switching brands.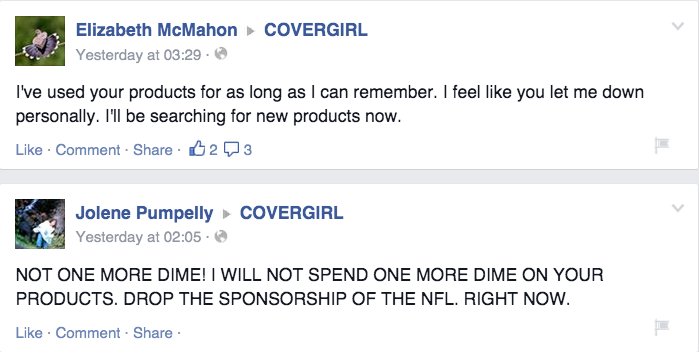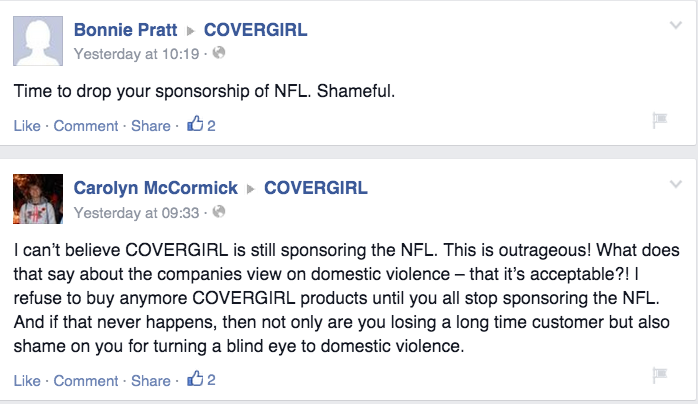 Some women, who self-identified as domestic violence survivors, also criticized CoverGirl for their inaction against the NFL.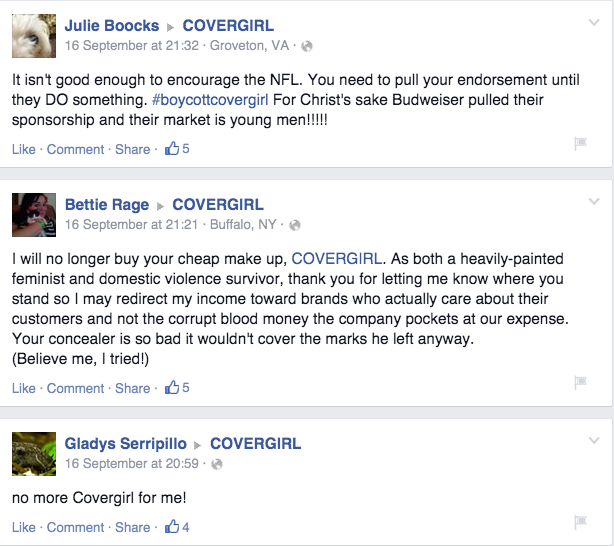 Some pointed to other brands which have taken a stronger stand against the NFL's handling of the controversy.

A few men played their part in calling for a boycott.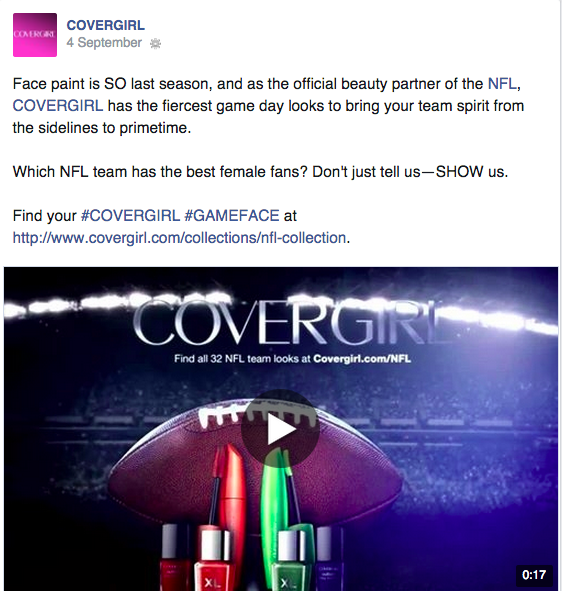 One reason CoverGirl has been largely mum while its Facebook page explodes might be that it's just one of multiple Procter & Gamble brands working with the NFL. The company also has NFL deals with Tide, Duracell, Gillette and more.

At the same time, CoverGirl isn't listed as a $1 billion brand in P&G security filings; it would be a tiny part of the company's "beauty" category, which accounts for 24% of the company's $83 billion in annual sales.
"It's pretty obvious that company-wide programs benefit our large
brands, but the company-wide programs like the Olympic sponsorship and the
NFL sponsorship are also a big win for some of our middle-sized brands," a P&G executive told investors in December 2010.
Put simply, even if it's allowed contractually, it might not be worth it for P&G to risk deals with so many of its other brands for CoverGirl.