An American Website Wrote A Satirical Article About An Indian Rape Festival And Many People Thought It Was Real
A National Report article called "The Assam Rape Festival In India Begins This Week" went viral, appalling many readers who believed the story.
On Nov. 2, National Report published a story about an annual rape festival celebrated in the northeastern state of Assam in India. The story described how every unmarried girl between seven to 16 years will have the chance to flee to safety or get raped.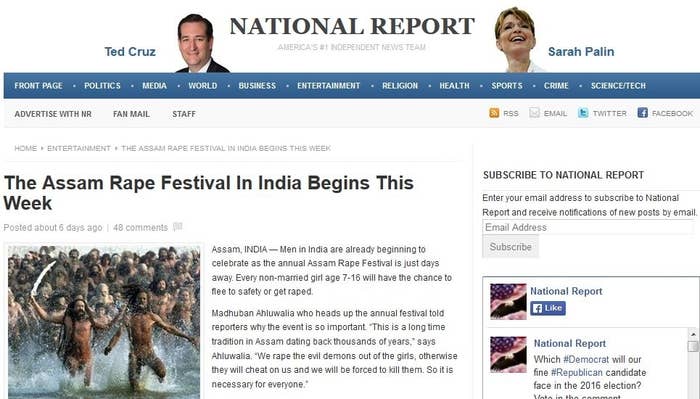 The story quoted an organizer of the festival who said this was an ancient tradition of Assam where the man who raped the most women would get a trophy.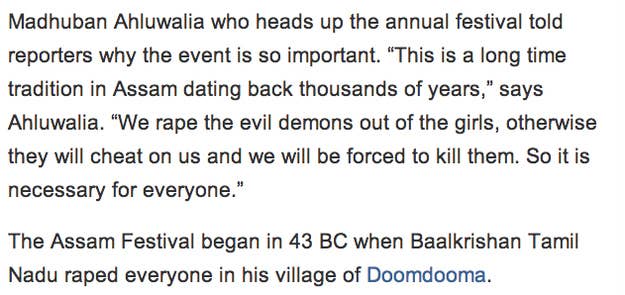 It also quoted a festival participant who said he had been training all year for the event by raping his sister and her friends every day. He said he wanted to be a "rape superstar."

The website also published a picture which was captioned as last year's rape festival in Assam.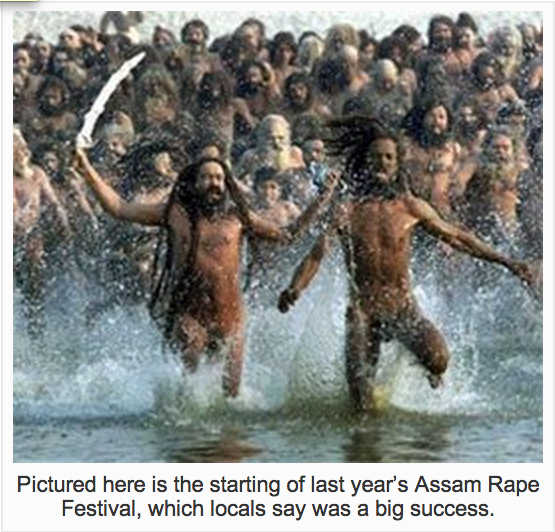 The article got over 100,000 Facebook shares on Facebook and more than 2,000 tweets. The website does not mention that it was a parody, and given the wide news coverage of horrific rapes in India, many readers took the article as an authentic news report.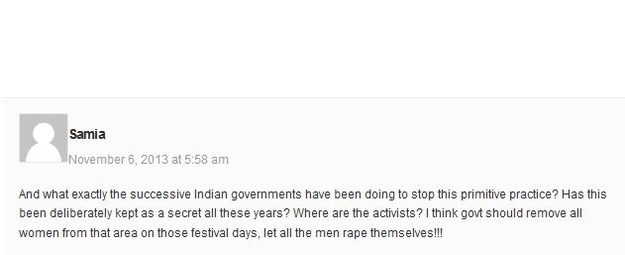 India's reputation took a further blow with readers attributing blame to the country's culture.




Some were confused about the authenticity of the story, but without any disclaimers they did not believe it to be satire.


However, a few readers apparently got the joke and tried to keep it going.


As the story got shared on other websites as an accurate report, it was met with criticism in India. On Thursday, Assam's criminal investigation department registered a suo motu case against the website for posting the defamatory article.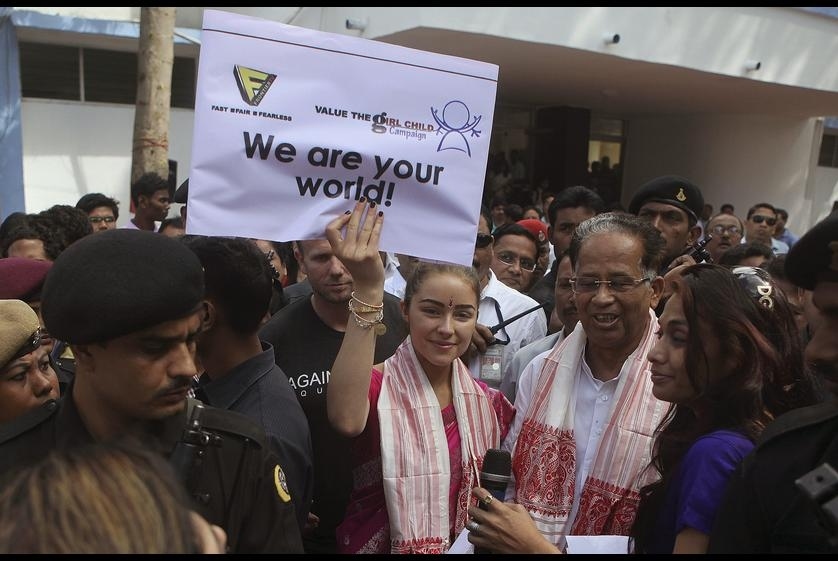 The Indian media also criticized the insensitivity of the satirical article.

People took to Twitter to slam the parody they felt was in poor taste.



An Indian responded to the National Report story by writing a parody news story headlined: "The Great American Mass Shooting Festival begins next week" on a website called International Report.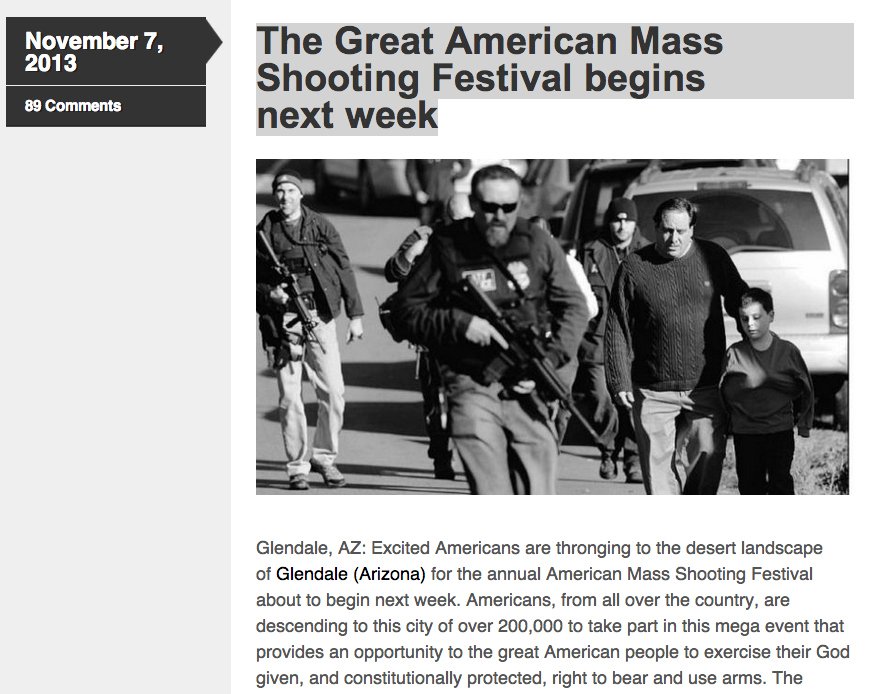 Like the National Report spoof, this story too quoted participants of the festival who referred to Adam Lanza's "impressive performance" at the "Connecticut Mass Shooting Games."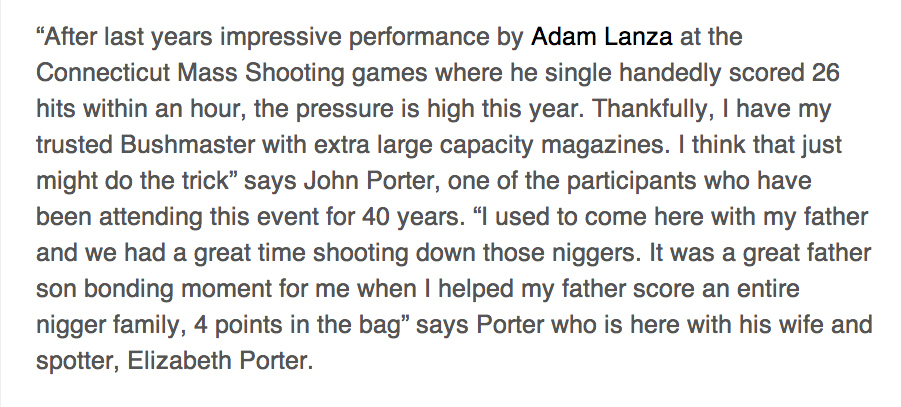 The story also quoted an organizer who was excited about "the Bangalore Zone," where laid off American IT workers can enjoy shooting Indians.
However, at the end of the story, the Indian writer wrote a disclaimer where he criticized National Report's satire, especially berating them for not putting a disclaimer.
Here's an excerpt from his disclaimer:
Disclaimer: As you would have guessed this is a fake article. It is a response to this National Report article which says there is an annual mass rape festival in Assam (a state in India). The National Report article is supposed to be satire but it has taken satire way too far and beyond the limits of propriety. Also as you will notice, that article doesn't anywhere mention it's satire. I at least have decency to mention that this is fake.

I apologize for everything I have written above. It is despicable and making fun of deaths of innocents is unpardonable. I know that. And believe me when I say that we Indians too were equally shocked an distressed at the mass shooting at Sandy Hook. I think American Gun control laws should be tighter and taking cover behind the garb of the Second Amendment ain't gonna cut it. I really do not understand why the average American needs any firearms, let alone automatics and snipers.

Similarly, we Indians are ashamed of the crimes against women that happen in India, be it rapes or domestic violence or the general lack of freedom many women face in their daily lives. We want a change in mindset but that doesn't happen in a day or week or even a year. It takes time. That being said, we have had an woman Prime Minister as well as a woman President. The most powerful person in the country right now is also a woman, Sonia Gandhi. We have had female suffrage ever since independence. We have our problems and we are trying to deal with them.
Some staff members of the National Report, including its editor-in-chief, republished this mass shooting satire on their website and offered the Indian writer a job with the National Report.