A Man Allegedly Shot And Killed His Ex-Girlfriend's Three Children
The 45-year-old man shot his ex-girlfriend and her three children, and then fatally shot himself, police said.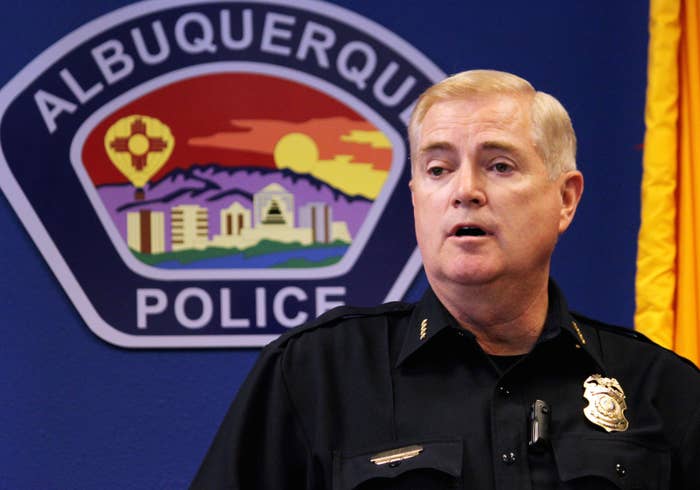 Three children are dead after a man shot them and their mother inside a home in Albuquerque, New Mexico, on Monday, police said.

The suspect, a 45-year-old male, died of a self-inflicted gunshot wound while the 36-year-old mother — with whom he had been in a "very short-term relationship," according to police —was in a critical condition on Tuesday afternoon. Police did not release names of the suspect and the victims.

The children killed included a 5-year-old boy, a 6-year-old girl, and a 9-year-old boy.

At around 6:30 p.m. local time on Monday, officers responded to a woman calling for help after shots had been fired, police said at a press conference.

The suspect had forced his way uninvited into his ex-girlfriend's house and waited for her and her three children to arrive, authorities said. Once the family arrived, the suspect was said to have confronted them inside the house before shooting all four of them.

"Evidence shows that the mom fought diligently to protect her children and to get them out of the home safely," Albuquerque Police Chief Gordon Eden said at the press conference.

Police said they found one child dead inside the house, while the other two died after being transported to the hospital.
The suspect had shot himself but was alive when police arrived at the scene. He was transported to the hospital where he died of what appeared to be a self-inflicted gunshot wound.
The woman was severely injured and was in a critical but stable condition at the local hospital on Tuesday afternoon.
"We're seeing too many children die in senseless acts of violence," Albuquerque Mayor Richard Berry told reporters. "We lost three more last night."
Police said they were not releasing the names of the victims at the request of the children's surviving biological father.
The suspect's name would be released later, officials said, although police said he had a criminal history but it was "relatively old."

"Facts concerning a motive, what led up to this shooting, and what happened during the shooting are still being investigated," police said in a press release. "Evidence is also still being processed."

Eden said the mother was the sole survivor of the shooting, and appeared to be the only witness, but she was "not in position to talk right now."

He urged the media not to "victimize the mom" by speculating about her "short relationship" with the suspect.
"We don't know if there were warning signs," Eden said, adding that she was "critically injured herself."

"Today is the time to hug our children," Mayor Berry said. "Say a prayer for those angels that were killed last night. Say a prayer for the mom."