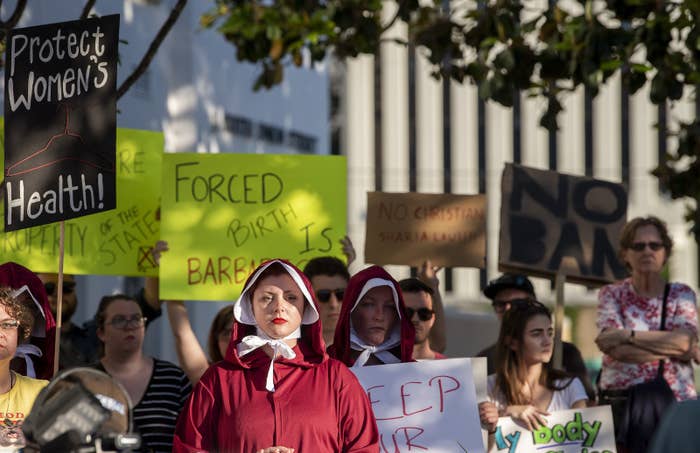 After more than four hours of debate and passionate pleas from Democratic lawmakers, the Republican-controlled Alabama Senate Tuesday voted to approve a near-total ban on abortions in the state.
The controversial bill, which outlaws all abortions except in cases where a woman's health is at serious risk, was divisive even among some anti-abortion Republican lawmakers, who grappled with how restrictive the bill was given that there are no exceptions for cases of rape and incest. Four Republicans joined their seven Democratic colleagues to vote in favor of amending the bills to add the exceptions, but ultimately failed.
Alabama's Senate is comprised of 31 men and three women, two of whom vehemently spoke out against the bill during Tuesday's often emotional session.
Democrats who spoke in favor of the amendment said they were pro-life, but could not get behind the lack of exceptions for rape or incest.
If the bill, which passed 25–6, is signed into law by the governor, it will be the strictest in the US, which opponents argue was an intentional move to get it before the Supreme Court in a challenge to Roe v. Wade.
"This bill isn't about pro-life, or the right to life. This bill is about control," Democratic Sen. Linda Coleman-Madison said.
On Tuesday evening, a packed gallery watched as several Democrats grilled Republican Sen. Clyde Chambliss, who handled the bill, over provisions that would criminalize the act of performing abortions on victims of rape or incest, calling the move unconstitutional and "backward" to force those women to give birth.
Sponsored by Rep. Terri Collins, Alabama's HB314 bill makes it a felony for a doctor to perform or attempt an abortion, unless a woman's health is at "serious" risk. While women who get an abortion would not get jail time, doctors who perform the procedure could face up to 99 years in prison.

Senate Minority Leader Bobby Singleton, who officially introduced the amendment to add exceptions for rape and incest back into the bill, laid into his Republican colleagues, even with three rape survivors standing up to have their stories shared. He ultimately spoke for two hours to delay the final vote.

"You just aborted the state of Alabama," the Democrat said in a fiery, emotional speech. "You just raped the state of Alabama with this bill. This is just a shame. This is a disgrace. This is a travesty."
The Alabama Senate had been expected to vote on the bill last week, but it was tabled after a chaotic session in which lawmakers got into a shouting match when Republicans suddenly stripped the rape and incest exceptions from the bill.

Now, the bill will head to the desk of Republican Gov. Kay Ivey, who is a strong opponent of abortion. However, she has not indicated how she would vote on the extremely restrictive legislation.
If it passes, only women with life-threatening pregnancies or severe mental illnesses that could result in the death of her or her child could get an abortion in Alabama.
Alabama is one of several states that has either passed or introduced legislation to further restrict abortion in recent months. Those efforts will likely be challenged in the courts, where anti-abortion advocates hope it will push the issue to the newly conservative-leaning Supreme Court.
"Now that President Donald Trump has supercharged the effort to remake the federal court system by appointing conservative jurists who will strictly interpret the Constitution, I feel confident that the US Supreme Court will overturn Roe and finally correct its 46-year-old mistake," Lt. Gov. Will Ainsworth said in a statement Thursday.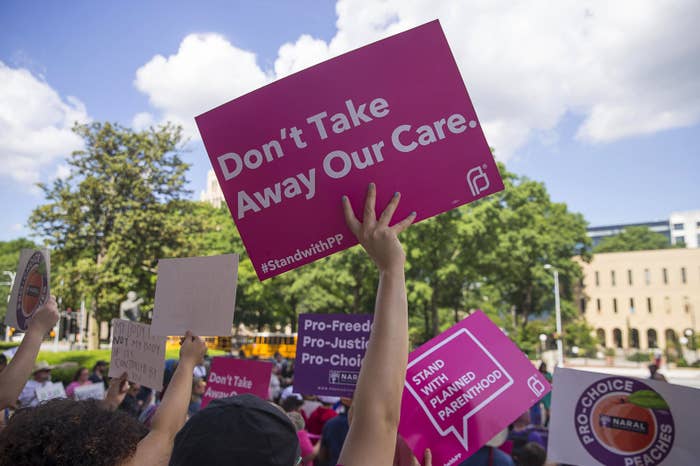 Alabama's bill is more restrictive than those signed into law in four other states this year. Georgia, Mississippi, Kentucky, and Ohio have all outlawed abortion after a doctor can detect a fetal heartbeat — which is usually at about 6 weeks, before many women are aware they're pregnant.

Ainsworth released a video Sunday encouraging constituents to urge their legislators to pass the bill without any amendments.
Several Democratic lawmakers on Tuesday tried to introduce other amendments, such as requiring Alabama to pay for medical care for every child the state requires a woman to carry to term until they are 13, plus care for the mother, and making it a felony for men to get a vasectomy. But those additions also failed.
"The sin to me is bringing a child into this world and not taking care of them," said Coleman-Madison. "The sin for me is that this state does not provide proper care and proper education."
Opponents of the bill also repeatedly addressed language that Republicans say would enable women to get abortions — as long as they didn't know they were pregnant. But that prompted questions about why a woman would seek out an abortion if she was "known to be pregnant."
Chambliss stumbled to answer.
"There's a window of time when a woman knows she's pregnant. ... She has to do something to know whether she's pregnant or not," he said. "It takes time for all the chromosomes to come together."
Before Tuesday's vote, some Republicans struggled to reconcile their anti-abortion beliefs with the bill's proposed lack of exceptions for rape and incest.

"It's just — I'm not real comfortable with having a law that forces a woman to carry a baby after rape," Del Marsh, the Republican president of the Alabama Senate, told the Washington Post a day before the scheduled vote.
Marsh said the thought gave him a stomachache.
"The question is, are we going to be the state that says this is OK?" he told the Post. "Even if this is just a legal strategy, I also have a 16-year-old daughter. Would I want her to carry a baby from a rape?
"That's where my stomachache comes in," he added. "That's where folks feel real sick about this."
The American Civil Liberties Union said Tuesday night that the bill was "blatantly unconstitutional" and vowed to take legal action.
"We will not stand by while politicians endanger the lives of women and doctors for political gain," said Alexa Kolbi-Molinas, a senior staff attorney with the ACLU. "Know this, Governor Ivey: If you sign this dangerous bill into law, we will see you in court."