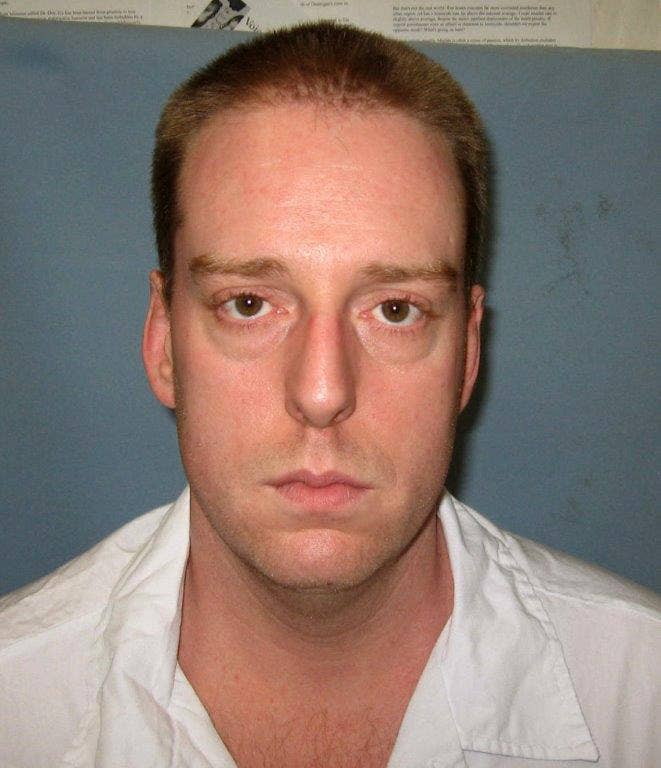 Alabama executed Ronald Smith Jr. late Thursday for the 1994 murder of a convenience store clerk — a death sentence imposed by a judge despite the jury's recommendation of a life sentence.

Smith's execution lasted more than 30 minutes, and he "heaved and coughed through about 13 minutes," according to two press witnesses. An Associated Press witness noted Smith "clenched his fists and raised his head during the early part of the procedure."
Alabama, like some other death penalty states, uses a controversial sedative called midazolam as its first drug. It is not approved to maintain anesthesia, and has no pain-relieving abilities. The state then follows it up with a drug that paralyzes the inmate, and then a painful drug that stops the heart.
"A prison guard performed two consciousness checks before administering the lethal drugs," the Associated Press reported. "During the first one, Smith moved his arm."
A request to halt the execution based on alleged constitutional flaws with the state's death sentencing law was denied by the US Supreme Court on Thursday night a little before 8:30 p.m.
The denial came hours after Justice Clarence Thomas, who handles requests out of Alabama, issued a temporary stay of execution so the court could consider the request. Alabama Department of Corrections spokesperson Bob Horton had told BuzzFeed News that the department would have proceeded at the scheduled execution time if the court did not explicitly issue a stay.
The court denied the stay four to four. It takes five justices to grant a stay, although it takes only four to decide to hear a case. Justices Elena Kagan, Ruth Bader Ginsburg, Stephen Breyer, and Sonia Sotomayor noted that they would have granted the stay — but no information was provided about whether they would have voted to hear the underlying case itself.
Soon thereafter, Smith's attorneys asked the court to reconsider denying the stay, noting that typically there is a "courtesy fifth" vote provided when it comes to stays of execution when four other justices would hear the defendant's underlying appeal.
"The Court released an order earlier today from which it appears that four Justices favor review of Mr. Smith's petition for writ of certiorari, but he did not receive five votes to stay of Mr. Smith's impending execution," his attorneys wrote. "Because the Court's inconsistent practices respecting 5-4 stay denials in capital cases clash with the appearance and reality both of equal justice under law and of sound judicial decision-making, Mr. Smith asks this Court to reconsider the Court's denial of his application for a stay of execution."

Although Thomas granted a second temporary stay of execution while the court considered whether to grant a stay of execution based on the motion for reconsideration, the court denied that second stay request about 10 p.m. — with no noted dissents.

Moments later, Smith's attorneys filed a final request, asking the court to grant him a stay of execution to allow him time to file another appeal in a separate case — one related to the state's chosen method of execution. Smith attorneys wrote that they were "not anticipating filing certiorari on his lethal injection lawsuit" — but apparently changed course when his other request was denied. Thomas denied that stay request less than 20 minutes later, without referring the matter to the full court.
Smith Jr., 45, a former Eagle Scout and Army reservist, shot and killed 26-year-old Casey Wilson while robbing a Huntsville convenience store in 1994. The jury had recommended a life sentence without parole for Smith, but a judge overrode the decision — as is allowed under the state's death sentencing law — and imposed the death penalty.

The judge had sentenced Smith to death based on his determination that the murder was "an execution-style slaying" during which the store clerk was "pistol-whipped and beaten into helpless submission, but Smith nevertheless killed him to avoid later identification and that Smith was indifferent to or enjoyed the clerk's suffering, bragging and smiling or laughing about the killing when he described it," according to court documents.
Smith's attorneys asked the US Supreme Court to hear his case and stop his execution on the grounds that Alabama's death penalty sentencing law is unconstitutional based on its similarities to Florida's sentencing law, which was struck down by the US Supreme Court in January. The state has opposed the request.
In the case of Hurst v. Florida, the Supreme Court held that Florida's death sentencing law violated the Sixth Amendment right to a jury trial by permitting a judge to enter a sentence of death.
On Thursday, the 11th Circuit Court of Appeals denied Smith's request to stop his execution. In that appeal, Smith Jr. had challenged the constitutionality of Alabama's three-drug lethal injection protocol, saying that midazolam — a controversial sedative at the center of several botched executions — would not sufficiently anesthetize him from the painful effects of the other two drugs used in the protocol. His appeal also argued that the state's refusal to allow counsel witnessing his execution access to a cell or landline phone unconstitutionally restricted his access to the courts.
As part of his legal challenge, Alabama offered to execute Smith with a large dose of only midazolam — a lethal injection never before done. Smith consented, but only if the state greatly increased the dose and its three-drug method was declared unconstitutional. The two sides could not agree, and the state intends to use its three drug method of midazolam, followed by a paralytic and a painful drug that stops the heart.
Alabama has executed one inmate so far in 2016. In that execution, one of the inmate's eyes were open during the lethal injection. The courts have halted the executions of two other Alabama inmates this year.
A month ago, the US Supreme Court granted a stay of execution to Tommy Arthur while the justices consider whether to hear either of his cases. Similar to Smith, one of Arthur's challenges relates to Alabama's death sentencing laws and the other to the state's method of execution. Chief Justice John Roberts granted a so-called "courtesy fifth" vote to allow for the stay of Arthur's execution. The court is scheduled to consider whether to take either of his cases on Friday.
UPDATE
This story was updated throughout the evening as filings and orders were issued. A final rewrite of the story was published once the court action had concluded and the Supreme Court declined to halt the execution for the night.