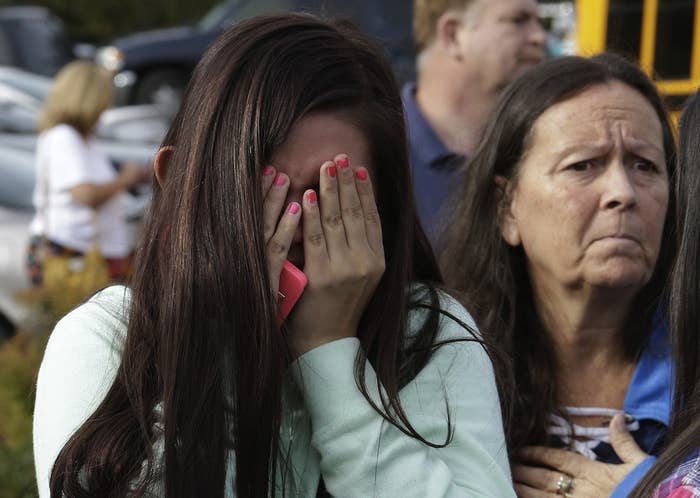 What We Know So Far
• Gunshots fired in Marysville-Pilchuck High School in Washington at 10:39 a.m. PT. • The gunman was Jaylen Fryberg, a student at the school. • A total of five people, including Fryberg, have died. Several others were wounded.
In a recorded 911 call released Wednesday, Marysville High School teacher Megan Silberberger can be heard saying "blood is everywhere."
The recording is one of several released Wednesday to The Seattle Times, and documents the moments after the shooting before first responders had arrived. See BuzzFeed News' post on the recordings to hear them all.
On Nov. 7, Andrew Fryberg became the fourth victim to die from injuries sustained in the shooting.
"Unfortunately, Andrew Fryberg, 15, passed away this evening, November 7, at Harborview Medical Center," hospital officials said in a released statement.
Harborview also shared a statement from the Fryberg family:
"We express our thanks for the amazing support from the community, as well as from everyone around the world that have been praying for us all through this tragic event.
We also want to say a special thank you to all the amazing staff that have cared for our son and brother here in the pediatric intensive care unit at Harborview.
Our family is overwhelmed with the love and care that has been provided to our loved one during this time and you all will forever hold a special place in our hearts.
But we also ask that you respect our privacy at this time of our deep loss."
A 14-year-old girl who was wounded in the shooting died Friday, bringing the death toll to four, including the shooter.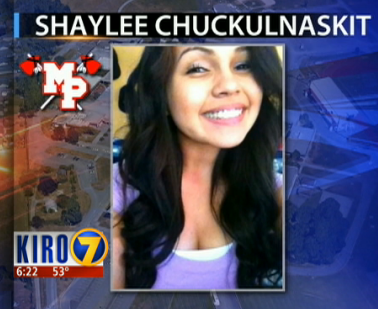 Shaylee Chuckulnaskit had been wounded in the shooting, but died Friday, Providence Regional Medical Center announced. Her family released a statement mourning her death:
Our hearts are broken at the passing of our beautiful daughter. Shay means everything to us. In Shay's short life she has been a radiant light bringing us incredible joy and happiness. She has been a loving daughter, a caring sister, a devoted friend and a wonderful part of our community. We can't imagine life without her.

We have been overwhelmed by the thoughtfulness and support of our family, friends and community. We are deeply grateful for all the acts of kindness that have come our way. We especially want to thank the medics and Providence staff who have cared for Shay.

We request that everyone please provide us the privacy we need so we can grieve our loss. Thank you.
The Associated Press late Friday identified the shooter as Jaylen Fryberg.
Though Marysville Police Chief Rick Smith refused to name the shooter Friday evening, witness from the scene and multiple media agencies identified him as Jaylen Fryberg.
Fryberg reportedly was a freshman and homecoming prince at Marysville-Pilchuck High School.
Police confirmed late Friday afternoon that the shooter died of a self-inflicted gunshot wound, the Associated Press reported.
Three students in critical condition are two girls and one boy.
The fourth injured student is a 14-year-old boy who was shot in the jaw.
Police confirmed two dead, including shooter.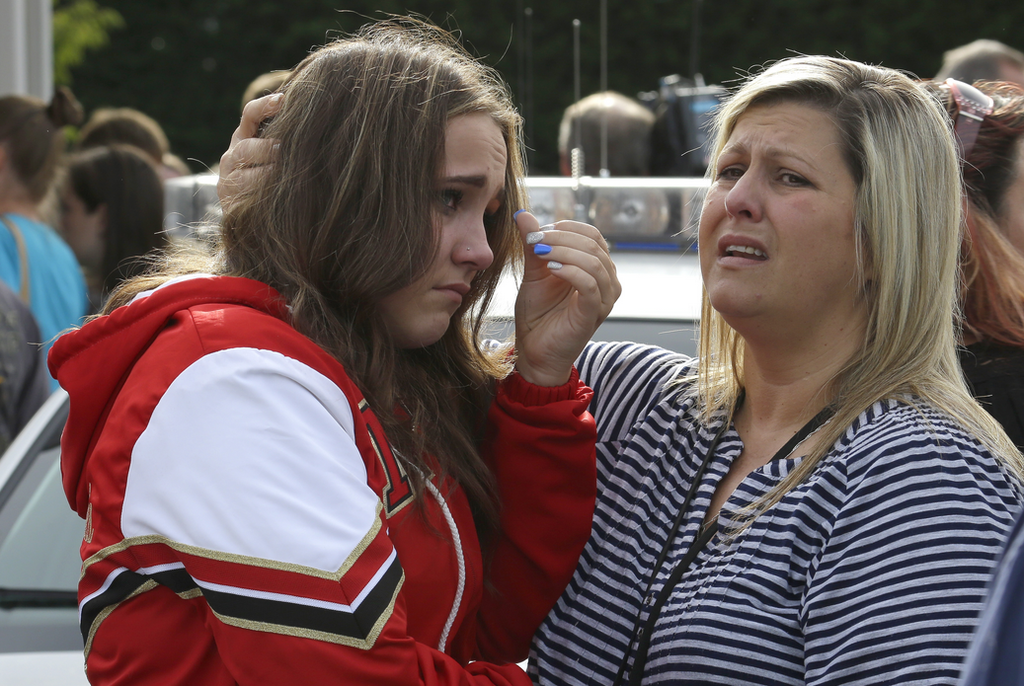 Police Commander Robert Lamoureux confirmed two people dead, including the shooter. He did not confirm if the other person was a student or staff member.
At least four students are injured, three in critical condition.
Police confirm that the shooter is dead. The shooter was a student.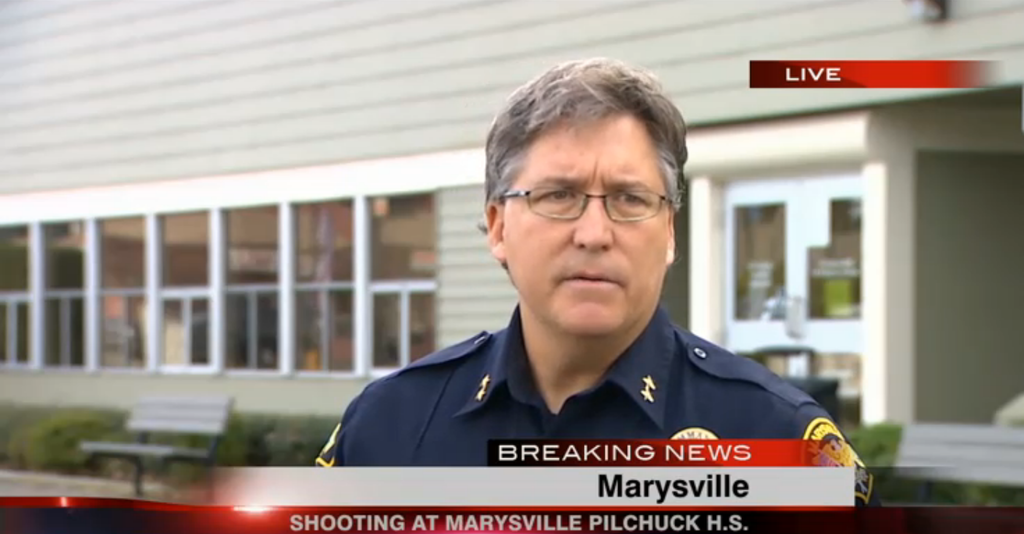 Marysville Police Commander Robert Lamoureux did not confirm if other students were injured at a briefing Friday afternoon. Police are searching the school buildings and are still treating the situation as an active shooting. Lamoureux said they are confident there was only one gunman.
Three patients admitted to hospital with gunshot wounds; one shot in the head.
Police seen handcuffing a person. It is unconfirmed if the individual is a suspect.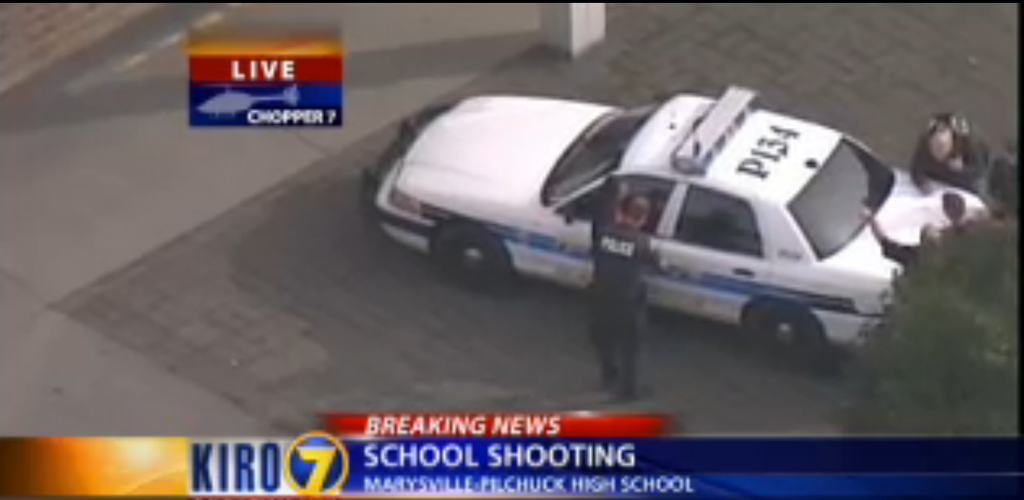 Police responded to reports of gunshots heard by three students and a teacher.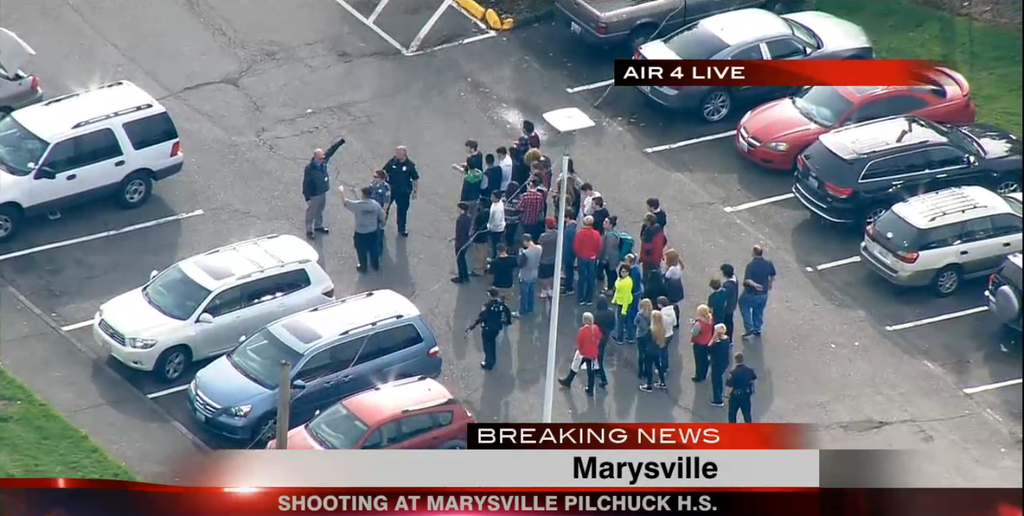 Marysville-Pilchuck High School in Washington is in lockdown Friday after gunshots were fired.