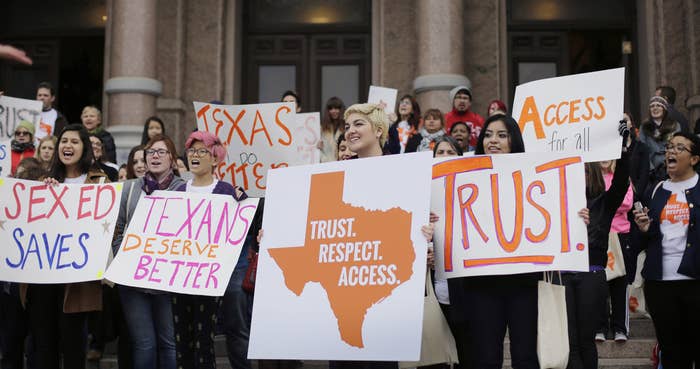 Federal appeals judges on Tuesday upheld a Texas law that imposes strict medical standards on all but one abortion facility in the state. The HB2 law requires facilities to meet the same high standards as ambulatory surgical centers (ASCs), where outpatient surgery is performed, and mandates that doctors that perform abortion also have the power to admit patients to nearby hospitals.
The three-judge panel of the 5th Circuit Court of Appeals upheld the state's abortion restrictions in the HB2 law as constitutional, making an exception for one abortion facility in McAllen.
The HB2 law, signed by Gov. Rick Perry in 2013, introduced new regulations for abortion providers and procedures. These regulations included banning abortions after 20 weeks of pregnancy, requiring abortion doctors to have admitting privileges at a hospital within 30 miles of an abortion clinic, and requiring all abortion facilities to meet the standards of ASCs.
Abortion providers and advocates said the law forced many clinics in Texas to close as they did not meet those standards, denying women access to safe and legal options for terminating pregnancies. According to the law's opponents, almost a million women in Texas live more than three hours away from an abortion clinic that meets the strict standards.
Texas had appealed to the 5th Circuit after the law was struck down by a federal district judge. The 5th Circuit initially allowed the state to implement the law pending the appeal, but last October the Supreme Court halted the enforcement of two of the law's provisions.
The Supreme Court upheld an injunction against the requirement that an abortion clinic should meet the standards of an ASC and also suspended admitting privileges requirement for doctors in El Paso and McAllen until the 5th Circuit heard the appeal in January.
On Tuesday, the 5th Circuit ruled that Texas may require all but one abortion clinic to meet HB2's requirements. Only Whole Woman's Health in McAllen was granted exemptions to the ASC requirements and admitting privileges for one of its doctors. The 5th Circuit did not uphold the Supreme Court's injunction for reproductive services in El Paso.
"Once again, women across the state of Texas face the near total elimination of safe and legal options for ending a pregnancy, and the denial of their constitutional rights," Nancy Northup, president and CEO of the Center for Reproductive Rights, which filed the lawsuit against HB2, said in a statement. She vowed that the Center for Reproductive Rights and Texas' women health care providers would appeal the case to the U.S. Supreme Court.
Texas Governor Greg Abbott said the law protected the "health and safety of Texas women."
"I am pleased with the 5th Circuit's decision to uphold HB2 and the State of Texas will continue to fight for higher-quality healthcare standards for women while protecting our most vulnerable — the unborn," he said in a statement.
Opponents of the law voiced their anger against the 5th Circuit ruling.