A Teacher Was Fired From A Russian School After Being Outed By An Anti-Gay Activist
The teacher has now filed a lawsuit to restore her position and win compensation for lost wages.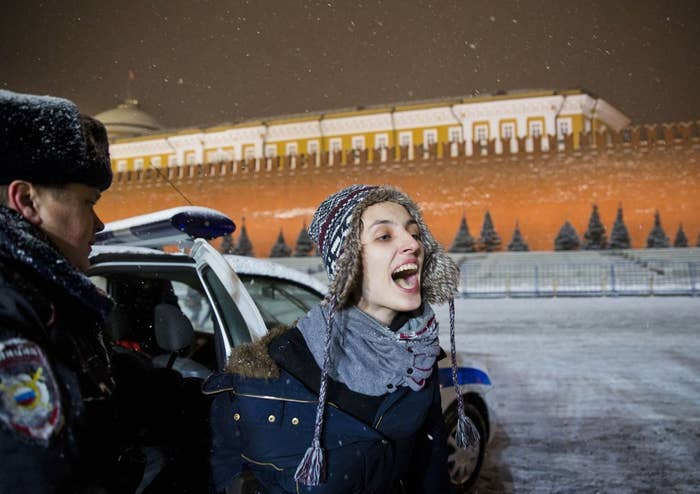 A music teacher at a school for disabled children in St. Petersburg has filed a lawsuit after she was fired from her job for "immoral action" when an anti-gay activist outed her as a lesbian in December 2014, The Moscow Times reported.
Lawyers from the Russian LGBT advocacy group, Way Out, filed the lawsuit on her behalf demanding that she be reinstated and compensated for wages lost during her forced absence from the school, the group said in a statement on Monday. They said that the "unjustified and unlawful dismissal" on discriminatory grounds caused the teacher suffering and that her claim was supported by the numerous teaching certificates and rewards she received.
On Dec. 8, 2014, the director of School 565 fired the teacher after information about her private life was given to the administration. Timur "Isayev" Bulatov, a self-described anti-gay activist who claims to have gotten 29 LGBT school teachers fired, wrote a letter of complaint to the school saying, "It's a crime to allow such teachers as [redacted] around children because communication with such teachers won't teach children good behavior, it won't give them a well-rounded view of the world, and it won't give them the ability to respect the family and Russian tradition."
Isayev also showed the school photos of the teacher with her partner from her profile on a Russian social networking site. He provided the school with other evidence of her orientation, including the fact that she had "liked" Russian singer Zemfira, who is believed to be a lesbian, Russian news site Meduza reported.
In his complaint, Isayev wrote that the teacher "puts up photos of sodomy on the internet for everyone to see" and "shows up at school with lesbian attributes: rings on her big fingers and pinky fingers, other specific jewelry, dressed like a man, cutting her hair short, which can be a bad example for the behavior of children."
Russia's "gay propaganda law" prohibits the promotion of "non-traditional sexual relations" among minors. A school administrator told the teacher she could not work with children because she belonged to the LGBT group. After the teacher refused to resign voluntarily, the school dismissed her according to the law which said that employees in education indulging in "immoral acts" were incompatible with the continuation of such work.
This is the first known case in Russia where an employee was officially dismissed on the grounds of their sexual orientation, Kseniya Kirichenko, one of Way Out's leaders said in a statement. In other cases, employees were terminated "at will" Kirichenko said.