More than 400 alumni of one of the most prestigious magnet programs in the country have signed a letter accusing their celebrated high school math teacher of sexually harassing and demeaning female students over four decades.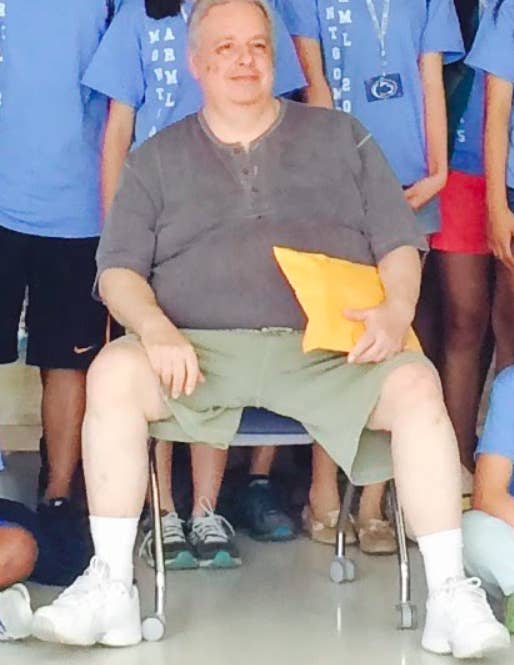 Former students of the magnet program at Montgomery Blair High School in Maryland have alleged that Eric Walstein, their now-retired prize-winning math teacher, engaged in a pattern of inappropriate behavior and sexism over the course of his 46-year career at Montgomery County Public Schools.
The allegations — which include giving female students back rubs, calling them "sexy," offering them "kisses," and demeaning and discouraging them from pursuing mathematics — are detailed in a 37-page document that the alumni sent to the Blair magnet program faculty in January, along with the letter that was signed by his former students from the class of 1989 to 2017. The allegations, contributed by more than 80 alumni, were first reported by Bethesda Magazine, followed by the Washington Post.
"Eric Walstein was lauded by many as a champion of mathematics education, but we ask you: education for whom?" the alumni wrote in the letter sent to school officials, a version of which is available online.
"Fear of Walstein's sexual harassment drove many girls away from actively participating in class, from asking for help outside of class, and from enrolling in his classes altogether," the letter states.

In a statement to BuzzFeed News, a spokesperson for Montgomery County Public Schools (MCPS) said the district had been made aware of the allegations of "sexual harassment, bullying and gender discrimination" against Walstein.
MCPS said the alleged behavior described in the letter was "deeply disturbing and appalling" and commended those who came forward to share their experiences.
"While Mr. Walstein is no longer employed by MCPS, rest assured that our school system is looking closely into the matter," the statement said, adding that MCPS had shared the allegations with the Montgomery County Police Department.
A police spokesperson told Bethesda Magazine that investigators reviewed the document and closed the investigation in January after concluding that the allegations "while questionable by some, did not rise to the level of a crime in Maryland." The spokesperson did not respond to BuzzFeed News' request for comment.
Walstein, who retired in 2013, did not return a request for comment. But in interviews with Bethesda Magazine and the Post, Walstein denied most of the allegations and said that some of his comments and his behavior were mischaracterized.
"I was always known as liking girls, but I never considered that to be a crime," Walstein told Bethesda Magazine. "What I thought I was doing was calming them down and letting them get … to be part of the class."

Some of the allegations included in the alumni document detail how Walstein invaded female students' personal space at their desk by wheeling his chair up to a female student, placing his elbows or forearms on the desk, and making "uncomfortable" eye contact.
A few women recalled him touching their hair while others said they witnessed Walstein massaging girls' shoulders. Many said Walstein commented on female students' appearances and a few alleged that he told one that she looked "sexy."
Gautam Mukunda, now an assistant professor at Harvard Business School, was Walstein's student in 1997. He told BuzzFeed News on Friday that he recalled seeing Walstein give one female student back rubs during the class and that it happened multiple times.
"I never discussed it with her," Mukunda said. "In retrospect, I should have. I was 15 and it was a long time ago, but judging by her body language, she certainly seemed uncomfortable."
Ioana Stoica, a former student who is now a math teacher, alleged in a public Facebook post that Walstein "regularly told me I was too emotional to be good at math." She added that he was "continually making sexually suggestive remarks such as 'I don't see why you're even in school when you could be making 100/an hour right now.'"

Aleta Quinn, now an assistant professor of philosophy at the University of Idaho, alleged that Walstein frequently spoke about sex during his classes and touched female students.
Quinn provided BuzzFeed News with an email where she alleged that Walstein made innuendos about his students having sex on math-related field trips and in the shower of a new house he was building. Walstein also described the size of whale penises on multiple occasions and described sex scenes from the television show Ally McBeal, Quinn alleged in the email.
"These were not isolated incidents but a regular, expected part of his classes," Quinn wrote in the email. "This was not workplace banter among adults: we students were all children. We were required to obtain permission from parents to attend sex education classes, but if we wanted to develop our mathematical abilities, we had no choice but to put up with everyday sex talk."
Another former student, Emily Jones, told Bethesda Magazine that Walstein approached her during class, leaned over her desk, and asked her, "Do you want a kiss?" He then repeated the question louder for the whole class to hear, after which he pulled out a Hershey's Kisses chocolate from his pocket and gave it to her.

In the spring of 2012, Becca Arbacher was about to leave her calculus class when Walstein called her to his desk and took her wrist, she told BuzzFeed News.
"He asked me if I wore a sports bra when I played softball and that I should if I didn't because as I got older my breasts would get saggy," Arbacher said. "He said that I would disappoint my future husband or that guys wouldn't like that."
Arbacher added that while Walstein did not approach her threateningly or violently, she was "mortified" by the inappropriate question.
"I didn't know how respond," she said.
She added that in December 2011, Walstein told her something along the lines of "sit down and stop being so sexy" during one of his classes.
Before the alleged incidents took place, Arbacher said she was aware of Walstein's pattern of "overtly personal questions, sexually explicit conversations, and his discussions about women's bodies."
Arbacher added that Walstein fixated most of his attention on his female Asian students, often calling them "honey, sweetie, gorgeous."
"They were the ones he asked the most invasive questions of and made them do things like putting the blinds down as he watched them," Arbacher said.
Maureen Lei, one of his former students who is Asian, told Bethesda Magazine that he repositioned her to sit closer to him when she entered the class.
Raina Zheng, a 2011 graduate who is Chinese-American, told the magazine that Walstein asked her to kiss him on the cheek, after which "he said something like, 'I'm just kidding, honey. I don't want to lose my job.'"

Concerned that she was about to take his class for a year, Arbacher said that she visited the school counselor with her mother in 2011 to express her apprehensions about Walstein's behavior. Zheng said the counselor dismissed her concerns, saying that Walstein had been around for a long time and had contributed a lot to the magnet program. The counselor, she added, told her that her only two options were to "put my head down and get through the class or not take the class entirely."

While her mother wanted to escalate the issue with the school principal, Arbacher said that as a high schooler, she was "too embarrassed to want that to happen."
Elizabeth Green, who took Walstein's calculus class in 2001, said that he used to give his female students the answers to questions from his weekly quiz during the class.
"The assumption was that we were less qualified to answer the questions than the boys," Green told BuzzFeed News on Friday.
Green, who is now the cofounder of Chalkbeat, a nonprofit news organization, said Walstein openly talked about students' sexual practices and that she and other female students were made to feel objectified by him. She complained about Walstein to the magnet program administrator and another teacher, but she said that both gave her the impression that nothing could be done. Four years later, her mother complained to the program's new administrator, and while he expressed dismay and a desire to investigate, Walstein kept his job.
In the wake of the #MeToo movement, one of Walstein's former students, Theresa Regan, began a conversation in a public Facebook post about how he "habitually sexually harassed his female students." The conversation soon "blew up," leading to the creation of the private Facebook group "Magnet Alumni Talking About Walstein," which now has more than 1,500 alumni as members.

Regan said that none of the alumni who signed the letter were interested in bringing criminal charges against Walstein.
"We've started our revolution already, simply by choosing to expose truth that should never have been in the dark to begin with," Regan wrote on Facebook. "I think we have real potential to use this momentum to protect future students from suffering the same indignities that we suffered, and to protect the education that they rightly deserve."
Arbacher told BuzzFeed News that the alumni members who signed the letter are very clear that their intention was not to "drag Walstein or be vindictive or punish him."

"Our overarching concern is how this was allowed to perpetuate in the school system for years and how the teachers did not know, and if they did, how nothing was done about it," she said.
Green said that in sharing their memories and experiences, the alumni of the magnet program realized that students and parents repeatedly complained about Walstein's behavior, but that nothing was done about it.
"This is what sexual harassment looks like in schools," Green said. "There was pervasive sexual harassment. We needed better language in school to talk about it and I hope this gives some language to spark conversations about what can be done differently to make sure something like this never happens again."
CORRECTION
Eric Walstein worked at Montgomery Blair High School. An earlier version of this post misidentified the school.