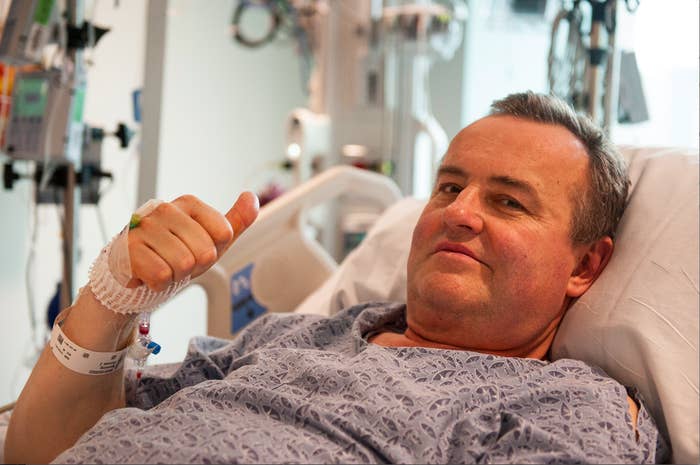 A man who lost his penis to cancer became the first person to receive a penis transplant in the U.S., Massachusetts General Hospital announced Monday.
Thomas Manning, a 64-year-old man from Halifax whose penis was amputated after he was diagnosed with penile cancer in 2012, underwent the 15-hour operation which took place on May 8 and 9, the New York Times first reported.
Manning is recovering well "with blood flow established to the donor organ and no signs of bleeding, rejection or infection," the hospital said in a press release. While he was still early in the post-surgical healing process, his physicians said they were "cautiously optimistic" that he would regain the functions he lost after his penis amputation.
The hospital said that the "landmark procedure" was the culmination of more than three and a half years of research and collaboration across multiple departments. The Times reported that the experimental surgery was part of a research program aimed at helping veterans with severe pelvic injuries along with cancer patients and accident victims.
South Africa performed the world's first successful penis transplant in 2014, while China performed a failed one in 2006.
In a statement Friday, Manning said he wanted to tell his story to help others who might benefit from this procedure.
"Today I begin a new chapter filled with personal hope and hope for others who have suffered genital injuries, particularly for our service members who put their lives on the line and suffer serious damage as a result," Manning said. "In sharing this success with all of you, it's my hope we can usher in a bright future for this type of transplantation."
"Many of these patients suffer in silence," Dr. Dicken S.C. Ko, a urologist and transplant surgeon who led the team, said at a press conference Monday. "This patient has now found his voice."
The donor's family suffered "a deep personal loss" but was able to say yes to this donation, Alexandra Glazier, president and CEO of the New England Organ Bank, said at the conference.
"The donor family had the strength to look past its own grief and see the ability to help someone in need," she said, adding that the family wanted Manning to know "they feel blessed and are delighted to hear his recovery is going well and are praying that his recovery continues."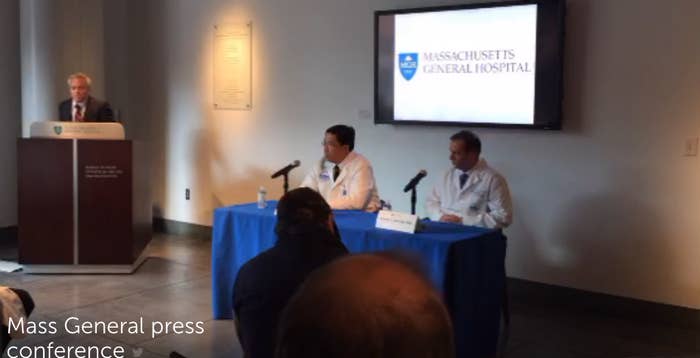 The surgeons said the major goals of the penis transplant were to reconstruct the external organ to a more natural appearance, re-establish urinary function, and potentially achieve sexual function.
"We are hopeful that these reconstructive techniques will allow us to alleviate the suffering and despair of those who have experienced devastating genitourinary injuries and are often so despondent they consider taking their own lives," Dr. Curtis L. Cetrulo Jr., a plastic and reconstructive surgeon who headed the surgical team, said in a statement.
Cetrulo told the Times that the surgeons would perform on civilian patients first before moving on to veterans as the Department of Defense "does not like to have wounded warriors undergo unproven techniques — i.e., they do not want them to be 'guinea pigs,' as they have already sacrificed so much."
The cost of the procedure, estimated to be $50,000 to $75,000, was paid by the hospital, the Times reported.
Ko said this case was to "forge the path to future treatment of patients" who had suffered severe pelvic injuries related to cancer, trauma, or infection. He said that because of the location of the organ's loss, this was a "private affair" for many patients who endured the loss "alone and in silence." They are often left with a loss of self-identity, he added.
The surgeons described Manning as a courageous and positive patient. "Emotionally, he's doing amazing," Curtis said. "He wants to be whole again, he wants to not be in the shadows about this injury, which is what many patients feel like."
Manning's penile cancer was diagnosed in 2012 when he went to hospital after being severely injured in an accident at work, the Times reported. Doctors saw an abnormal growth on his penis that Manning had failed to notice and which was diagnosed as a potentially fatal cancer.
Around 340 people will die of penile cancer in the U.S. in 2016, while about 2,030 new cases will be diagnosed, according to estimates from the American Cancer Society.
Manning told the Times that had he not had the accident, "I would've been in the ground two years ago."