The Beta Theta Pi fraternity and 18 of its brothers were charged Friday in the hazing death of Timothy Piazza, a 19-year-old Penn State sophomore.
The Centre County District Attorney announced more than 850 charges — including involuntary manslaughter — against the fraternity and its members for Piazza's death during a pledging ceremony in February.
Piazza died from his injuries two days after after he was forced to consume "a life-threatening amount of alcohol" and fell down a flight of stairs during a hazing ritual for Beta Theta Pi pledges, according to grand jury findings released on Friday.
None of the brothers called for medical help for 12 hours after Piazza first fell — and attempted to cover up their role in his death by deleting their online exchanges, prosecutors said.
The Centre County DA released a document revealing chilling details and the sequence of events at the ceremony on Feb. 2 that led to Piazza's death. Charges against the fraternity and its brothers also include hazing and furnishing alcohol to minors.
Piazza suffered from respiratory failure due to severe head trauma and compromised brain function, a medical expert testified. He had multiple traumatic brain injuries and a fracture at the base of his skull.
The operating surgeon who opened Piazza's abdominal cavity discovered four liters — 80% of a human body's total blood supply — of dark, old blood in his abdomen, according to the grand jury findings.
"Tim was an incredibly young man and an excellent student with a very bright, promising future ahead of him," his father, Jim Piazza, said at a press conference Friday.
In a statement Friday, Beta Theta Pi — which was banned from returning to Penn State — said the nature of the charges against its members is "incredibly disheartening."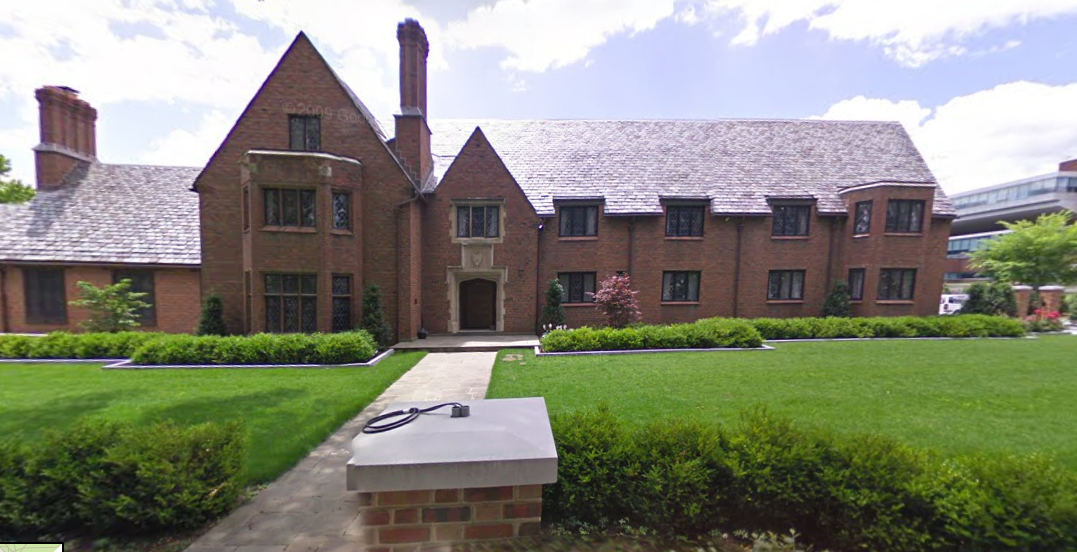 Here's a summary of the events at the pledging ceremony that led to Piazza's death, all according to the grand jury findings:
On the night of Feb. 2, Piazza fell down the fraternity house's basement steps after allegedly being made to drink four to five alcoholic beverages within two minutes at a series of drinking stations, referred to as the "gauntlet" during the pledging ceremony.
The purpose of the gauntlet is to get pledges drunk in a very short time.
Surveillance video from the fraternity house showed "a visibly intoxicated" Piazza severely staggering drunkenly toward the basement steps. A brother at the ceremony testified that he saw Piazza "lying on his stomach, face down at the bottom of the steps."
In a group message to the brothers, one of them wrote: "Also Tim Piazza might actually be a problem. He fell 15 feet down a flight of stairs, hair-first, going to need help."
According to the findings, some of the brothers carried Piazza to a couch. The teen's body was limp, he appeared to be unconscious, and he had a bruise on his abdomen, according to surveillance video.
As Piazza lay on the couch, the findings revealed that brothers allegedly dumped liquid on his face, slapped his face multiple times, struck him on his bruised abdomen, and attached a backpack to him to presumably prevent him from rolling over.
The grand jury concluded that despite noting the severity of Piazza's condition through the night, the fraternity brothers and pledges did not call the authorities until 12 hours later.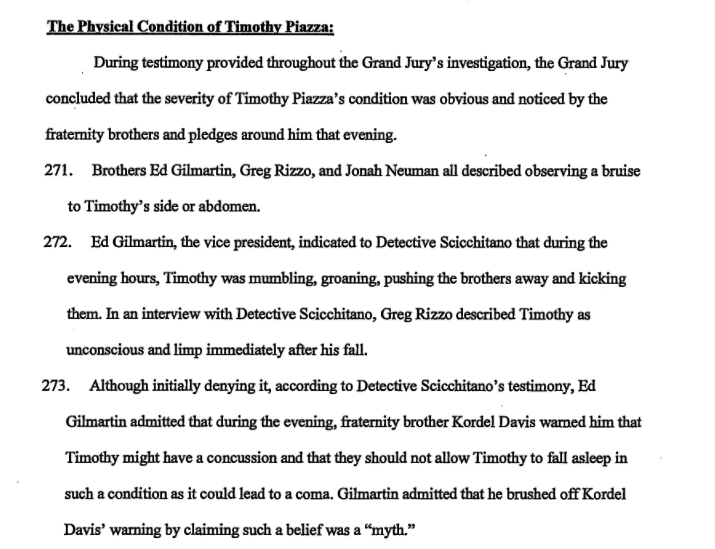 Even after discovering Piazza's unconscious body the next morning, none of the brothers called 911 immediately, the grand jury findings said.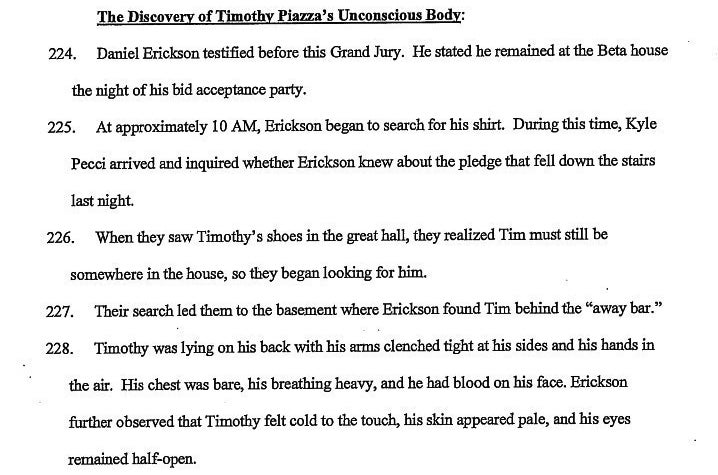 The brothers discovered Piazza the next morning "lying on his back with his arms clenched tight at his sides and his hands in the air," and "his chest was bare, his breathing heavy, and he had blood on his face," according to the findings. He also "felt cold to the touch, his skin appeared pale, and his eyes remained half-open."
No one immediately called 911 even though numerous brothers had cell phones, according to surveillance video of the scene. Footage showed that while Piazza lay unconscious on the floor, the brothers "shook him, attempted to prop his limp body up on the couch; covered him with a blanket; wiped his face; and attempted to dress him."
A cell phone belonging to one of the brothers revealed internet searches for "falling asleep after head injury," "true or false, a person with a serious head injury or concussion should be kept awake," "cold extremities in drunk person," and "binge drinking, alcohol, bruising or discoloration, cold feet and cold hands."
Around 42 minutes after discovering Piazza, one of the brothers called 911.
As they waited for police to arrive, a brother testified that someone suggested dressing Piazza "because they claimed Timothy might look better if he was dressed before medical treatment was rendered." However they were unsuccessful because of the stiffness of his arms.
Investigators recovered "a wealth of information" that showed "an active attempt to conceal and/or destroy evidence" after Piazza was transported to the hospital.
In text messages to an unidentified person, Young blamed himself for Piazza's death, saying, "He looked fucking dead."