Five Dead After Woman Drives The Wrong Way On Miami Highway
The female driver and four people in another vehicle were killed in the wrong-way crash on I-95 in Miami-Dade County early Wednesday morning.
Five people were killed in a wrong-way crash on the I-95 in Miami-Dade County early Wednesday morning.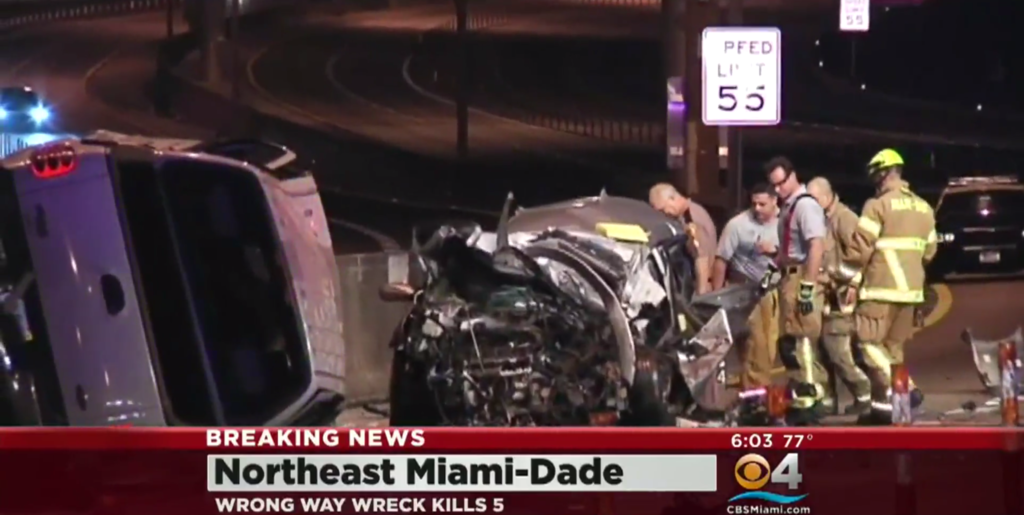 A woman in her twenties drove a pickup truck the wrong way in the express lane causing a head-on collision, killing herself and four other people inside another vehicle, authorities said.
The woman was driving a white pickup truck southbound in the northbound express lane when she sideswiped one car and collided head-on with a Chevy sedan, killing all four occupants inside. The woman driver in the pick up was also declared dead at the scene.
Authorities do not know if she was under the influence of alcohol.
Five vehicles were involved in the crash, and two people were transported to hospitals with non-life-threatening injuries.
Two of the passengers in the sedan, who were identified as foreign nationals, were not wearing seatbelts and were ejected from the car, a Florida Highway Patrol trooper told reporters.
Since some of the victims were foreign nationals, authorities said it would take time to notify their next of kin.
Officials have not yet released identities of any of the victims.