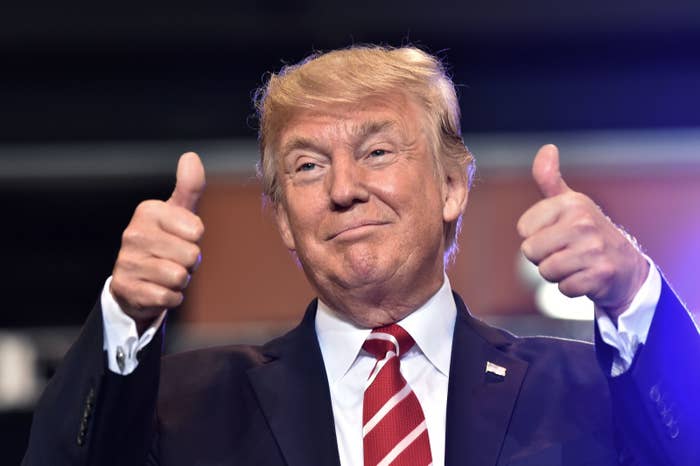 Republicans on Tuesday night were once again treated to an angry spectacle from the leader of their party. They were once again left facing questions from reporters on the president's off-agenda comments, and left on the defensive after attacks on congressional colleagues.
At this point, just seven months into President Trump's administration and frustrated by a churn of distraction and drama, Republicans in Washington are increasingly looking to Congress, not the White House, for leadership.
The prospects for the president's relationship with establishment members of his party were already bleak heading into Trump's Tuesday night campaign rally in Phoenix. Hours before the president took the stage, the New York Times published a report about a "cold war" between Trump and Senate Majority Leader Mitch McConnell, whom Trump has publicly bashed in recent weeks after his chamber was unable to pass a bill repealing and replacing Obamacare.
Trump did not help diffuse tensions once he began talking to a receptive audience. After a summer of fights with Republicans, White House turmoil, and, most recently, a series of deeply scrutinized responses to white supremacist violence in Charlottesville, Trump gave a meandering, 75-minute campaign speech Tuesday night that prioritized an assault on the media and members of his own party over selling GOP legislative priorities.
During the rally, Trump barely mentioned tax reform — an issue administration officials have said he will travel around the country to sell to his base — and he attacked both of Arizona's GOP senators, two votes he needs to secure for any legislation going forward.
Although he didn't mention them by name to make sure "everybody's happy," he barely disguised his criticism of the state's senators. He went after Sen. John McCain, who is currently going through cancer treatment, for voting against a plan to repeal and replace Obamacare, and Sen. Jeff Flake for being "weak on borders, weak on crime." (On Wednesday morning, he attacked Flake again — this time by name in a tweet.)
Republicans in the US Capitol, losing their ability to be shocked at the president's words, now see an opening to take charge.
The thinking in the party at this point — according to GOP strategists, aides, lobbyists, and donors — seems to be that top Republicans in Congress will take more of a leadership role in trying to craft and push through their policy agenda, while relying little on the administration — a stunning development for a party that controls the White House and both chambers of Congress.
"While the president may not focus relentlessly on promoting the benefits of tax reform, Congressional leaders sure as hell will," said Kevin Madden, a GOP strategist who previously worked for former House speaker John Boehner and former GOP presidential nominee Mitt Romney. "The thought here being if they put their heads down and focus on the work and get something to the president's desk, he'll sign it and everyone can begin to realize the benefits. Legislative wins can serve as a welcome distraction from these internecine battles."
This isn't a role that's ideal for congressional Republicans. A top Republican lobbyist said that, in conversations on the Hill, "both congressional Republicans and GOP establishment just can't believe what they're seeing."
"You're seeing a full majority that really should be executing at maximum efficiency, and yet the president is obsessed with destroying any opportunities of getting things done," the lobbyist said. "He's by far our own worst enemy."
The lobbyist said that Trump's plummeting approval ratings give Republicans in Congress the freedom to pursue more of what they want in spending bills and tax reform. "Trump's numbers are so poor, you're mostly thinking of congressional strategy instead of [Treasury Secretary] Steve Mnuchin's wish list," the source said, adding that after Mnunchin's wife posted a lengthy, controversial response on Instagram to a critic, leaving him out wouldn't be the worst thing for the party. "That just can't help his relevance. Do you really want him to be the face of tax reform after that?"
Months into his administration, Trump still hasn't figured out that "bullying isn't going to get things done in Congress," said a major GOP donor. "Congress is now realizing they've got to do what they've got to and just let Trump do whatever he does. I don't know if we've seen that before from the same party."
Congressional Republicans who are back home for the summer without any major legislative accomplishments to tout have already been more critical of Trump in recent weeks than ever before.
Tennessee GOP Sen. Bob Corker, who is close with several people in the administration and at times the president himself, went as far as to tell reporters after the president's Charlottesville remarks that "Trump has not yet been able to demonstrate the stability nor some of the competence that he needs to demonstrate in order to be successful."
McConnell, in a statement issued Wednesday afternoon, said he and Trump "have been and continue to be in regular contact about our shared goals," specifically citing tax reform and infrastructure legislation.
But instead of pushing those issues Tuesday night, where there is agreement within the party, Trump again sold a campaign promise with limited support among Republicans in Congress — building a wall along the southern border, going so far as to suggest shutting down the government if funding for the project isn't approved.
But that suggestion was quickly brushed aside by GOP congressional leadership. "I don't think a government shutdown's necessary, and I don't think most people want to see a government shutdown, ourselves included," House Speaker Paul Ryan said at a press conference in Oregon on Wednesday.

The White House tried to downplay any sense of tension between the president and the Senate majority leader Wednesday night. In a statement that came several hours after McConnell's, White House press secretary Sarah Huckabee Sanders said, "President Donald J. Trump and Senator Mitch McConnell remain united on many shared priorities, including middle class tax relief, strengthening the military, constructing a southern border wall, and other important issues." The statement added that Trump and McConnell would meet on these issues after the August congressional recess.

But Brian Walsh, a Republican strategist who previously worked for Senate Republicans' campaign arm, called Trump introducing the idea of a shutdown "politically dangerous," and overall, described the rally Tuesday night as "counterproductive."

"The president hasn't laid out any concrete details. House and Senate leaders are going to have to move forward — that's increasingly the sentiment that I'm hearing," Walsh said. "Whether the president wants to be constructive or not, the ball's in his court."