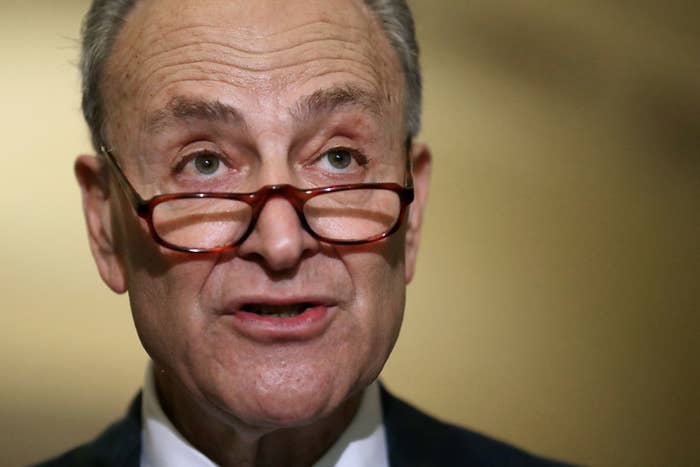 WASHINGTON — Vulnerable Senate Democrats facing re-election in states Donald Trump won aren't going to allow the president-elect's cabinet nominees to breeze through their confirmation hearings, despite GOP leaders' warning they will be portrayed as "obstructionists" if they drag out the process.
Hoping for quick confirmation timeline to allow for Trump's cabinet to be in place soon after he's sworn in, Republicans have a packed hearings schedule next week and are cautioning Democrats against any delays. "In 2018, a number of Senate Democrats are running for re-election in red states that were carried by Mr. Trump, and if they want to stay here and demonstrate that they're obstructionists rather than get the work done, I think they'll pay a price for that," Senate Majority Whip John Cornyn told reporters.
Democrats from red and purple states aren't necessarily leading the charge against controversial nominees, but they are helping negotiate a less aggressive hearing schedule. And they still plan to question Trump's cabinet picks on issues relevant to their state and background, saying they aren't worried about the Republicans attacking them for blocking the Senate's work.
"That didn't seem to be a problem for Pat Toomey or Rob Portman, and my recollection is they engaged in a whole lot of obstructionism. Right?," said Missouri Sen. Claire McCaskill, referring to the GOP senators from Pennsylvania and Ohio who were re-elected in November in states President Obama won twice. "Am I wrong about that? I'm not going to be an obstructionist. I'm going to do my job."
McCaskill, a former prosecutor who is up for reelection next year, said she is most concerned about not having the relevant personal financial disclosure paperwork for the nominees before the hearings — a transparency issue and potential conflict of interest she hopes to highlight.
Other Democrats have threatened to delay the process for weeks if the nominees don't provide the same level of disclosures that those under Obama turned in.
"We have time to point out that the American people are being dealt a hand of cards and they don't even know what it is because we don't have the information for the nominees," she said.
Both of those issues were central to the last Senate race in Missouri, where Democrat Jason Kander challenged GOP Sen. Roy Blunt last year. Although Kander lost, he ran 16 points ahead of Hillary Clinton in the state and was widely praised for energizing the Democratic base in a conservative-leaning state.
Montana Democratic Sen. John Tester, who is also up for reelection in 2018, said he's not looking to kill anyone's nomination, but he is going to ask questions people in his state care about. "I will be asking questions that I think are important — mostly to do with rural America, Homeland Security, what's going on with the Northern border," Tester said.
"I don't plan on holding anybody up. I plan on interviewing them, getting the information and voting. I wish they had done the same for Merrick Garland," he added, referring to Obama's Supreme Court nominee who never got a hearing last year.
"Rubber stamping" the president-elect's nominees isn't senators' job even if they're up for re-election, said Pennsylvania Sen. Bob Casey, who is focused on Trump's Health and Human Services nominee, Rep. Tom Price. "We'll give everyone a fair hearing but I'm troubled by the nominations so far," Casey said. "Dr. Price is the one I'm very concerned about because of Medicare and Medicaid and the affordable care act, among other major issues."
Casey's home state has the second-highest population of residents who are 65 and older, making health care a key campaign issue for him going into next year.
Until recently under consideration for a cabinet nomination himself, West Virginia Sen. Joe Manchin has decided to run for reelection and said his handling of the hearings will be based on his experience as former governor. "My strategy — as a former executive — has always been that the person who has been elected as executive whether it's a governor or in this case a president elect, they ought to be able to put their team together as long as there is nothing that comes up in the vetting process that shows great concern."
Manchin mentioned making sure wealthy nominees divested themselves of any possible financial interest if he sees any issue as one of the concerns he would want addressed by nominees.
Although Democrats' approach to the confirmation process might be different based on their constituencies, the caucus has prioritized concerns about eight nominees, Senate Minority Leader Chuck Schumer said in a press conference Wednesday, maintaining the goal for Democrats wasn't to be "dilatory," but to get more information.
They are: Sen. Jeff Sessions, Trump's pick for attorney general; secretary of state nominee Rex Tillerson; Office of Management and Budget nominee Rep. Mick Mulvaney; education secretary nominee Betsy DeVos; Price; labor secretary nominee Andrew Puzder; treasury secretary nominee Steve Mnuchin; and Trump's nominee to lead the Environmental Protection Agency, Scott Pruitt.
A Democratic leadership aide also said that the caucus is united on pushing for more disclosures from the nominees and a fair hearing schedule from Republicans that doesn't force senators who sit on different committees to chose between which nominees they'll get to question.
Maryland Sen. Chris Van Hollen, the newly minted chairman of the Senate Democrat's campaign arm, argued that vulnerable Democrats' approach to the hearings — "thoroughly reviewing and vetting the nominees" — is "what the public expects them to do."

"I think everybody expects that before you have somebody in charge of an important agency you know what they think," he said.