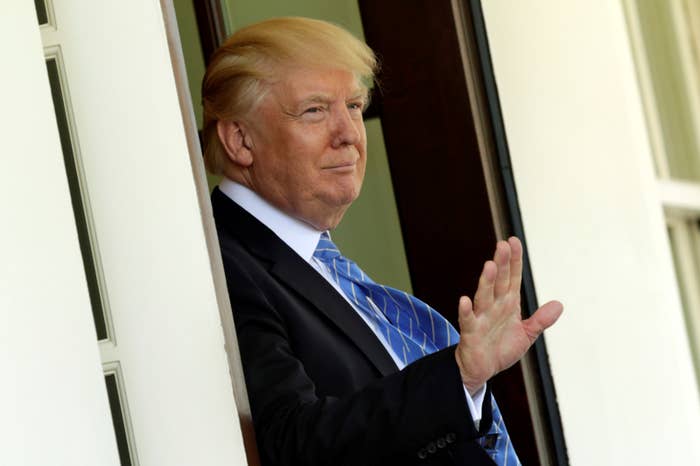 Rebekah Mercer, one of Trump's biggest backers, will play a central role in the fight over the future of the influential conservative think tank Heritage Foundation, a battle that could be indicative of the direction traditional conservative institutions take in the Trump era.

In the last few years, amid her rapid ascent to Republican influence, Mercer became a Heritage board member and, this week, voted to remove former Senator Jim DeMint from his position as president. Although Mercer will be one of the 22 board members selecting Heritage's next leader and deciding its path forward, she has a reputation for exercising strict control over the direction of the political causes she gets involved in.
Mercer's arrival and presence on the board itself, sources said, seems to be the clearest sign that Heritage will not return to its former iteration as a conservative policy think tank, and instead remain the more aggressive political entity the group has operated as under DeMint and Heritage Action leader Mike Needham. It also means that the group could move closer to the views of the Trump administration — a more nationalist, populist ideology also supported by the Mercers.
Bill Walton, who serves on Heritage's board alongside Mercer, called her role "influential" but not necessarily "outsized" in determining Heritage's future, while acknowledging that the group will remain politically involved — just not as much as it has been. "It's a turning of the dial," he said.
Walton also said that in figuring out the path forward for Heritage, the board is grappling with the rise of populism and how that fits in with their conservative ideology. "We've got to recognize what that means," he said. "It's a real phenomenon and we need to think about."
It's unlikely that Heritage's new leader will be a populist, Walton said, but they're looking for someone "who understands that America is changing."
Regardless of its recent tensions, the Heritage Foundation remains a major think tank in Washington with many, many employees, a large building, a significant budget, and long-standing relationships. It's the kind of institution that could be used as a bludgeon or a talent farm in the right hands. And Mercer and her father, the billionaire hedge fund magnate Robert Mercer, have a keen interest in introducing "new" people into politics.

After decades of being a powerful conservative think tank, Heritage in recent years became more political under DeMint, taking on more moderate Republicans and GOP leadership. It was during the height of Heritage's battles with Republican leadership in 2014 when Mercer joined the group.

Although the family gives to several nonprofits, Mercer became a part of Heritage after she caught the attention of the foundation's Board of Trustees Chairman Thomas Saunders III, according to the Washington Post, at an event following the 2012 election where wealthy donors were trying to figure out what Republicans did wrong.
Now, in voting DeMint out of Heritage, as those close to the group express the need to go back to its more intellectual, policy-driven roots, former Heritage and DeMint employees see the board's desire to return to policy as an excuse that won't actually happen — in part, some believe, because of Mercer. They also think it's too late for the nonprofit to return to its conservative policy-focused glory days, especially under President Trump, whose populist views often clash with what has been considered conservatism in recent decades.
"The narrative that Heritage is ousting DeMint to return to its intellectual roots is horse manure," said a source close to the former senator.
"(DeMint) is a guy who, literally, ran his campaign for the House off Heritage pamphlets and incorporated their policy thoughts and ideas into a winning career on the Hill," the source said. "Their reputation among many of the staffers and allies they are supposed to be influencing on Capitol Hill is now dead."
Rory Cooper, former spokesman for Heritage, was also skeptical of the group going back to its former level of influence. "DeMint's departure and how it was handled is a low point for an organization that was once revered as a preeminent conservative think tank, but is now frustratingly mired in one political controversy after another."

Asked about whether Heritage could earn back its reputation as a policy-focused group among lawmakers, Kim Holmes, Heritage's vice president of research, said he's "aware of the controversies and the questions." "I'm just trying to move on," he said. In terms of whether the policy research will be more in line with Trump's views, he added: "The Heritage Foundation as an institution has been here for a long time and will be here after Donald Trump."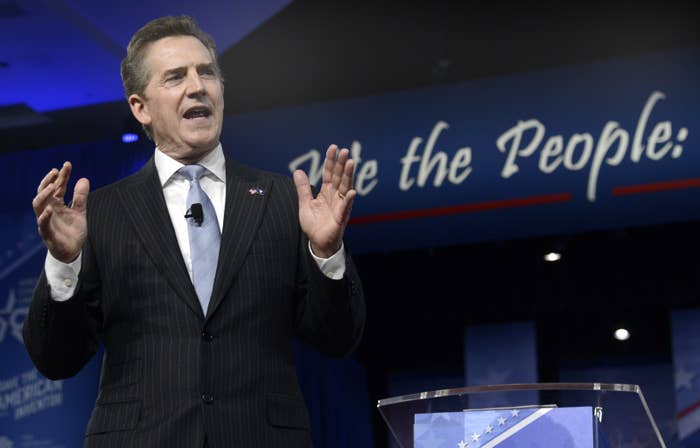 "We're already having an influence," said a Heritage staffer, arguing that the group is seeing "the same kind of influence with Trump" as it did with President Ronald Reagan, given role in staffing and advising, especially during the transition. "There's no doubt about that. And in a lot of those cases, it's the administration that is moving closer to Heritage."

Although Heritage staffers stress the group's closeness to Trump, their differing views on policy have complicated the relationship at times. Heritage played a key role during Trump's transition with staffing and policy proposals. But then, the group opposed the Obamacare repeal bill, which the president backed, and instead advocated for a full repeal of the legislation. President Trump even called out Heritage by name in a tweet at the time. "Democrats are smiling in D.C. that the Freedom Caucus, with the help of Club For Growth and Heritage, have saved Planned Parenthood & Ocare!," he wrote.

However, days before DeMint was fired, Trump publicly thanked him and the Heritage Foundation for helping confirm Supreme Court Justice Neil Gorsuch.
"Mercer tends to want the Trump administration to succeed, and by all measures, DeMint was fairly successful in that regard with placement of staff in the administration and his influence of judicial nominations like Gorsuch," said a former Heritage employee, adding that without DeMint, the foundation doesn't have as strong of a tie to the administration. "So I'm not entirely sure where Mercer comes down here" on the future of the group.
But it's clear that Mercer, along with her parents, will play an active role in backing Trump's agenda and in supporting insurgent candidates when needed.
"The Mercers are always looking ahead to next cycle with an eye on candidates in both the primaries and generals that will help move the conservative agenda forward," said a source familiar with the Mercers' political activities. "Less so with the eye on incumbents, they're always looking toward the new generation of leadership."
The family is already looking ahead to the midterm elections to bring in Republicans who can support Trump's agenda.
Robert and Diana Mercer each have already given to Kelli Ward's Senate campaign in Arizona. The family bankrolled a super PAC that supported Ward's unsuccessful primary challenge against Sen. John McCain in 2016. Ward now plans to challenge Sen. Jeff Flake, whose criticism of Trump has made him a target. Republicans in Washington have been buzzing for weeks about the possibility that the president's allies — and perhaps the president himself — will support Ward or another primary challenger to Flake. (Interestingly, Robert and Diana Mercer also have contributed big money to the National Republican Senatorial Committee, which operates as an incumbent-retention organization.)
The Mercers also are expected to continue investing in Trump. Making America Great, a nonprofit formed by Rebekah Mercer and run by the president's allies, "is looking at the legislative playing field and participating regularly to make sure the president's agenda moves forward," David Bossie, Trump's deputy campaign manager and now a strategist with the group, told BuzzFeed News.
The group, which was created after other pro-Trump efforts failed to provide the president with the air cover they were supposed to, spent $1 million in pro-Trump ads in March in the 10 states that Trump won where a Democratic senator is up for re-election.
"We're looking forward to getting his repeal/replace bill moved this week," Bossie said Wednesday, a day before the House passed the legislation. "Then it's on tax reform."