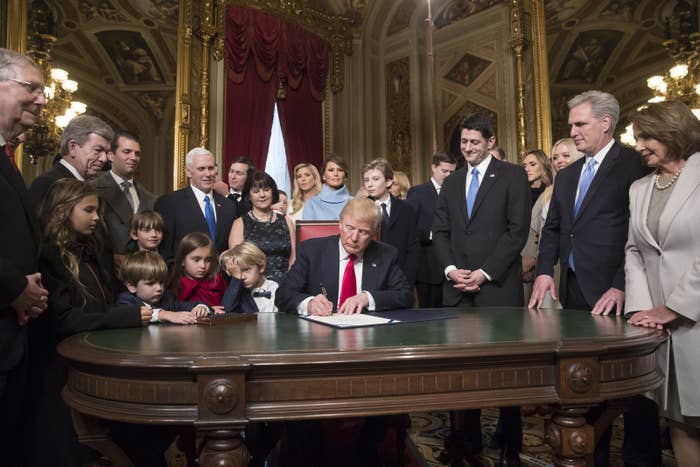 WASHINGTON — Nobody's ever been a less popular president on day one than President Trump. But those low approval ratings won't be an issue when it comes to pushing the new administration's agenda in Washington.
Elated Republicans now control both houses of Congress and have a president unlikely to veto ambitious pieces of legislation. Asked if the president's high unfavorables will affect what the Senate passes in the coming weeks, Iowa Sen. Chuck Grassley repeated twice: "Absolutely nothing."
"I don't think it's going to affect his ability to get things done because his party controls both chambers and very much feels the need to produce," Oklahoma Republican Rep. Tom Cole told BuzzFeed News as he headed to the Capitol for Trump's inauguration.
South Carolina Sen. Lindsey Graham, a Trump critic during the campaign, said the president would have plenty of opportunities to define himself as someone who got things done. "He's got a lot of low-hanging fruit like infrastructure bills. I would advise him to put some points on the board. [President] Obama came out of the gate pretty divisive the first 100 days. I'd advise him to go the other way," Graham added.
Obama used his high popularity — 78 percent of Americans had a favorable view of the then-incoming president — eight years ago to start pushing through his agenda. But even when his popularity fell, it didn't change much: Most Republicans still blocked his proposals and most Democrats still supported them.
What did change was how many Democrats he had to support him and how many Republicans he had blocking him. By the 2010 midterms Obama's approval rating had fallen to the mid-40s as a result of his efforts to pass the Affordable Care Act. Voters took it out on his party. Democrats lost 63 House seats in the midterm elections, giving Republicans a large majority, and six Senate seats.
Trump will likely use that kind of electoral impact of his agenda to his advantage by wielding an incredibly powerful weapon: Republicans fear the new president's interference in their re-election campaigns.
Defying Trump comes with attendant costs: Just a single Trump tweet can bring out intense protest from constituents, especially for House members' whose heavily Republican districts most strongly supported the president in 2016.
"If you look at Trump's approval rating among those voters who by and large elect congressional Republicans, it's still pretty good," pointed out Doug Heye, who served as communications director for former Majority Leader Eric Cantor. For Trump, whose base is as fiercely loyal as his critics are antagonistic, that could give him plenty of leverage with the legislators who will actually pass policy.
The first few months of a new administration are traditionally when a new president pushes through some of the biggest legislative priorities, taking advantage of the momentum and political capital that comes from being newly elected — at that point, they haven't yet had time to mess anything up. Not so for Trump, who, according to Gallup, has a favorability of just 40%. That's more than 20% lower than any of the three presidents that took office before him.
But, as Cole pointed out, Trump wouldn't be the first president to succeed in the face of a divided electorate.
"He's probably always gonna be a very polarizing personality, I just think that's in the nature," Cole said. "But Richard Nixon was, too, and yet he got reelected in a landslide."