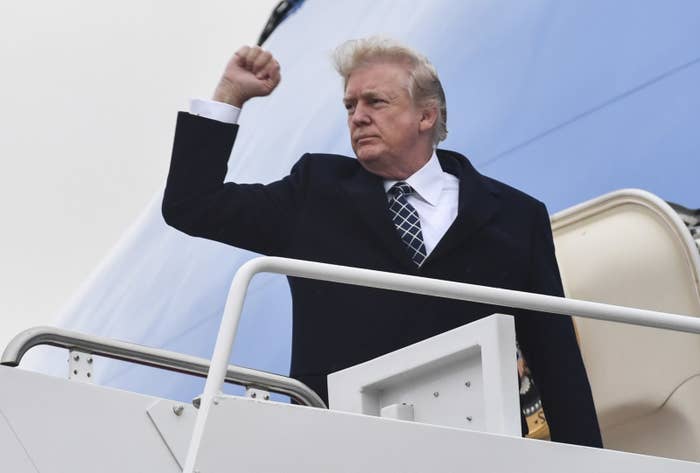 Time is running out for President Trump and Congress to negotiate a deal to protect young, undocumented immigrants from getting deported and to fund the government, but on Friday, the back and forth over whether the president actually called African nations and Haiti "shithole countries" complicated the talks and further damaged Trump's standing on Capitol Hill.
"It makes it harder because members of Congress become less likely to believe a deal is actually possible," Rep. Joaquin Castro told BuzzFeed News on Friday. The president, he said, "screws things up when he gets in the middle of the process."
A senior Democratic aide told BuzzFeed News the president had been very positive about cutting an immigration deal earlier in the week, and Democrats had been optimistic until Thursday morning. But then, the president denigrated immigrants from Africa, Haiti, and El Salvador and shot down a bipartisan immigration agreement made in the Senate.
"Those sentiments and the way he handled the meetings are not going to bring Democrats closer to the president on substance," the aide said, adding that the comment gives "a glimpse into the reasoning why" the president rejected a deal after "Democrats met him more than halfway."
The White House did not originally deny Trump made the "shitholes" comment, but the president himself tweeted Friday morning that "this was not the language used." Two GOP senators present at the meeting later said in a joint statement that they "do not recall the president saying these comments specifically," after Sen. Dick Durbin — the only Democrat present at the meeting — accused Trump of repeatedly saying "things that were hate-filled, vile, and racist." South Carolina GOP Sen. Lindsey Graham, who was also in the meeting, confirmed Durbin's account and the Washington Post's original report in a statement and to other GOP colleagues.
The firestorm has led members of both parties to believe that an agreement on an already complex issue will be even tougher.
Although House Speaker Paul Ryan did not go as far as Democrats in criticizing the president, even he acknowledged that the remark from the leader of his party was "unfortunate" and "unhelpful." Ryan said he remained hopeful about the immigration negotiations. "We just have to get it done," he said.
Trump's relationship with lawmakers on the Hill has seen many low points already in his first year as president, but 2018 already seems to be finding new ground. Two Democrats — Congressional Black Caucus Chair Cedric Richmond and House Judiciary Committee Ranking Member Jerry Nadler — said Friday they would be filing a censure resolution next week against the president for his comments, as lawmakers continue to work toward an immigration deal.
"The President's bigoted fearmongering is not acceptable and his remarks completely warrant total condemnation and censure from Congress," Richmond and Nadler said in a statement. "American immigration policy cannot and should not be guided in any way, shape or form by racism." The resolution, of course, is unlikely to go anywhere in the Republican-controlled House.
A House Democratic aide added that there is now "definitely a wariness in the caucus" when it comes to dealing with Trump. "I think on the immigration issue, when you're making racist comments like that it makes it more difficult to come to an agreement on a deal that he can support," the aide said, adding it also raises questions about future negotiations and whether Trump will "play a constructive role."
"Congress needs to be more mature than the president of the United States," Rep. Darren Soto, a Florida Democrat, told BuzzFeed News. The current immigration moment, he said, presents a "once in a generation opportunity" that can't be passed up.
Already last year, some Democrats had warned against negotiating with Trump, specifically on immigration. "You don't dance with the devil like that," Rep. Luis Gutiérrez of Illinois told BuzzFeed News in September.
The White House did not respond to requests for comment about how the president's comments have shifted talks with Congress. But even before the "shithole" remark, officials were not looking at a deal on immigration as tied to the Jan. 19 government funding deadline, despite Democrats using the threat of a possible government shutdown as leverage to get a deal passed.
Overall, Republicans believe they have more time to deal with the deadline for the program for young undocumented immigrants, known as Deferred Action for Childhood Arrivals, after letting the heat from the president's comments cool off. The administration, which announced it was phasing out the program, has given Congress until March 5 to find a more permanent solution.
In his statement Friday, Graham, who challenged Trump when he made the "shithole" comment, encouraged lawmakers to look past the incident and come to a solution. "The American people will ultimately judge us on the outcome we achieve, not the process which led to it," Graham said.