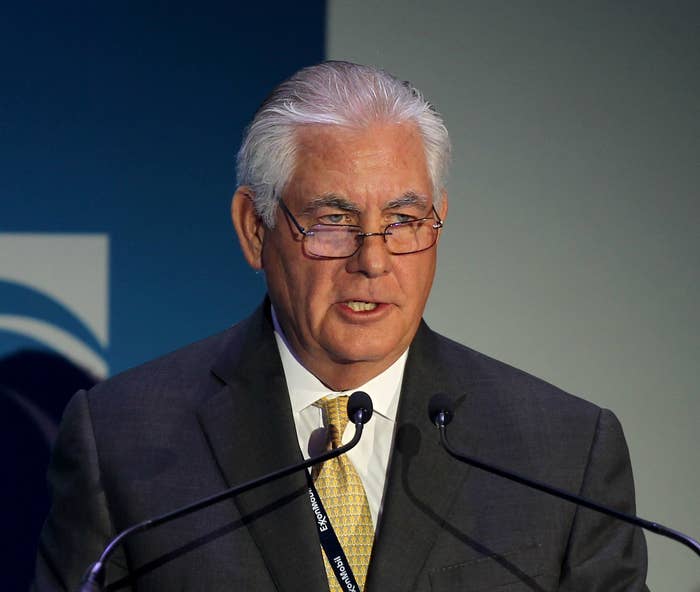 WASHINGTON — President-elect Donald Trump's nomination of Exxon Mobil CEO Rex Tillerson as secretary of state could hit a significant roadblock in the Senate, with top Republicans already expressing concern over Tillerson's close ties to Russia.
The Senate Foreign Relations Committee has 10 Republicans and nine Democrats, meaning that under regular way the Senate does business, all the Republicans would need to approve Tillerson before he can go before the full Senate for confirmation.
Florida GOP Sen. Marco Rubio, who serves on the committee, said Sunday in a Twitter post: "Being a 'friend of Vladimir' is not an attribute I am hoping for from a #SecretaryOfState."

Rubio included his initials in the tweet. Of the other nine GOP members on the narrowly split committee, which will have jurisdiction over the nomination, Arizona Sen. Jeff Flake and Kentucky Sen. Rand Paul — both of whom are outspoken, independent-minded Republicans — could also oppose the nomination (though Paul has said he will "reserve judgement" on Tillerson). Since there are nine Democrats on the committee who will presumably grill Tillerson on Russia during confirmation hearings, every single Republican vote will count.

In a press conference on Monday, Senate Majority Leader Mitch McConnell declined to talk about any potential troubles with Tillerson's confirmation.

"Yeah, let's wait until we get nominees," he said. "I think of the nominees that we're already aware of, I think I'm optimistic that they'll all be confirmed. But I don't want to comment on a kind of phantom nominee today."

"I've been very impressed with the nominations so far and we'll have to wait and see who is nominated for secretary of state, and we'll obviously treat whoever that is with respect. They will go through the regular process and respond to questions and we'll see where it comes out."

Typically, if a cabinet nomination fails to get enough support in the committee with jurisdiction, it dies without getting a full vote in the Senate.
But technically, it is up to McConnell's discretion if he wants to bring Tillerson up for a full Senate vote, even if the committee doesn't approve him. When asked if McConnell would bring up a nominee who fails out of committee to floor, the Kentucky Republican's office referred BuzzFeed News to excerpts from the press conference.
Asked if McConnell's use of "regular process" would mean him sticking to the traditional process of bringing up non-judicial nominees only if they make it out committee, his spokesperson said he hasn't addressed that scenario.
Tillerson, who was awarded the Order of Friendship — one of the highest honors Russia given to foreigners — in 2013 by Vladimir Putin, is known for cutting deals with oil-rich Russia. A Kremlin spokesman even praised Tillerson recently as "highly professional."

His close ties with Russia — especially at a time when a bipartisan group of lawmakers is calling for an investigation into the alleged Russian hacking of Democratic committees during the election — will undoubtedly be closely scrutinized.
Although they're not on the committee, influential lawmakers including Arizona GOP Sen John McCain, chairman of the Armed Services committee, have also said Tillerson's relationship with Vladimir Putin "is a matter of concern."

"You want to give the president of the United States the benefit of the doubt because the people have spoken," McCain said on Fox News Sunday. "But Vladimir Putin is a thug, a bully and a murderer, and anybody else who describes him as anything else is lying."