Trump's Rich Nominees Have A History Of Political Influence
The populist candidate who wanted to "drain the swamp" is nominating people who have spent years and millions of dollars in trying to influence politics and policy.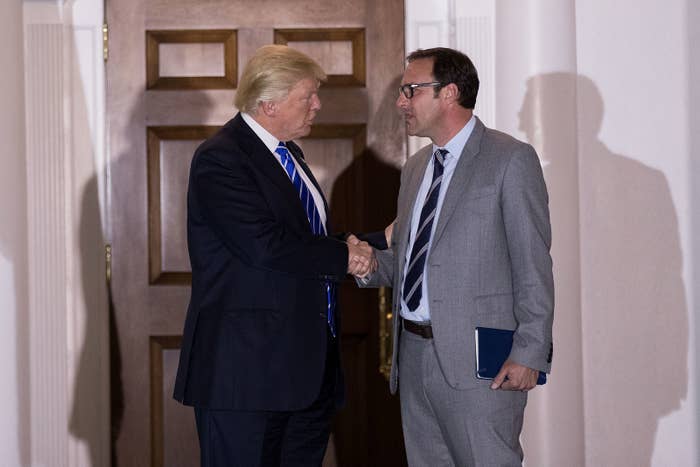 WASHINGTON — President-elect Donald Trump's nominees for key cabinet positions aren't just rich. They've also used their personal wealth in a way that would make them as much creatures of the swamp as those criticized by Trump on the campaign trail.
Trump's nominees and their families have contributed at least $35 million to federal candidates, party committees, and outside groups just since 2008 — a massive amount for a candidate who promised to "drain the swamp" by putting political outsiders in his administration.
Although many of Trump's nominees are outsiders in a sense that they have not had political careers, a review of Federal Election Commission reports and Senate lobbying disclosures shows they've used their personal wealth to play an active role in politics and policymaking.
In particular, Betsy DeVos and Todd Ricketts — Trump's nominees to be education secretary and deputy commerce secretary, respectively — come from families with deep connections to political outside groups and nonprofits that have shaped competitive federal races and policies.
Not only are both families heavily courted by candidates running for office, but companies and nonprofits tied to them also shell out millions on lobbyists to influence policymaking. Alticor — the marketing giant co-founded by DeVos' family — has lobbied on a range of issues just this year from food labeling to tax issues. DeVos has also led a number of politically active education nonprofits including All Children Matter, Advocates for School Choice and American Federation for Children.
In a 1997 op-ed, DeVos defended her family's political activism and spending.
"I have decided, however, to stop taking offense at the suggestion that we are buying influence," she wrote. "Now I simply concede the point. They are right. We do expect some things in return."
"We expect to foster a conservative governing philosophy consisting of limited government and respect for traditional American virtues. We expect a return on our investment; we expect a good and honest government. Furthermore, we expect the Republican party to use the money to promote these policies, and yes, to win election."
Ricketts to some extent has played an even more direct role in politics. He's the CEO of a super PAC called Ending Spending, which played a crucial role in booting a sitting congressman -- Kansas Rep. Tim Huelskamp out of office this year and helped Republicans maintain control of the Senate. In a document with talking points for Senate Republicans, which was obtained by Politico, Trump's transition team described Ricketts' super PAC as a group "dedicated to educating taxpayers on wasteful and excessive government spending." (The talking points for other nominees did not mention the nominees' involvement in campaigns and lobbying)
TD Ameritrade — a discount brokerage that Ricketts' sits on the board of — has lobbied on bills related to retirement, finance and tax policy.
Both Ricketts and DeVos and their families are also close allies of the billionaire industrialists Charles and David Koch. They've attended the bi-annual gatherings of the Koch brothers' political network. Earlier this year, Trump bashed politicians who attended those gathering, calling them "puppets" in tweets.
"Appointing big donors and Wall Street-types to your administration isn't draining the swamp, it's feeding the alligators," said Adam Smith, spokesman for Every Voice, an advocacy group that pushes for reigning in special interests — a priority for Trump during the campaign.
"They offer no evidence that he's serious about meeting his promise to fight the power of big money and special interests in Washington."
Trump's other nominees — Steve Mnuchin for treasury secretary and Wilbur Ross as commerce secretary — have also spent years building political connections. Mnuchin has tried to build those relationships, despite party affiliations, giving both to Democrats and Republicans over the years. CIT group, which Mnuchin sits on the board of, has six different Washington lobby shops on retainer.
Ross, a billionaire investor, has given more than $700,000 since 2012, becoming a major contributor to both former GOP presidential nominee Mitt Romney and Trump. Ross hosted a fundraiser lunch for Trump at his Southampton house earlier this year that cost attendees $25,000 each. He hosted a similar gathering for Romney in 2012. The price tag for attendees for that one was $50,000.
A Trump transition spokesman did not immediately return a request for comment, but in recent days, Trump's allies have pushed back on the president-elect's inclusion of billionaires in his cabinet.
"What this man is doing, President-elect Trump, is reaching out to a broad spectrum of Americans to consider for his cabinet," said Georgia Sen. David Perdue, following a meeting with Trump on Friday. "That's a new day compared to what we've seen the last eight years.
"I don't think Elaine Chao is a billionaire," Perdue said of Trump's transportation secretary nominee and wife of Senate Majority Leader Mitch McConnell. "I don't think Reince Priebus is a billionaire. Certainly you've got big business in there but you're trying to get the free enterprise system going again. Why not get these people from the free enterprise system? That's what I've been saying all along. There are only a handful of us in the United States Senate that understand how this capitalistic system works and we can get it going again. It's not that difficult."
Anthony Scaramucci, a major donor himself and Trump ally, called it "categorically unfair" to criticize Trump's nominees for their wealth, according pool reports by reporters at Trump Tower.
"He's really evaluating talent and so if people in the United States have lived the American dream and have been able to amass that kind of wealth, well certainly they're super talented or in what the president-elect says they're actually killers."
"So I really want to push back very strongly on this whole billionaire criticism. Why is it so bad to be a billionaire ok? I think it's pretty good and by the way these guys who I know personally that he's selected, are some of the most charitable people in the world."