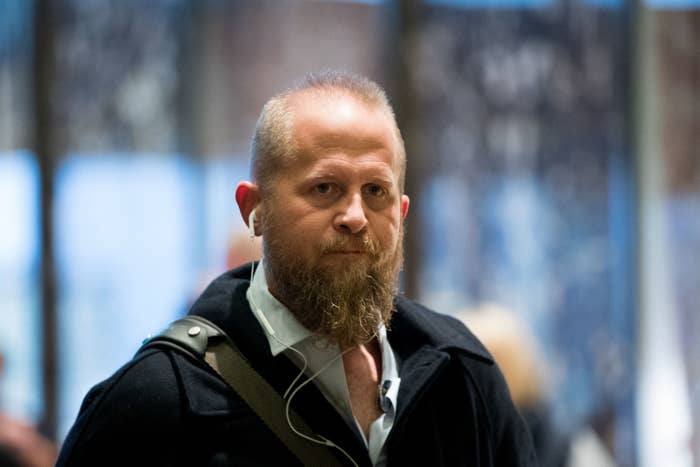 Brad Parscale, President Donald Trump's freshly announced pick to run his reelection campaign, is typically well-regarded among aides who have grown accustomed to internal sniping. But his lack of experience in running a political campaign has some questioning his qualifications for the top job — and how long he will last.
Parscale, who did some work for the Trump Organization before Trump announced his White House bid, is seen by Trump and his family as one of the most loyal political strategists close to the president. The digital guru is credited with running strategic Facebook ads that helped Trump win in 2016 and has been serving as an adviser to America First Policies, a pro-Trump outside group. His two firms have also been getting paid over the last year through the Republican National Committee and the reelection campaign, making him a key figure working on behalf of the president outside of the White House.
Parscale's elevation — which was first reported by the Drudge Report on Tuesday — did raise eyebrows among at least four former campaign staffers, who told BuzzFeed News that although he was not really controversial or divisive like other figures from 2016, they didn't know if Parscale had the right experience and knowledge needed for running a large-scale campaign.
"Brad will be the first glorified web designer to run an incumbent president's reelection campaign in history," one former campaign staffer said. "He has no political background other than building the Trump campaign's website and running Facebook ads. He is simply not a qualified choice to help a campaign like this."
"When Brad claims he saw the race turning in the data algorithm he made, just know that was pulled straight from his ass," the official said, and went on to predict that Parscale, like his three predecessors, would eventually get replaced.
Another former staffer who defended Parscale said experience running campaigns isn't as useful of a credential in the Trump era. "Brad is someone who doesn't have a lot of enemies, and there's something to be said for someone who can unify the entire Trump orbit," the staffer said, adding that Parscale also has two key assets that set him apart: the ability to understand the president, and the president's loyalty and trust.
The president's family members are Parscale's crucial allies, boosting his rise in Trump's orbit. The president's daughter-in-law Lara Trump has been working with Parscale and the 2020 campaign for the past year, and his son Eric Trump and son-in-law Jared Kushner are close to Parscale as well.
Eric Trump and Kushner gave two of the three testimonials offering glowing praise for Parscale in a campaign statement announcing his new role. "Brad is an amazing talent and was pivotal to our success in 2016," Eric Trump said. "He has our family's complete trust and is the perfect person to be at the helm of the campaign."
"Brad was essential in bringing a disciplined technology and data-driven approach to how the 2016 campaign was run," Kushner added. "His leadership and expertise will be help build a best-in-class campaign."
The other endorsement came from RNC chair Ronna Romney McDaniel.
Another former campaign staffer who worked with Parscale said he wasn't sure about how he'd perform as campaign manager because of his lack of experience and knowledge in maintaining all of a presidential campaign's nuts and bolts, but added that Parscale is "one of the only people in Trump world who is well-liked by all factions."
Besides his lack of experience in managing a political campaign, Parscale is also still caught up in the investigations into Russia's meddling into the 2016 election. He has testified before congressional committees looking into Russia and has denied any knowledge of Russia influencing the election.
Another potential hurdle for Parscale: He has had a tense relationship with the president's top backers — billionaires Bob and Rebekah Mercer. The Mercers not only supported Trump's 2016 race financially, but they also convinced him to change his campaign leadership and bring on Steve Bannon and Kellyanne Conway months before the election. (The Mercers have more recently cut ties with Bannon.)

Unlike other Trump aides, Parscale has tried to stay out of the limelight. In a statement to BuzzFeed News last year, Parscale sought to diminish his role in the 2016 campaign and gave much of the credit for the victory to the president.
"Maybe my job made 0.1% of difference, but Donald Trump did 99.9% of the work, and anyone who tells you different doesn't know Donald Trump," Parscale said.
"Donald Trump won the campaign, and I was empowered by Jared Kushner and lucky to be around people like Kellyanne Conway and Steve Bannon," he added. "I think I took Mr. Trump's and Jared's confidence in me and did the best job possible. And I had a great team."
Later last year on CBS's 60 Minutes, Parscale said that Trump had initially been reluctant to spend campaign cash on digital advertising, calling it "mumbo-jumbo digital stuff." But after his win, Parscale said, Trump thanked him and said he understood how Parscale's use of resources had helped him win.
According to the press release from the Trump campaign, Parscale and the reelection campaign will be building out the infrastructure for the 2020 race while providing 2018 candidates with some support.
It's unclear if Parscale or his firms will continue to also get paid by the outside group America First. His work for multiple different Trump entities had previously alarmed some campaign finance lawyers, and an official position within the campaign would draw more attention to those concerns. "Brad Parscale has been a critical part of our America First team, and we are proud and excited for him with this new opportunity," a spokesperson for the group told BuzzFeed News.
"As you would expect, America First is making necessary adjustments to comply with federal law, but has no further comment at this time."
More than two years out from the next election, Parscale will also have to deal with the president's low approval ratings and the ongoing special counsel Robert Mueller's investigation.
"I congratulate Brad," said Sam Nunberg, a former Trump adviser who was with the president during the earliest days of what became his 2016 bid, and has since been interviewed by Mueller's investigators.
"Hopefully there will be a 2020 campaign."