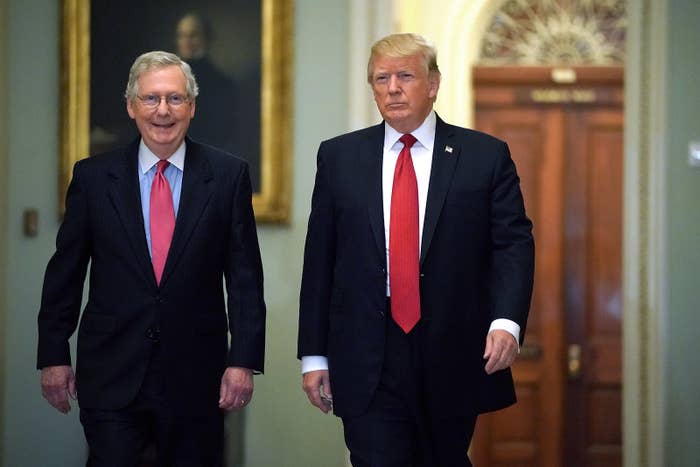 President Trump tried to defuse tensions with Senate Republicans over lunch Tuesday afternoon, going through his list of accomplishments so far and making the case for more policy wins in an effort to unite an increasingly fractured Republican Party.
But the closed-door lunch, which senators described as "pleasant" and lacking in "fireworks," was bracketed by a morning brawl between Trump and Tennessee Republican Sen. Bob Corker and the surprise retirement announcement of Arizona Republican Sen. Jeff Flake, who said on the Senate floor just minutes after the lunch concluded that he would not be "complicit" in Trump's actions.
Hours before the lunch, Trump tweeted about Corker, a frequent critic, five times, calling him a "lightweight" and "incompetent." In response to the tweets, Corker, who announced his retirement last month, said in a CNN interview that he wouldn't support Trump for president again.
"I think many of us, me included, have tried to, you know, intervene, and I have had a private dinner and have been with him on multiple occasions to try and create some kind of aspirational approach, if you will, to the way that he conducts himself," Corker said in the interview. "I don't think that that's possible. He's obviously not going to rise to the occasion as president."
Corker also criticized Trump for not being truthful and for "debasing our nation." When Trump first started tweeting about him early Tuesday morning, Corker responded in a tweet: "Same untruths from an utterly untruthful president. #AlertTheDaycareStaff"
But Senate Republicans were still optimistic heading into the lunch. Republicans said they were hopeful that the president would stick to the issues — the tax reform push in particular. Some in the chamber were still worried about the morning's Corker-Trump fight escalating. "They both need to dial it down," said South Dakota Sen. John Thune, a member of Senate GOP leadership.
North Carolina Sen. Thom Tillis even walked into the lunch with a bag of popcorn in hand. Things got off to an inauspicious start, when a man somehow got through Capitol security and managed to throw miniature Russian flags at the president and Senate Majority Leader Mitch McConnell as they entered the lunch. "Trump is treason," the man shouted among a gaggle of reporters, as McConnell's face remained locked in a smile and the president gave a thumbs-up.
But to most GOP senators' relief, Trump didn't offer much popcorn-worthy entertainment.
Trump steered clear of his arguments with other Republicans during the meeting, senators said, focusing on issues like tax reform, the opioid crisis, the choices for Federal Reserve chair, regulation reforms, repealing Dodd-Frank, and getting his nominations through the Senate.
"We didn't hold hands and sing 'Leaving on a Jet Plane,' but it was a positive, professional meeting," said Louisiana Sen. John Kennedy. "We gave him three standing ovations, we appreciated him being there, and we had meat loaf."
Senators said that politics was only "tangentially" discussed and no ongoing fights — including one between McConnell and former Trump adviser Steve Bannon — came up.
"Nobody called anybody an ignorant slut," Kennedy said.
Trump was also silent on the recent back-and-forth between him and a military widow.
"There really wasn't time for that sort of discussion. We talked more about the administration and this Congress," said Senate Majority Whip John Cornyn.
Most senators dodged when asked about the substance of Corker's morning criticism and tried again and again to highlight their efforts to pass Trump's agenda.
Sen. Lamar Alexander, Corker's Tennessee colleague, said he recommended Corker and Trump "get together to play golf again. If Lindsey Graham and Mr. Trump can play golf after all the nasty things they've said about each other, it ought to be easy for Bob Corker."
When asked if he shares the concerns raised by Corker or still believes in the attacks he previously launched at Trump during the GOP presidential primary, Sen. Ted Cruz said: "I try to stay out of the personality battles in Washington and the political circus and keep my focus on results, on substance. We need to honor our promises...so my focus is on bringing Republicans together to accomplish that result to deliver on our promises."
McConnell also repeatedly tried to shut down any questions about divisions within the party. Tax reform, McConnell said during a press conference, "brings about great unity among our members, so we're concentrating on the agenda that we have for the American people, and the president shares that agenda."

Impressed with the "active discussion" during the lunch meeting, Montana Sen. Steve Daines gave Trump an "A+" in a tweet.
The interregnum of good feelings was quickly overshadowed by news that Flake would not run for reelection, and the long speech the Arizona Republican then gave on the Senate floor unleashing his feelings about where Trump has taken his party and the country.
"We must never regard as normal the regular and casual undermining of our democratic norms and ideals; we must never meekly accept the daily sundering of our country," Flake said, going on to describe the president's behavior as "reckless, outrageous, and undignified."
Corker and Republican Sen. John McCain, another frequent Trump antagonist, sat near Flake as he gave his speech. Corker occasionally nodded along in agreement. McCain hugged Flake after the speech concluded, and then took a few moments to praise his Arizona colleague from the floor.
In the White House, the administration's effort to focus attention on the positives from the Senate lunch were already flailing. White House press secretary Sarah Huckabee Sanders came to the press room podium soon after Flake's speech had finished, and kicked off by saying the president had had a "productive" meeting with Republican senators, and that Trump was "encouraged" by "the show of unity by Republicans on the Hill."
As soon as she finished her opening statement, she was bombarded with questions about Flake's and Corker's comments about the president. "Corker's trying to get a headline or two on his way out the door," Sanders said. Flake, she said, responding to another question, lacks support in Arizona and his decision not to seek reelection is "probably a good move."
The brief afternoon interlude of a united Republican Party was already over.
Emma Loop contributed reporting.