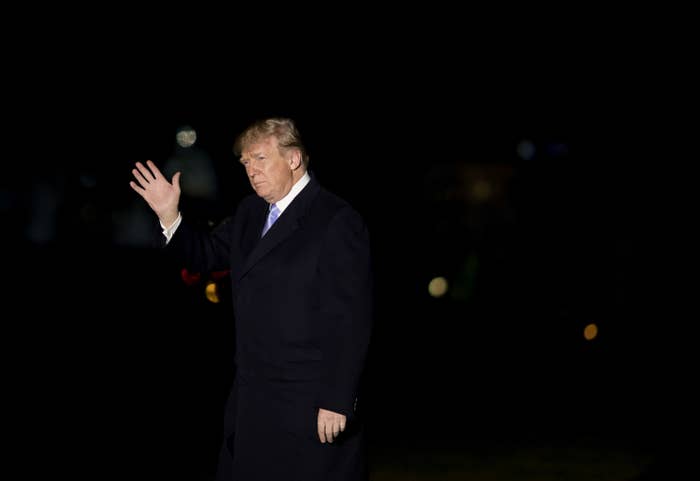 Top White House officials repeatedly told staff and reporters on Friday that President Donald Trump, who has been hinting at a staff shakeup for days, would not be making any immediate changes. But with the president increasingly comfortable making his own whims reality, staff have little reason to exhale.
Many inside and outside the White House say that Trump is now increasingly making decisions on his own for three main reasons: He has felt isolated by Chief of Staff John Kelly's management style for months and is now revolting; there are now hardly any Trump loyalists left in the White House who could keep him from making rash decisions, so he's relying more on his instincts; and lastly, Trump seems to have picked up on a strategy used by staffers to slow-walk or delay problematic requests from the president to keep him from acting.

Trump, one source close to him said, is now behaving more like he did before he was president. "He's coming home," said the source.
Kelly, whose own job security has been the subject of rampant speculation, spoke to White House staff on Friday morning to reassure them about their job security. Kelly, White House press secretary Sarah Huckabee Sanders said at her Friday briefing, told some staffers that there would be "no immediate personnel changes at this time," and that message was relayed to lower-level aides to ease tensions.
But in an off-the-record briefing with reporters, Kelly also admitted that Trump routinely speculates about staff moves with people outside the White House, Axios first reported and reporters in the meeting confirmed. The president is known to call up his family, friends, and even Mar-a-Lago members to ask how certain senior administration officials and cabinet secretaries are doing and whether he should consider replacing them.
White House staffers said on Friday that they tried to carry on with their daily business as usual, but the cloud of uncertainty was hanging above their heads. Many of them had been certain a shakeup was imminent the previous day, but with several news stories publishing Thursday about potential firings and nonstop cable news coverage, they were unsure if the president had been swayed by the media — as he often is.
The president, being a former reality TV star, also revels in creating suspense and unpredictability for the media and is returning to relying more on his own instinct instead of listening to his advisers, who have had a difficult last few weeks, according to sources close to the administration.
Trump's newfound comfort isn't just about who gets to keep his or her job. It's also changing how he approaches policy, like when he disregarded opposition from congressional Republicans and his now-former top economic adviser earlier this month to announce new steel and aluminum tariffs that matched the rhetoric from his election campaign.
National Security Adviser H.R. McMaster has been reported to be a potential target for Trump, with multiple reports over the last two days that the president had decided to remove him. Kelly, far from reassuring, has personally pushed for McMaster's ouster, the Washington Post reported Thursday night. But Huckabee Sanders tried to brush that aside, saying at Friday's briefing that she spoke to Trump Thursday night, and he said reports that McMaster would be dismissed were incorrect and asked her to "pass that message to General McMaster." She did not say definitively whether Trump and McMaster had spoken to each other themselves.
McMaster, some now believe, is in a limbo — a similar position as Secretary of State Rex Tillerson had been for months. The president knew he wanted Tillerson out, but kept him around for months.
Although Trump likes to deny chaos and record high turnover in the administration, he also admits that he likes conflict and keeping staffers with differing opinions around him.
"There will always be change, but very little," Trump said on Thursday, denying media reports of a staff shakeup. "It was a very false story. A very exaggerated and false story. But there will always be change. And I think you want to see change. I want to also see different ideas."
But despite publicly expressing his disappointment and frustrations with certain staff members, like Attorney General Jeff Sessions, Trump has kept them around for months.
For a president known for firing people on a hit reality TV show, Trump doesn't actually like to do that in real life. He's gotten more comfortable finding ways to remove people from his administration, either delegating the actual firing to his staff or announcing a move via tweet, which doesn't necessitate uncomfortable face time with his target.
Most recently, Trump announced he was replacing his Secretary of State Rex Tillerson on Twitter. There's some confusion about how that message was conveyed to Tillerson and how much of a heads-up he had. The White House has maintained that Tillerson was informed of Trump's decision by Chief of Staff John Kelly four days in advance; a State Department undersecretary suggested Tillerson learned from Trump's tweet.
Former chief of staff Reince Priebus was also officially fired via tweet. And Keith Schiller, Trump's former bodyguard, was the one who brought the message to the FBI last year that former director James Comey was out of a job.