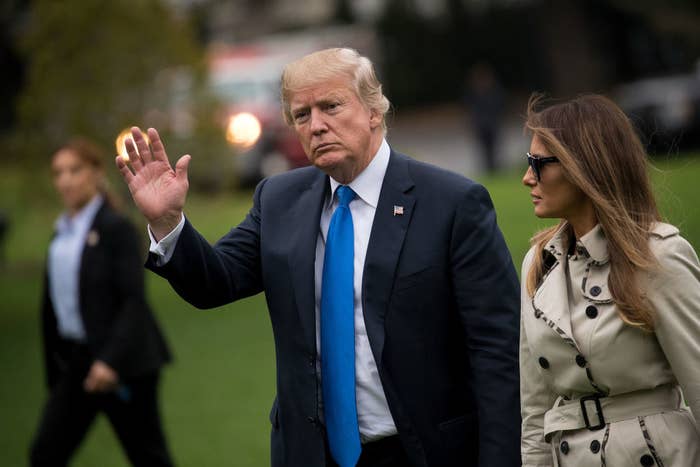 President Trump's 2020 reelection campaign shelled out over $1 million in legal fees between July and the end of September, according to the latest fundraising reports filed quarterly with the Federal Election Commission.
That amount is in addition to the nearly $430,000 that the Republican National Committee paid in August on behalf of Trump and his oldest son, Donald Trump Jr., according to previously released fundraising information.
The bulk of the campaign's legal consulting spending went to Jones Day. The firm, which the campaign paid $802,184.96 during the filing period, has worked with the Trump campaign on election issues, ongoing lawsuits, as well as matters related to the investigations into Russian interference in last year's election.
The campaign also paid $237,924 in legal consulting fees to the law offices of Alan S. Futerfas, who has worked to provide legal assistance to Donald Trump Jr. during the Russia investigation.
The campaign spent a total of $4,071,599.06 during the filing period and raised $10,129,336.13.
The use of Trump's campaign money to pay for the legal fees means small-dollar GOP donors are footing part of the president's tab in addition to the wealthy donors who contribute to the RNC's legal account.
Meanwhile, the legal spending from the RNC is coming from major donors who have contributed to a separate account that was set up through a spending bill agreement between Senate Democrats and Republicans in 2014. Under this agreement, three new accounts were created to allow party committees to accept even larger checks from major donors.
The legal account is supposed to pay for election recounts and other election-related legal proceedings for Republican candidates, but a big chunk of it is now likely going to be spent on legal fees associated with the Russia investigation — an unusual move for the committee.
Former president Bill Clinton used separate legal defense funds, instead of the Democratic National Committee, during the Whitewater investigation in the late 1990s.