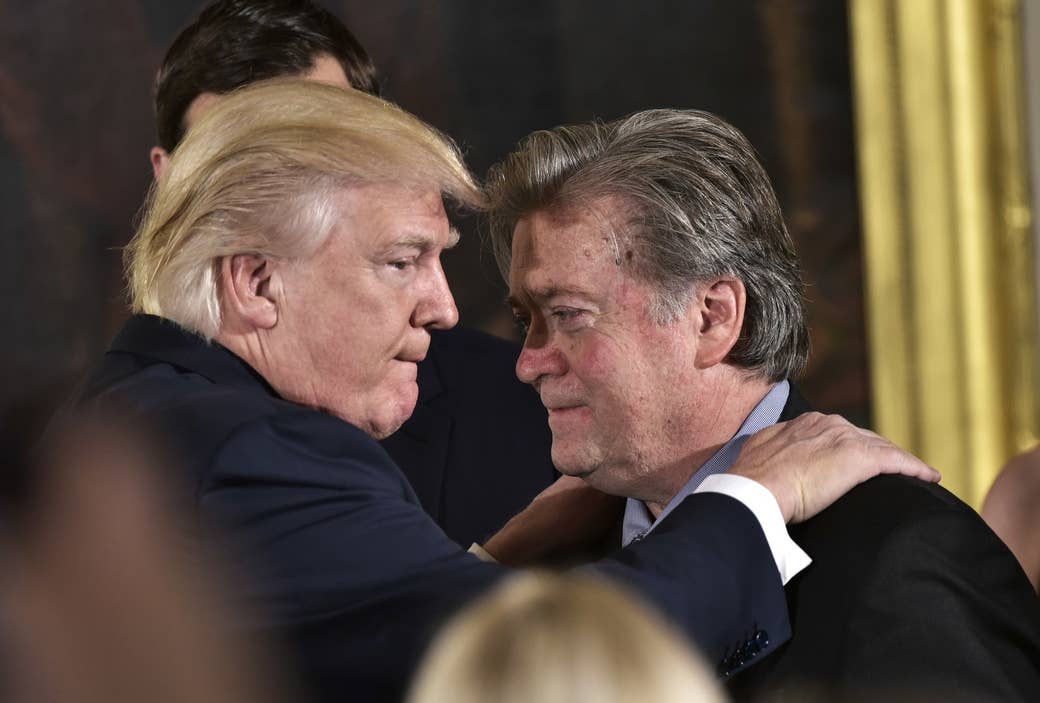 WASHINGTON — Well before President Trump's inauguration, his top adviser Steve Bannon met with a few top-tier donors — the kind of donors capable of writing million-dollar checks.

The message, according to two sources with knowledge of the conversations, was that Bannon wants to use the 2018 midterm elections as the arena to test the political clout of Trump's populist message.
"The days of [Senate Majority Leader Mitch] McConnell picking Republican nominees in Senate races are over," sources familiar with the meetings said Bannon told donors. He also mentioned the US Chamber of Commerce as declining in influence, according to one of those sources.
Bannon did not respond to multiple requests for comment for this story. After publication, a source close to Bannon told BuzzFeed News said he did not say that.
The former chairman of far-right news website Breitbart was light on specifics and didn't say which 2018 Senate races he had in mind, according to the sources familiar with the conversations. But he encouraged donors to starting giving to the outside entity created by Trump allies that was still taking shape at the time.
The group, a nonprofit called America First, officially launched this week.
America First will focus on issue advocacy, but could eventually direct fire on congressional Republicans who defy Trump's agenda. The group will be run by Brad Parscale — who is close with Jared Kushner and served as digital director during the campaign — and strategists Nick Ayers, Rick Gates, and Marty Obst. Others from the campaign, David Bossie and Katrina Pierson, will also be part of the group.
"President Trump campaigned on a bold but basic concept: America First," the group's leaders said in a joint statement. "This is a concept the American people both understand and support, but few in the media recognize and many politicians beholden to special interests will oppose. We will provide the counterbalance."
As Trump takes office, associates and former aides have put together a constellation of outside groups — mostly with the express agenda of advancing the policy aims of a president who has swiftly indicated he will try to do what he promised to do. That could put more traditional Republicans — and donors, especially those who sat out the 2016 election — in a tense spot.
Several of those donors are now looking for places to put their money to show they're on the Trump train, albeit belatedly. But not everyone's convinced that the America First group is the way to go. They were more excited when they thought Kellyanne Conway was going to be running the group, for one thing. And even inside the Trump administration, there's some skepticism about the likely effectiveness of the group. (A similar effort by Obama aides — Organizing for America — never delivered much politically.) Already, GOP mega-donors Bob and Rebekah Mercer are considering cutting ties with America First, Politico recently reported.
Other Trump-affiliated groups are also ramping up for 2018 and competing for dollars with America First and other GOP groups. Great America Alliance, a nonprofit, and Great America PAC, a super PAC that spent nearly $27 million on behalf of Trump in 2016, will back Trump's agenda and candidates who back those policy priorities. On the same day that America First launched, the group announced it was bringing on Newt Gingrich and Rudy Giuliani. The former New York mayor helped the super PAC with fundraising last year.
Aaron Manaigo, an adviser to Great America Alliance, said efforts were already underway to put resources into ensuring the confirmation of Trump's Supreme Court nominee, Neil Gorsuch, and issue advocacy. A high-level official who has worked with the group said that effort would primarily focus on the 10 Democratic senators facing re-election in states where Trump won. The group will "absolutely" target Republicans if any prove unsupportive of the president's agenda, the official said, but also acknowledged Republicans will "get a lot more leeway."
"The idea is to only go there if we really had to," he added.
There's also the understanding inside and outside the White House that a single Trump tweet about a policy or a congressional race could make the work of these groups irrelevant.
The Great America groups have no plans to get involved in candidate recruitment for now, and will focus primarily on Senate races, not House races. That could change if Trump decides to personally put his finger on the scale in any race. "If he does, we'll follow his lead," the official said, but cautioned: "I wouldn't say that we expect him to get down into this."
The unpredictability of Trump, and his orbit, has left operatives and candidates in a state of uncertainty, able only to guess at what might await them in a primary.
The stakes could be highest, say Republicans watching this unfold, for Arizona Sen. Jeff Flake, who was one of the most vocal critics of Trump during the campaign. In a closed-door meeting between Trump and GOP senators last year, Flake reportedly confronted the now-president about his divisive rhetoric. Trump in turn threatened Flake and told him he would lose his re-election. He wasn't up that year.
But he is up in 2018. Conservative outside groups, who have backed Flake in the past, are growing increasingly concerned about him, especially since he had only $594,000 in his campaign coffers as of his most recent report at the end of September, a pittance for a candidate who could face a serious primary and general. Although he is in good standing with those based on his voting record, outside groups are still deciding if they want to go all-in on him in a primary and potentially go up against Trump or just sit it out.
"Flake needs to help himself first," said a top official of a major conservative group, saying the senator needs to pick up his fundraising and try to keep a lower profile on issues he disagrees with Trump on.
People "aren't right now real happy with Sen. Flake," said Arizona GOP Rep. Paul Gosar, who briefly weighed a primary run against Flake before ruling it out 24 hours later. "I think you ought to be starting to work in concert with the nominee. He obviously touched a nerve within the country; that's a little more than our two senators have been part of, and I think that they need to jump on board and start helping out instead of creating a problem," Gosar told BuzzFeed News.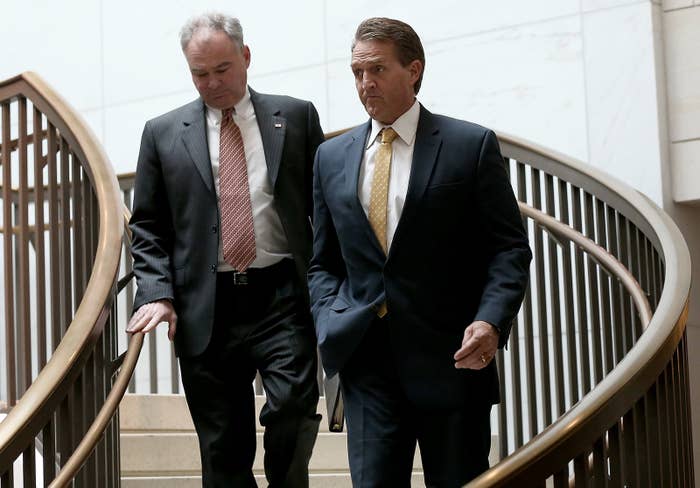 Flake already has one primary challenger: Former state senator Kelli Ward, who unsuccessfully primaried Sen. John McCain last year, announced her intentions to take on Flake in October.
A close Trump ally, Arizona state treasurer Jeff DeWit, is still mulling a challenge. Days after Trump's win, Breitbart touted a poll that showed DeWit leading Flake and suggesting that Flake could "pay a price for his opposition to Trump." DeWit has hinted he's spoken with Trump about a challenge, but hasn't made a decision. Not all Trump allies are convinced DeWit is the right candidate, however, and a source said although it might be hard to convince Trump of that, there's a quiet effort to push DeWit away from the Senate bid. Politico recently reported DeWit is considering a job within the administration.
And here's where the particularly difficult calculus starts: Backing DeWit would put these Trump-allied groups at odds with Republican institutions like the National Republican Senatorial Committee, the Republican Party arm charged with electing Republicans to the Senate. The NRSC has vociferously defended incumbent senators against primary challengers for the past two cycles, and will continue to do so this cycle. That means everything from organization to significant amounts of money.
Some Republican campaign veterans wonder just how much power those in Trump's orbit will be able to exert. Trump's campaign may have broken the conventional mold, but there is skepticism that such a model is transferrable — especially in down-ballot races where name recognition reigns supreme, and many of the "establishment"-style candidates of yore have already been ousted in the last decade of tea party–inspired primaries.
"Just because somebody has Trump's support, doesn't mean they're Trump," said one Republican strategist.
Ward in Arizona, for instance, has already cast herself as the Trump-like candidate in 2018, as she did against McCain last summer. But she struggled with fundraising — even with a large cash infusion from the Mercers.
Another Trump ally, conservative media star Laura Ingraham, recently said she was considering challenging Virginia Democratic Sen. Tim Kaine. Ingraham's closeness to Trump and Kaine's spot on the Democratic presidential ticket last year could make the Virginia race ripe for involvement from Trump allies. "Intuitively, she's been part of the outsider theme" that helped propel Trump to victory, said Virginia GOP Rep. Dave Brat, a close ally of Ingraham's, though he professed no insider knowledge of whether Trump-world might get involved. But, he said, "I would think that the themes line up pretty well."
But Virginia's a tough state for Trump acolytes. The state's elections tend to be decided by the affluent northern part of the state, and a number of other prominent Republicans have been talked about as possible candidates in that race, including Carly Fiorina and former Virginia Gov. Jim Gilmore. Ingraham has a large megaphone with her radio show, but she does not have the connections to the state that other candidates do.
If Trump and his allies decide to play in primaries, they could have more success making a mark in House races, smaller markets where the monetary support and name recognition that could come with Trump's tacit support could go a long way. Trump's initial foray into an internal Republican conflict was on an even smaller scale: the Ohio GOP chairman's race, a contest decided by the 66 members of the Ohio GOP central committee.
"If you're looking at state GOP chairs, then I think our expectation would be that they're probably going to start looking at House races too at some point," said Club for Growth communications director Doug Sachtleben. "Nothing's a surprise right now."
Conventional wisdom runs that the president is unlikely to get involved in something so small as a House or Senate primary. On the other hand, who really knows anything?
"I'd be surprised and disappointed if Donald Trump is wasting his time meddling in state of Ohio leadership politics," state Sen. David Goodman, a member of the Ohio GOP state central committee who backed Trump's preferred candidate in the race, told BuzzFeed News on Dec. 30.
Six days later, Trump was making personal calls to lobby for his pick. She's now the chair of the Ohio Republican Party.