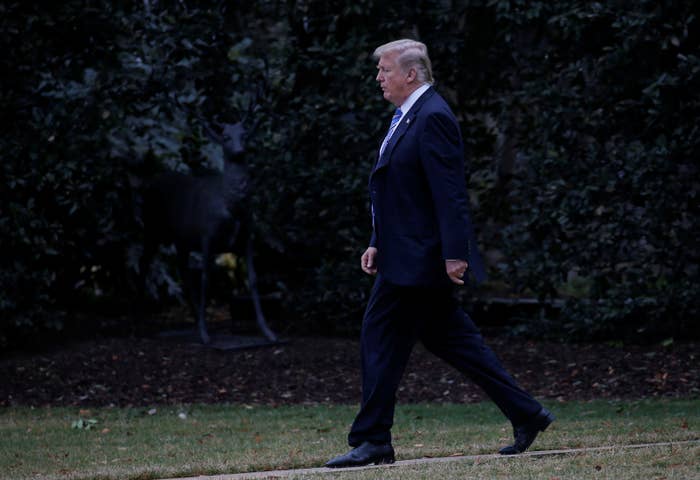 The Trump transition team gave incoming White House staff a few days, or in some cases hours, before inauguration to fill out and submit the complicated form necessary for them to get security clearance — a chaotic process that was different from previous administrations, according to half a dozen campaign officials who went on to work in the White House.
With the mishandling of the abuse allegations against former top aide Rob Porter and growing questions about the security processes used by the Trump White House, some who have worked in the administration are connecting the White House's clearance issues to the transition's frenzied approach to those crucial forms, as dozens of staffers still continue to operate on an interim clearance.
"To call the SF-86 process I went through haphazard is a massive understatement," said one of those officials, referring to the security clearance questionnaire called "Standard Form 86" or "SF-86."
"Most incoming staffers got the log-in for their SF-86 form less than 96 hours before the inauguration with only a cursory explanation about what the form meant or how to fill it out," the official said. "Some incoming staffers even got sent the wrong log-in credentials, which further truncated the process. The security clearance issues that currently beset this White House are directly traceable to these failures."
Another who said he had just a few days before inauguration to turn in the form described the process as "awful." And a source close to the White House said it was "clear nobody had given the SF-86 process a single thought after President Trump won the election."
"Potential hires were given the extensive document with little to no guidance and for some a 24-hour turnaround time for completion," the source said. "It's been clear since the start that nobody in the White House is fully familiar with the process, and that's played out in the Rob Porter scandal."
The questionnaire, which is technically 127 pages long (although some pages don't apply and others might go unused), is used for "background investigations, reinvestigations, and continuous evaluations of persons under consideration for, or retention of, national security positions," according to the Office of Management and Budget.
The White House did not respond to a request for comment, but press secretary Sarah Huckabee Sanders has repeatedly argued that the Trump team has used the same processes as previous administrations.
"Look, this is a process that doesn't operate within the White House," Sanders said in a press briefing earlier this week. "It's handled by our law enforcement and intelligence community, and we support that process. It's the same process that has been used for decades for other and previous administrations."
Porter, who served as staff secretary, was one of reportedly 130 staffers working under an interim clearance. The White House has not provided any details on how top aides did not know of the abuse allegations against him after they came up in an FBI background check, and Porter has denied all allegations from his two ex-wives.
Brad Moss, who works on litigation regarding federal employment and security clearance laws, said the typical timeframe for filling out those forms is at least one to two weeks and that the Trump's administration's approach doesn't seem to be in line with past administrations.
"There isn't a defined timeframe, but that kind of chaos for individuals as vital as White House staffers is not what I understand to be standard practice," Moss said, adding that he has "heard of government contractors being pressed to quickly fill out an SF-86 in a matter of days" but "that has almost always been in situations where the person already holds a clearance and all they need to do is update their prior submission."
Chris Lu, who served as executive director of former president Barack Obama's 2008 transition, said his team handled the SF-86 forms on a rolling basis as they hired employees. He also said they began the clearance process and handing out those forms in October before the election.
"This was the first post–9/11 transition, so we understood there were national security and homeland security risks that the nation face, so we wanted to make it as seamless of a transition as possible."
Lu said that how the clearance process, starting with the SF-86 forms, is handled is critical, especially for this administration, because it had many staffers new to government who had never filled out such a form before. During the Obama administration, many of the incoming staffers had worked on Capitol Hill or in the Clinton administration and had previously had some level of clearance.
"This idea that you could rush the process of finding people and getting them cleared is just silly," he said. "It just shows a lack of organization and planning."