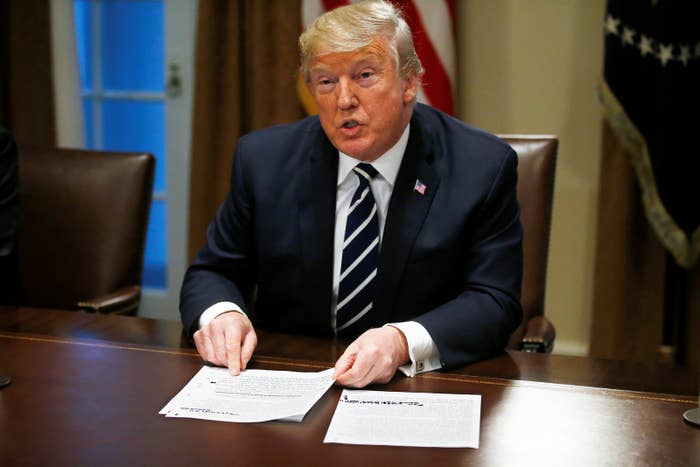 President Donald Trump is facing another moment of global condemnation and sharp criticism from his own political allies, this time over his defense of Russia. But like during other dramatic flare-ups, the immediate consequences for him personally are so far low.
Over the course of Trump's presidency, in especially controversial moments that have led to rebuke from even his supporters, Trump has followed a pattern in his response: He spends a few hours quietly defending it and soaking in criticism, then reads a soft, confusing walk-back that may itself be walked back shortly thereafter.
Trump is able to repeat the pattern — from his "both sides" response to Charlottesville to his criticism last week of British Prime Minister Theresa May — largely because Republicans in Congress and allies around the world ultimately need to maintain their relationship with him to accomplish their own priorities.
For members of his own party, in particular, there is no true "last straw," said a source close to the White House, who said that temporarily Republicans might not back him on foreign policy issues. "But long-term there is no such thing as a last straw," the source said. "When he's back talking about the Supreme Court or regulations, they will be back publicly supporting him."
Trump tried a Russia walk-back Tuesday afternoon.
Briefly opening up a private meeting with lawmakers to reporters, Trump read from a piece of paper, claiming that after reviewing the transcript of his comments from Monday's joint press conference with Russian President Vladimir Putin, he wanted to clarify that he actually does believe US intelligence agencies' conclusion that Russia interfered in the 2016 election.
"In a key sentence in my remarks, I said the word would instead of wouldn't," he said. "The sentence should have been, I don't see any reason why it wouldn't be Russia."
A "double negative," as the president put it, would have avoided the international furor that the press conference caused. But he then went on to say that other countries might have also been involved in meddling in the last election — not just Russia — adding to the confusion. "Could be other people also," Trump said. "A lot of people out there." And Trump's "clarification" did not address other elements of his Monday remarks that bothered Republicans, like his criticism of the FBI.
The explanation is going to be hard for Republicans in Congress who came out against his original comments to swallow, but they've repeatedly shown resistance to challenging the leader of their party much more than releasing rare critical statements.
Even before Trump tried to clarify his comments, a group of conservative Republicans praised the president Tuesday afternoon and stressed that their constituents were still supportive of Trump's policy positions. "People are pretty darned pleased," said Ohio Rep. Jim Jordan.
And although Trump's comments Monday siding with Putin over his own intelligence agencies sparked an unusual amount of blowback from congressional Republicans, there's so far been no momentum to do anything concrete in response, whether that be calling for new hearings with the US intelligence community or supporting legislation that would insulate the special counsel from Trump's attacks.
Many Republican leaders used strong words against the president: House Speaker Paul Ryan, for example, put out an uncharacteristically confrontational statement declaring there was "no question" that Russia interfered with the presidential election. "The president must appreciate that Russia is not our ally. There is no moral equivalence between the United States and Russia, which remains hostile to our most basic values and ideals," the statement said.
Others expressed bewilderment. Sen. Jeff Flake said he streamed the press conference while boarding a plane and felt "disbelief" at what he was watching. Sen. Bob Corker called it "jaw dropping" that Trump drew equivalence between Putin's word and US intelligence agencies.
"I think the President has difficulty conflating how people treat him personally with representing our nation's interests. I've seen it before, but obviously Putin did a very good job in charming [Trump]," said Corker.
But pressed on actions they would take, Republicans stressed what they had done so far — a Senate committee confirming the Russians meddled in the presidential election, leveling sanctions on Russia, increasing spending on election security — while saying there is not much more they can do.
Senate Minority Leader Chuck Schumer demanded a number of actions, including subpoenaing senior Trump staffers to try to find out what the president said during his private meeting with Putin. That did not pick up any steam with Republicans. Flake proposed a resolution supporting the findings of US intelligence agencies, but he admitted that would be just a symbolic show of support. Flake also called for committee hearings into the closed-door meeting.
Senate Majority Leader Mitch McConnell stressed his support for the European Union and warned Russians not to meddle again in a US election. He said the Senate could take up a bill from Sen. Marco Rubio that would trigger new Russian sanctions if the country is found to interfere in the midterm elections this fall.
But even if they took up that bill as the only action, the problem, Republicans acknowledged, is that no matter what Congress does to try to heal the US–EU partnership, it ultimately hinges on what Trump says and does.
"The president can do more damage in 15 minutes to that relationship than all of us working together for months can overcome," Corker said.