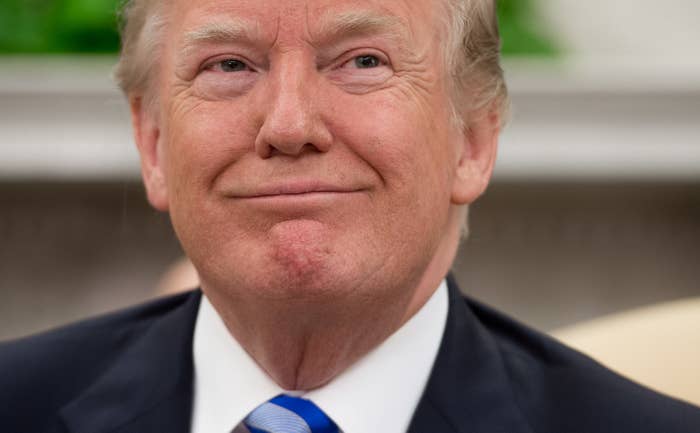 President Donald Trump acknowledged a six-figure repayment to his personal lawyer for "expenses incurred" in 2016 in a footnote in his latest personal financial disclosure, which was released on Wednesday.
Although Trump didn't list the payment among his debts for the past year, the Office of Government Ethics said in a letter that the president had provided enough disclosure for this year's report.
"OGE has concluded that, based on the information provided as a note to part 8, the payment made by Mr. Cohen is required to be reported as a liability," OGE acting director David Apol said in a letter to the Department of Justice. "OGE has determined that the information provided in that note meets the disclosure requirements for a reportable liability under the Ethics in Government Act."
Instead of reporting the payment as a liability, the president listed the payment in a footnote. "In the interest of transparency, while not required to be disclosed as 'reportable liabilities' ... in 2016 expenses were incurred by one of Donald J. Trump's attorneys, Michael Cohen," the form states in a footnote in the liabilities section. "Mr. Cohen sought reimbursement of those expenses and Mr. Trump fully reimbursed Cohen in 2017. The category of the value would be $100,00–$250,000 and the interest rate would be zero."
Trump did not disclose the payment last year in his personal financial disclosures to the Office of Government Ethics, but now that the existence of the payment has been acknowledged by Cohen, some watchdog groups, including the Citizens for Responsibility and Ethics in Washington and the Campaign Legal Center, have argued that the president needs to address the payment as a debt in his forms to comply with the law.

The Ethics in Government Act requires the president to disclose any liabilities that total more than $10,000 incurred in the previous year, even if they were later repaid.
But the same letter from OGE also said that the agency was passing along both the president's reports from 2017 and 2018 to the Department of Justice so it could pursue any complaints related to last year's omission of the Cohen payment, and whether "the failure to report it was knowing and willful."
Cohen paid Stormy Daniels, whose real name is Stephanie Clifford, $130,000 through a shell company in the weeks before the 2016 election in exchange for her silence regarding an alleged affair between her and Trump.
Rudy Giuliani, Trump's outside counsel, has tried to frame any repayment from Trump to Cohen as a retainer for his legal services that would not have to be listed as a debt.
Giuliani previously told BuzzFeed News that Trump told Cohen he would cover his expenses, following complaints from Cohen about not being repaid for the Daniels payment. Trump, Giuliani said, agreed to pay him $35,000 a month "out of his personal funds" over the course of a yearlong period that began in the first few months of 2017 and has since ended.
"It clearly was a payment to reimburse expenses," Giuliani said.
Besides the Cohen payment, Trump's financial disclosures also showed that he earned $40.4 million in income from his Trump International Hotel, which is located blocks away from the White House in Washington's Old Post Office building. Several GOP members of Congress, party committees, and outside groups have held fundraisers and other events at the hotel.
That amount is more than double the $19.7 million reported in the president's financial disclosures in 2017, which did not include income from a full calendar year since the hotel opened in September 2016.
Although last year's report covered a slightly longer period — with some of 2017 also included — compared to this year's report, Mar-a-Lago, Trump's exclusive West Palm Beach resort, saw a significant decline in revenue this past year, bringing in $25.1 million. In the previous two years, Trump reported earning $37.2 million and $29.7 million in income from the club in his disclosures.
After his comments regarding the violence in Charlottesville last summer, several organizations that hosted events at Mar-a-Lago took their business elsewhere, but the club previously told reporters it didn't have much of an effect because they were replaced by other events.

Two other of his company's golf clubs that the president frequents in Bedminster, New Jersey, and Sterling, Virginia, also saw declines in revenue by about $5 million each compared to the amounts reported in last year's disclosure.