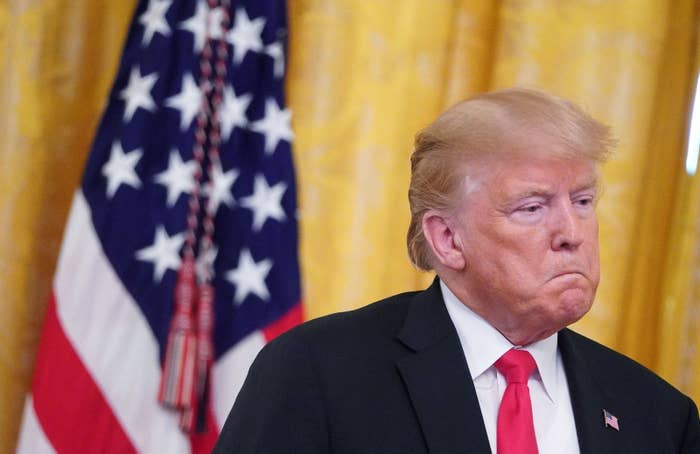 For President Donald Trump, the world is divided into two kinds of people: loyalists and "rats." But another central Trumpian characteristic — self-preservation — is increasingly challenging his worldview and leaving him exposed.
The list of loyalists turned rats or potential loyalists turned rats in Trump world is growing. It now includes not just former Apprentice star and White House staffer Omarosa Manigault Newman and former lawyer and confidant Michael Cohen, but possibly also White House counsel Don McGahn, who has been cooperating with the special counsel's probe, according to the New York Times.
Trump — who values loyalty as the ultimate measure for hiring White House aides, making political appointments, and even endorsements in key House and Senate races — has learned, especially in recent weeks, how fickle his allies can be, and he is making his frustration and paranoia clear.
"It's hard for Trump to understand why people would prefer to protect themselves because he's so self-centered he doesn't take into account other people," said a former White House official. "He's reaping what he's sown."

McGahn, according to the Times, fearing that Trump was setting him up to take the fall for any action taken by the special counsel on the obstruction inquiry, has shared detailed accounts in voluntary interviews with investigators. In several tweets this weekend, Trump denied that McGahn had "turned on the president," but as the Times reported, Trump and his legal team have little idea of what McGahn has told investigators.
There's now widespread speculation, two sources close to the White House said, in the president's orbit of how long Trump will continue to stick with McGahn and how long McGahn will stay at the White House, depending on whether Trump still believes McGahn to be a loyal soldier. Removing McGahn over his cooperation, however, could expose Trump to even more risk from investigators.
In her new book, Unhinged, Manigault Newman describes Trump's views on loyalty as "a loaded topic." "His moblike loyalty requirements are exacting, imperishable, and sometimes unethical (as in James Comey's case). But for the people in Trumpworld, loyalty to him is an absolute and unyielding necessity, akin to followers' devotion to a cult leader."
But cracks in that devotion have been creeping in.
Manigault Newman, who was loyal to Trump for 15 years after appearing on the first season of The Apprentice, secretly recorded and kept tapes of Trump, members of his family, and other White House staff to resurrect her image after she was fired from the White House and aides tried to distance the president from her. Trump has since described her as "wacky" and a "dog."
Cohen, who once declared he would "take a bullet" for Trump, is now in major legal trouble and has reportedly claimed the president knew about the June 2016 Trump Tower meeting that has been a focus of the special counsel's probe. Trump's lawyer Rudy Giuliani has since called Cohen a "pathological liar."
Prosecutors are reportedly preparing bank fraud charges against Cohen and examining others related to potential campaign finance violations for payments he made to women on behalf of Trump in exchange for their silence ahead of the 2016 election.
There's also already some evidence — from one of Manigault Newman's secretly recorded tapes — that the 2020 campaign is trying to secure loyalty in exchange for a generous salary. In a tape released by Manigault Newman last week, Lara Trump, who works on the president's reelection campaign, offers Manigault Newman a salary of $15,000 per month and adds: "It sounds a little like, obviously, that there are some things you've got in the back pocket to pull out. Clearly, if you come on board the campaign, like, we can't have…" Manigault Newman interrupts with, "Oh, God no," before Trump says, "Everything, everybody, positive, right?"
The tape has put further scrutiny on former White House aides and Trump 2016 campaign veterans — some without much political experience — now making thousands of dollars working for the reelection campaign or other pro-Trump groups.
Corey Lewandowski, a Trump loyalist and former campaign manager who has worked for two of those groups, argued that it was those who were going against Trump, like Manigault Newman, who were in it for the money, not those who are sticking with the president.
"Look, there's two models in the end," Lewandowski said at a breakfast organized by the Christian Science Monitor last week. "When you work for the government, and you decide to leave, you can use the model which is you're going to continue to support your previous boss and write a book and talk about your experience and opportunities that they gave you in a relatively honest, intellectual integrity way or you can write a book that you want to sell books on."
Trump often promotes books written by loyalists, like Lewandowski's Let Trump Be Trump, which was published last year, in tweets. But he indirectly promotes, through his repeated criticism, those written by those he would consider rats — even more.