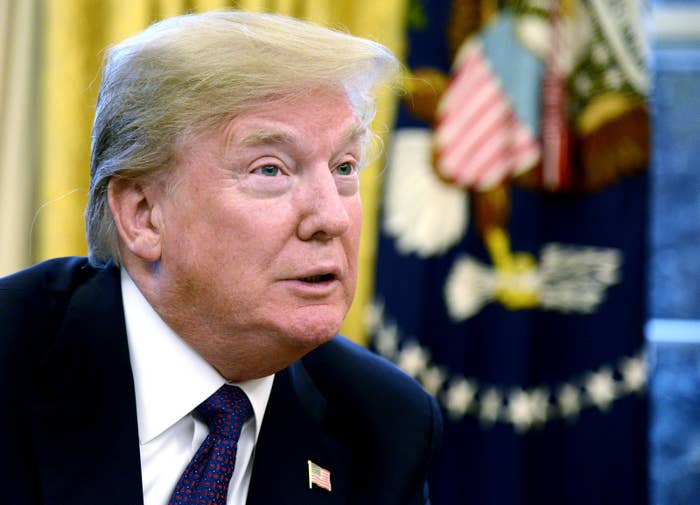 In a White House that has bounced from crisis to crisis and jettisoned a record number of high-level staff during President Donald Trump's first year, top administration officials seem to have found a way to prevent the rashest of decisions: by threatening to quit.
Three instances have been revealed just in the last two weeks, describing reported episodes that took place over the last year. White House counsel Don McGahn threatened to quit when Trump ordered him to fire special counsel Robert Mueller last summer, the New York Times reported Thursday evening. Chief of Staff John Kelly "frequently threatened to quit as a way of getting people, particularly the president, to follow his orders," the Times previously reported. And FBI Director Chris Wray threatened to resign when Attorney General Jeff Sessions, encouraged by Trump, asked him to fire Deputy Director Andrew McCabe, Axios reported earlier this week.
Kelly has denied he ever threatened to quit, and Trump said earlier this week that Wray never tried to resign. "He didn't at all," Trump said. "He did not even a little bit."
But all of this reported drama underscores a White House on edge amid investigations into Russia's meddling in the 2016 presidential election. And the emerging picture of a president who backs away from potentially disastrous decisions when a top administration official plays the resignation card is at odds with the decisive, devil-may-care way Trump dished out his signature catchphrase — "You're fired!" — on his reality TV show.
"I think Trump acts on his instincts — as a businessman you just fire people who aren't loyal or give you issues," a Republican strategist with close ties to the White House told BuzzFeed News. "I think when Kelly and legal counsel explain to him how bad this would play out and harm his presidency, he yields."
A former Trump adviser said threatening to quit isn't something that would have typically kept businessman Trump or candidate Trump from doing something he wanted to do.
Trump did reportedly call one bluff to quit earlier in his presidency: Steve Bannon threatened to quit his post as a top White House adviser in the spring if he was removed from a National Security Council post, the New York Times reported in April. Bannon was removed from the NSC, and stayed at the White House for several more months.
The change, the former adviser said, seems to be linked to those Trump views as his allies in the special counsel's investigation.
"It all centers around the Mueller investigation. Kelly, McGahn, and Wray [quitting] would have had grave consequences for the special counsel's investigation."
But a 34% staff turnover rate over the last year, according to a Brookings Institution review, and a White House that is constantly on the brink, waiting for the next shoe to drop on the Russia investigation, might have influenced Trump's thinking.
Asked why Trump doesn't call bluffs or accept resignations when backed into a corner by his aides, one Republican close to the White House replied, "Because it looks like a sign of weakness and he knows that."