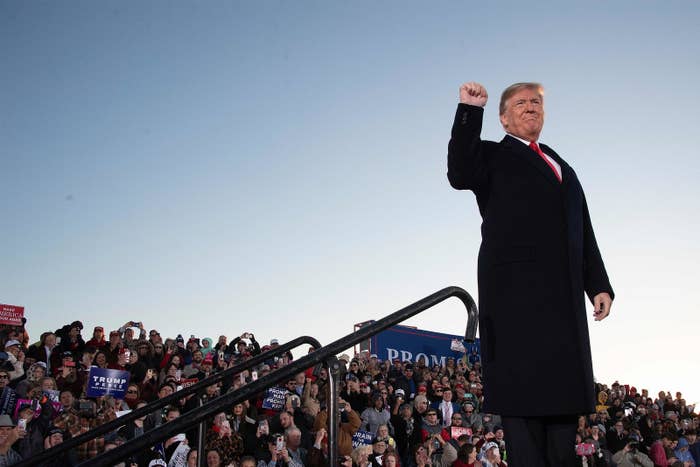 As Republicans in key Rust Belt states take stock of their losses in the midterm elections, there's a big question on their minds looking ahead to the 2020 presidential race: Was Donald Trump's 2016 win in each of those states a fluke, or can it be repeated?
Trump's surprise victories by a just few thousand votes each in Pennsylvania, Michigan, and Wisconsin in 2016 gave him the electoral edge over Hillary Clinton. But since his election, Republicans have lost every statewide contest on the ballot in those states and have nervously watched Democrats make gains in suburban districts.
In interviews, about a dozen top Republican strategists and officials in these states told BuzzFeed News they are worried heading into 2020 that their victories in the last presidential race had more to do with people voting against Clinton, rather than for Trump. A Democrat with higher approval who can appeal to moderate voters, they fear, could turn their states blue.
"Donald Trump had success because Hillary Clinton happened to be on the ballot as well," said John Brabender, a GOP strategist who worked on Trump ally Rep. Lou Barletta's failed Pennsylvania Senate bid this year.
But now, with more evidence that college-educated women and independent voters are fleeing the Republican Party, just as Democrats are seeing young voters, women, and minorities turn out in droves, Republicans say they need to continue making gains with rural voters, and ideally, reach beyond. The loss of what some Republicans described as "country club areas," they argued, can't entirely be made up by the gains they've made in "blue-collar, former Democratic" areas.
"We have to come up with a way to expand our base," Brabender said.
The president's reelection campaign has amassed more than $100 million since he took office, but it's in the very initial stages of building out its infrastructure in states. Trump has the advantage of incumbency and can get a head start in building out those swing-state operations, as a crowded field of Democrats battles it out for the nomination. Two wired-in Republicans in those Rust Belt states said initial conversations about hiring for the campaign were just getting started after the midterm elections last month. Sources close to the Trump campaign said they have begun discussing ways to boost rural turnout even more in Pennsylvania, Michigan, and Wisconsin, with a focus on registering gun owners in those states as one potential idea.
Republicans aren't expecting the president to change his rhetoric in 2020 to better appeal to suburban voters, as they continued to hope for in the 2016 election cycle.
While Democrats attack Trump during the upcoming primary, the president needs to work on "permanent solutions" like an infrastructure deal, said Wayne Bradley, a Michigan Republican who has served as the state GOP's director of black outreach. "It's still possible," Bradley said of Trump's chances of keeping the state. "He's going to have to highlight the things he's accomplished and minimize those other things," he added, referring to the rhetoric that can alienate women and independent voters. "People want things to get done, and that's what we're going to focus on," Bradley said.
Several others said Trump needs to try to explain his economic record in a way that connects with voters.
"I think there needs to be a better-told story. I just don't think Republicans told their story effectively in 2018," Charlie Gerow, another Pennsylvania-based strategist, who added that "Republicans got mamboed" in the state this year.
Gerow said that Trump spat out job creation and employment numbers at rallies, but if the economy continues to do well, Republicans need to handle that message differently. "Tell that story in very human terms, and it can't be in analytical terms."
At his rallies, Trump refused to focus on the economy throughout 2018, saying at one point it wasn't as exciting to talk about at campaign events. Trump was also reportedly not a fan of an ad his campaign aired in the final weeks before the election as part of a $6 million buy. The ad told the story of his administration's economic record through a woman's perspective. Days after the ad was unveiled, the campaign aired another immigration-focused ad, which was initially rejected by TV networks for being racist.
The challenges Trump faces in the Midwest were evident at last week's Republican Governors Association's annual meeting in Scottsdale, Arizona. The party — which used to showcase its Rust Belt conservative stars like Wisconsin Gov. Scott Walker — lost Walker's reelection race, lost the governorship in Michigan, and got crushed in its bid to win back Pennsylvania's governorship. At the two sessions open to the media, the RGA mainly had governors and governors-elect from the Northeast, South, and West, with many in the latter two camps emphasizing their rural backgrounds.
But some Republicans in Wisconsin argue that Walker's close defeat this year should actually give Trump's team some hope. In fact, of those three Rust Belt swing states, Republicans in Wisconsin were most optimistic that Trump, who won the state by about 22,000 votes in 2016, could hang on in 2020. "[Walker] lost by 1.1% — that's a hair's breadth," said a top GOP strategist in the state. "In Wisconsin, Trump has a stronger start than he does in many other states. If he can build on it just a little, there's a clear pathway."
Based on unofficial vote totals in the state, Walker performed better in 45 counties compared to his results in 2014, and received roughly the same number of votes in three key suburban counties: Waukesha, Ozaukee, and Washington. But that was not enough to overcome the significant boost in turnout in liberal parts of the state.
Brandon Scholz, a veteran Republican strategist in Wisconsin, also said the "blue wave" had inconsistent results in Wisconsin, but that Trump still has many warning signs ahead of 2020, when there won't be a gubernatorial or Senate race to help Trump's messaging in the state.
"We may have had a blue spritz or a blue ripple," Scholz said. "Trump has a lot of work to do in Wisconsin. Republicans really have to soul search and figure out whether they still have a viable model. They can't be an old, white party anymore."
In the aftermath of this year's elections, Wisconsin GOP Sen. Ron Johnson, who is up for reelection in 2022, has enlisted former Republican National Committee chair and Trump chief of staff Reince Priebus to conduct a review of the 2018 election in Wisconsin to figure out how the party can improve its position in future elections.
One piece of good news for Republicans in all three states from the 2018 results: They were all able to hang on to Republican majorities in their state legislatures to varying degrees. In Wisconsin, Republicans were able to essentially maintain their margins in the state legislature (in part because of gerrymandering), while in Pennsylvania and Michigan, Democrats were able to shrink Republican majorities.
"The feeling obviously is pretty mixed for Republicans," said Bill Ballenger, a political pundit in Michigan and former state legislator who was active in Republican politics for decades. "There's a lot at stake and you'll find Republicans are pretty aggressive in trying to recoup their losses this year and trying to prove that 2016 was not fluke."
Republicans in Wisconsin and Michigan aren't wasting any time. They are already using the lame-duck sessions to push for bills that would limit the power of the incoming Democratic governors.
Those efforts — including new limits to early voting in Wisconsin and modifying campaign finance oversight in Michigan — have sparked protests this week. Republicans were also pursuing a proposal to change the timing of the 2020 presidential primary in Wisconsin, but they dropped it after facing backlash from election officials.
"Republicans are being very aggressive," Ballenger said. "It's not like they are flat on their back."
Henry J. Gomez contributed reporting.